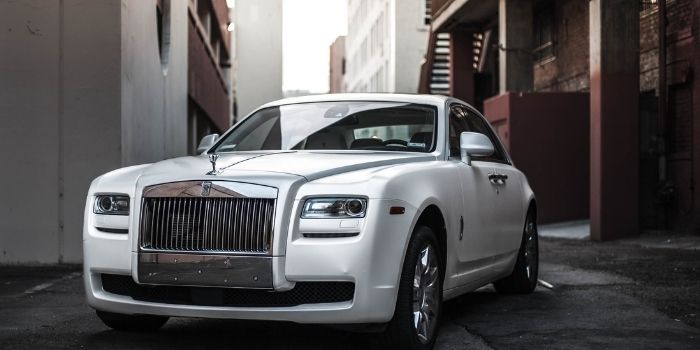 Many of you have a dream to drive a Rolls Royce car.
No matter whether you are the kind of person who lives under a budget or the one who is not worried about paying the monthly EMI – it is always good to know the pros and cons of renting vs owning Rolls Royce.
Depreciation is a major factor that needs to be taken into account.
Those who have bought and maintained their Rolls Royce for years may find that Renting is a good choice financially.
By reading out the points below that compare the pros and cons of renting and owning rolls Royce, will help you to get an idea of which one is better.
Benefits of Buying Rolls Royce
Whether it's a Rolls Royce Wraith, Phantom, Dawn, Ghost, or Cullinan, the ride in Rolls Royce super luxury car is no doubt a fantastic option for anyone as it provides extreme ecstasy, happiness, and a feel of a real noble lifestyle.
Gone is the time when Rolls Royce is regarded as something which only the wealthy people can afford and drive.
At present, you can easily afford to drive in luxury vehicles like these without any hassle – thanks to financing companies now available at a very lost interest rate.
If you search around, there are also a handful of cryptocurrency car dealers that accept bitcoins for payment of car ownership which is again very easy.
So, if you are already excited to own a car like Rolls Royce, let us know about some of the benefits that come along…
1- No Limits on driving:
You have no boundaries to drive when you own a Rolls Royce.
You can drive whenever and wherever you want at any time without any worries about restrictions on mileage or fees.
2- Customized Car:
When you buy Rolls Royce, you are given the luxury to give a complete makeover to your car model right from scratch. This is a great feature.
3- Sell at any time:
Since you own it, you can decide when you wish to sell it and there is no one you should consent to.
But this is not the case with Rented Rolls Royce – When you rent it, you have a general lock-in period of around two to three years mostly and cannot sell it out.
4- Maintain Family Legacy: 
Usually, Rolls Royce bought tends to remain with your family for decades and generations to come as part of the legacy, unless you plan to sell it.
Even if you take it out rarely out of the garage, owning it is a pride for your family.
Benefits of Renting Rolls Royce
Rolls-Royce has been an ultra-luxury sedan for decades with MSRP ranging from $320,000 to $535,000 based on the model.
Yes, it's super expensive and is out of budget for most.
And that's the reason people love to rent it for making their dream come true – even if it's for a day or two.
Some of the benefits that come with leasing a Rolls Royce Phantom, Dawn, Ghost, or Wraith car include:
1- Lesser Sunk Costs:
Unlike other investments in Gold, land, etc., an investment in a vehicle- no matter its manufacturer and model, will tend to go down as years fly by.
As a result, even though you pay monthly EMI – you can see its value decrease simultaneously.
2- Lesser Tax:
Compared to other cars, renting and owning it gives a glaring difference when it comes to financing, especially, sales tax.
Since you are renting it, you need not pay sales tax on the whole amount and it is considerably less.
3- Easy Trading:
There is no doubt that you can buy and sell your Rolls Royce.
But even more simple is upgrading to a better model of Rolls Royce by paying additional rent amount and driving home happily without much stress.
4- Lesser Maintenance Costs:
Maintaining an own Rolls Royce means shelling out a significant sum of money, to keep it in mint condition.
When it comes to renting out, this is not much botheration as you can swap between different models easily.
How Much is it to Rent a Rolls Royce for a Day?
With sites like Sixt and mph club, renting luxury sedans is never been so easier.
However, before heading to sites like these keep in mind that the cost of renting a Rolls Royce can be in the range of $1295 to $1995 per day.
And if you need to rent a Rolls Royce for 3 days it can be as high as $4000 to $6000.
The price to rent a Rolls Royce will also depend on your age and your location. And in most cases, the deals would also come with certain mileage restrictions.
Based on the state you are renting, it may also require a security deposit that would range anywhere between $1,500-$3,000.
Keeping all this pricing in mind, and the points mentioned above, you can opt whether to go for buying or renting Rolls Royce. Good Luck!
---
Tips for Renting Rolls Royce for The Most Fabulous Ride
More and more people are now renting these prestigious cars for their special occasions and events like weddings, anniversaries, business meet and much more.
Not only the classic Rolls Royce but also you can ride in your other best favorite luxury cars that are not easy to own.
If you want to experience the most luxurious ride you can now get various rental Rolls Royce services online where these companies can be easily found on websites and forums.
If you have decided to hire the best Rolls Royce rental service then there are certain things that you have to keep in mind.
You should always check the fact that the renting company that you are selecting should definitely have a legal license number.
Money is an important factor and you should never compromise with the service. But why pay more for those services that you do not require.
So, before hiring the taxi services you should talk with the company about the services and type of vehicle you want to rent.
The amount you need to pay will depend on the services you take and the model of the luxury car you hire.
Have an exact and planned schedule to avoid all the hassles of the last minute. Decide the date on which you like to go for the ride and book it accordingly.
Also, make sure that you should be on time for the pickup so that you should not miss even a single second of the extraordinary ride.

Based in Orem (Utah) John Paterson graduated from Utah Valley University and has begun writing in 2009. He has a large wealth of experience in writing articles related to cars, automotive repair, wheels, cleaning/maintenance, and much more. He has also written instructional articles in a similar niche for a few online publications as well. Currently, he works as a mechanic in his personal garage shop where he loves serving his countrymen from his heart.