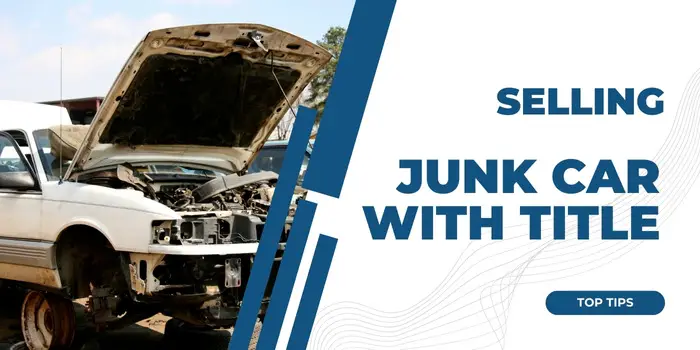 An old junk car usually becomes a burden for owners, but these can now be exchanged for good cash with the help of local scrap yards and dealers present online.
Online there are so many dealers where you can find effective and easy-to-avail junk car selling services.
When considering the car scraping option, all you need to do is give a phone call, and the services will straight-away come to your place with the help of eligible truck drivers, and the scrap car will be removed without any hassles.
Well, many of you know how easy it is to sell your junk car, but the real skill lies in getting the best value for your car. For this, you need to spend time doing deeper research.
Here in this blog post, I will give you a few tips and steps following which you can get the most cash from your junk car.
Selling Junk Car with Title
As there are many good companies online as well as offline, it is possible for you that you get the best price for your car when you are looking to sell it fast.
Especially if it's a junk car with a title, there are chances that you will always get better money for it than you think.
Follow the steps below for selling your junk car:
1- Find a good junk buyer and get a quote
With the internet at your fingertips, it is easy to type and search in google by typing a few statements like "sell junk car near me" or "selling junk car for good cash near me."
Within a few seconds, you will be displayed with tons of information about different junk car buyers
Out of that, select 3 or 5 junk car buyers and ask them for a quote. They will generally say the price varies and will ask for more information from you, like:
Make, Year, and Model of your car
Damages, if any
Possess a proper title or not
Answering questions like this will save time both for you and the junk car buyer.
Many junk car buyers offer an accessible towing facility and finally quote a price lower than what you expected.
In the end, you, too, would agree to the lower quote considering the charges you need to pay for re-towing it back to your place – stay cautious and be aware of this bait employed by junk car buyers to lure customers.
2- Check their licenses and set a pickup time
Once you have selected (and got a quote) from a few, browse the reviews or feedback of customers.
Ensure the junk car buyers are licensed and have a permit to operate. You can inquire them to show their license and permit certificate or pay a visit in-person to look.
Also, scout on their social media pages like Instagram, Facebook, etc. This will give you an idea about the buyer, and you can decide accordingly.
In this online era, if there's a junk car buyer without any online presence, like websites or social pages, it is better to stay away from them.
Once you have got the quotes and have checked them thoroughly, set a favorable pickup time.
Since many junkyards provide a free-towing facility, talk to them and fix the right time to pick up either on the same day or another at your convenience.
Even if you have left any valuables inside your car due to a last-minute rush, don't worry.
These junk car buyers can offer you a reasonable rate for them as well, or else you can keep them with you for your use.
3- Complete the paperwork and get your cash
Without clear paper records and a proper title, it is not easy to sell your junk car for a reasonable amount.
But still, you can sell it for less value since some companies accept junk cars without titles.
Department of Motor Vehicle (DMV) can assist you in canceling the title in your name in case your junk car gets stolen before being brought to the junkyard and crushed.
You won't be disturbed in the name of investigations as well.
If your car is over 15 years, you are not allowed to renew your title in some states.
The paperwork process varies from state to state, with some rules and regulations.
Junk car buyers also guide you in this process, or they can direct you to an expert who can do complete this process smoothly.
Once this is done, it's time for you to get the much-awaited cash for your junk car in case of a proper title.
Make sure to get it in full as per the deal. In the absence of any claim, they will use a check.
4- Notify DMV and follow up with the junk buyer
After getting money for your car, now is the time to follow up keenly to ensure your title has been transferred to avoid any legal troubles in the future.
Inform the DMV that you have scrapped or sold your old car accordingly.
Inform them in person or through a customer care representative, or by calling.
After a few days, call DMV to confirm the transfer of title. If the title has not yet been transferred, follow up with the junk car buyer to complete it without further delay.
---
How to Tell if it's Time to Junk Your Car?
If the car is old, it is time to scrap it. But this is not the case always, as new cars can also get scrapped even before the old cars if they keep giving troubles and cannot be fixed.
New cars also can get junked due to natural disasters like floods, hurricanes, or damage caused due to accidents.
So, there is no specific factor on which you should junk your car. It depends on various factors, and you have to decide accordingly.
Before you plan to sell, you must be aware of the signs indicating whether your car is ready for junk.
Some of the indicators are as follows:
Damage – If there is more damage to the car due to an accident or missing parts, it is right to junk it.
Value of the car – If the market price is not worth it and is less than 500$, it is wise to scrap it.
Introspect yourself by asking a few questions:
Is the title of my car good?
Do I have any fear of driving my car?
Is there enough safety for my car?
Is anyone still interested in buying my car?
Is my car idle most of the time and not used frequently?
I think if your car is simply occupying the parking lot space and not used regularly, instead of paying parking rent, you can junk it and free up the parking space.
Things to Check Before You Sell Your Junk Car
Having got the quotes and other offers like free towing or not – it's good for you to calculate the price considering the above factors before you make your final decision.
Having decided to scrap your junk car, there are a few things to which you should pay attention before selling it for cash.
a) Personal Items
Always do a thorough search on your car before selling it and getting hard cash. This means looking for essential items like jewelry, stand-by keys, valuable documents, etc.
Who knows, you might also come across the things you had been searching for for a long time while sneaking inside your car.
b) Parts of the car 
Apart from your things, there are parts in your car like batteries, wheels, radio, alternators, motors, fuel, etc., which are worth a few more bucks when sold separately, or you can use them for your use.
Many don't remove these parts due to wanting time or simply lack of expertise in removing it.
In such scenarios, you can consider taking help from your friends or neighbors.
Even if you have a decent amount of gasoline left, you can transfer it to an air-tight container and store it in a cool, dry place.
c) License plate removal 
You may wonder what you will do with your number plates if it will be junked.
As per law, removing your license plates and handing them over to the DMV as proof that your car got junked is mandatory.
d) Close your car insurance
It is wise to cancel any live insurance and find out if you are eligible for any refund of insurance already paid.
This saves auto-debit of insurance premium amount at future dates.
Letting the insurance companies know about junking your cars also helps to maintain a good rapport with them as they may provide good offers for your next or new car.
e) Remove parts other than metal
The mostly metallic part of the cars are bought in junkyards, and few also buy the car as a whole if it is in a better condition.
To junk only metallic components, it is good to remove the plastic parts, seats, windows, mirrors, glasses, etc., with the help of your friends or mechanic.
How Much Cash Can You Get When Junking a Car?
When junking a car, the price can vary between $100 to $20,000, but the rate varies depending on the make, model, year, and condition.
This means unless it's a classic luxury vehicle. Generally, you can expect between $100 to $500 cash for your regular junk car.
Also, remember that it boils down to the weight of the metal – the heavier the metal, the more you will be paid.
The residual value of a junk car is usually around 20 to 30 percent of its current market rate. So, getting many quotes from different junk car buyers is wise before finalizing the price.
Final Thoughts
Locating a junk car buyer is not a difficult task; all that matters is how many dollars it can fetch you.
This is a tricky situation and is imbibed in the very nature of this junkyard market. The harsh reality is most of the time, you get paid less than what you estimated.
So, contact different junk car buyers and request a minimum of 3 quotes at least. There will not be a huge variance, but you should be skilled enough to negotiate a favorable deal.
Take into account towing charges, although this is not necessary for a driveable car.

Based in Orem (Utah) John Paterson graduated from Utah Valley University and has begun writing in 2009. He has a large wealth of experience in writing articles related to cars, automotive repair, wheels, cleaning/maintenance, and much more. He has also written instructional articles in a similar niche for a few online publications as well. Currently, he works as a mechanic in his personal garage shop where he loves serving his countrymen from his heart.