The V6 engine is one of the most powerful and touted engines used in supercars.
It was first developed and manufactured by Marmon Motor Car Company, Deutz Gasmotoren Fabrik, and Delahaye.
And in this article, we'll look at some of the best supercars which have this beast configured in them.
But first of all, what exactly is a V6 engine?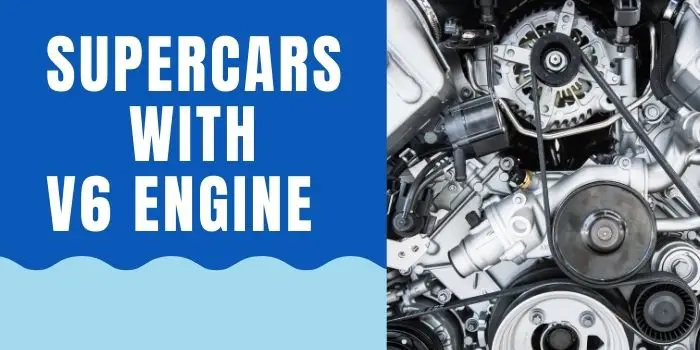 The V6 engine is a six-cylinder piston engine with a common crankshaft with cylinders arranged in a V shape.
Due to their short length, they are frequently employed as the bigger engine choice for cars that would otherwise be constructed with inline-four engines, particularly in transverse engine vehicles.
V6 engines have been present since virtually the beginning of the automobile industry. 
Although the first V6 engines were built in 1905, the engine style did not gain mainstream until the late 1950s, when racecars began to employ V6 engines.
Supercars With V6 Engine
And, now let us look at some of the most famous supercars that use the V6 engine:
1. Porsche 911 GT1
It was created and built by the German automobile manufacturer Porsche AG to participate in the races of sportscars.
With the revival of international motorsport in the mid-1990s, Porsche expressed interest in returning to the pinnacle of motorsport and began designing their challenger GT1.
Previously, automobiles in this category were significantly revised versions of road cars, such as the Ferrari F40 and the McLaren F1.
However, after the introduction of the 911 GT1 in 1996, Porsche took full advantage of the rulebook and astonished the sportscar community.
And the supercar world was taken aback when Porsche chose a V6 instead of a V12 and it resulted to be the best choice.
2. Honda NSX
Also known as the Acura NSX in North America, the Honda NSX is a two-seater mid-engined coupe sports car manufactured by Honda.
The beginning can be traced back to HP-X 1984, a mid-engined sports car with a 3.0-liter V6 engine and rear-wheel drive.
Honda committed to the project intending to match or exceed the performance of Ferrari's then-V8 engine series while providing dependability and a cheaper cost.
Gordon Murray, who designed the McLaren F1 supercar, revealed that he was inspired by the NSX after testing various high-performance vehicles and discovering that the chassis of the NSX functioned better, so he later called the design "monumental" in the history of sports cars.
3. Alpine 610
It was Alpine's first vehicle under Renault ownership. Longer, wider, and higher than its predecessor Alpine A310.
It successfully replaced that car's profile with current design characteristics such as a body-integrated bumper and triangular pillars with a huge back windscreen. 
It utilized the V6 PRV engine configuration with substantial use of polyester resins and fiberglass for the panels of the body, which made it faster and lighter than competitors such as the Porsche 944
The fiberglass-bodied coupe had a modern interior and a turbocharged V6 engine for a lively performance.
The 3.0-liter V6 engine developed 247 horsepower, which made it go from zero to sixty mph in just mere 5.8 seconds. It also had a max speed of close to 170 mph.
4. Nissan Skyline GT-R
The first "Skyline GT-R" vehicles were built between 1969 and 1972 and were successful in Japanese touring car racing. 
The GT-R moniker was reintroduced in 1989 as the BNR32 Skyline GT-R after a 16-year layoff. 
One of the quickest, most competent, and most flickable automobiles available is famed across the world for its magnificent attributes and performance.
The engine is the most appealing aspect of it. The Skyline's iconic turbocharged 3.8-liter V6 engine generates 570 horsepower or 600 in NISMO form.
This car has the capability to reach 60 miles per hour in just three seconds when equipped with all-wheel drive.
5. Ford GT
It was a two-seater mid-engined that originated as a concept car created in preparation for the automaker's centenary year and as part of the company's effort to highlight and revitalize "heritage" names such as Mustang and Thunderbird.
The GT resembles the original GT40 on the outside, but it is larger on the inside.
Most significantly, the new GT's engine is extremely intriguing, as it has a 3.5-liter EcoBoost V6. 
It has a staggering 656 horsepower which results in 0-60 miles per hour within just 2.8 seconds, and a peak speed of 216 mph.
6. Venturi 400
A sports automobile manufactured by the French automaker Venturi. 
The coupe was built in small numbers from 1994 to 1997, totaling less than 100 cars. 
Only roughly 15 street variants and 73 racing units were manufactured.
Venturi created numerous gorgeous and quick automobiles by combining components from other car companies with their bodywork and chassis. 
They raced extensively, leaving their imprint on the history of hidden supercars with the spectacular 400 GT from the mid-1990s.
The Venturi 400 GT, which looked identical to the Ferrari F40, also had a twin-turbocharged V6 engine.
7. Mitsuoka Orochi
A Japanese sports automobile that was created and produced by Mitsuoka Motors as a concept car in 2001.
With updates and tweaks to the design emerging in 2003 and 2005, it ultimately being placed into production and sold in late 2006 as a 2007 model.
The automobile is named after the mythological 8-headed dragon of Japan "Yamata no Orochi".
"Orochi is the automobile to ride to get everyone's attention," added Mitsuoka, who classified this vehicle as a "Fashion-Super vehicle."
The chassis of Honda NSX was served as the foundation for the Orochi, equipped with a 240-horsepower Toyota 3.3-liter V6 engine. 
Although this may not seem amazing, the car is light and agile, and so is the performance.
What is the Fastest V6 Engine?
There is no clear winner when it comes to comparing the performance of V6 engines.
Some people may point to certain models or brands (like Chevrolet Camaro) that they believe offer the best performance, but ultimately this depends on a number of different factors, including engine design and driving conditions.
How many miles you can put on a V6 engine depends on a number of factors, but most V6 engines will last for at least 150,000 miles with proper care and regular maintenance.
Some engines may even last much longer than this.
Ultimately, it is important to follow the manufacturer's recommendations in order to get the most out of your engine.
Does V6 Engine Waste a Lot of Gas?
Since V6 engines use a lot of fuel, we're not surprised when people ask us this question.
In fact, one of the reasons that you bought your car was to save gas and reduce emissions.
And since V6 engines generate more horsepower than previous generations of engines, they do burn more gas–but only slightly.
While V6 engines are not disappearing entirely, they are becoming less common in new cars.
This is because advances in engine technology have made four-cylinder engines more powerful and efficient, so they can now do the work of a V6 engine without using as much gas.
In addition, four-cylinder engines are typically lighter than V6 engines, which improves fuel economy even further.
As a result, V6 engines are gradually being phased out in favor of more efficient four-cylinder engines.
Final Thoughts
So, these are all about supercars equipped with V6 engines. We hope you liked it and found it helpful.
Overall, the V6 engine is a great engine for those who want to save on gas and reduce emissions.
In fact, one of the reasons that you bought your car was to save gas and reduce emissions. And since V6 engines generate more horsepower than previous generations of engines, they do burn more gas–but only slightly.
Therefore, the value of a V6 engine largely depends on your personal preferences and driving habits.
Some people may value lower gas costs more than others, while others may place more importance on speed and performance.
Ultimately, the best way to determine the true value of a V6 engine is to test drive one and see how it performs for you.

Based in Orem (Utah) John Paterson graduated from Utah Valley University and has begun writing in 2009. He has a large wealth of experience in writing articles related to cars, automotive repair, wheels, cleaning/maintenance, and much more. He has also written instructional articles in a similar niche for a few online publications as well. Currently, he works as a mechanic in his personal garage shop where he loves serving his countrymen from his heart.