The Jeep Wrangler is more than just a mode of mobility; it is a piece of the great American past.
Trying to identify the best Jeep Wrangler models can be difficult, after all, Jeep Wrangler aficionados are a close-knit group who even have a particular hand sign when passing other Wrangler drivers on the highway.
You'll quickly notice that everyone appears to have their own viewpoint, their own personal "favorite" when it comes to the Jeep Wrangler.
Many people prefer one of the special edition Wranglers, such as the 2012 Jeep Wrangler Unlimited Call of Duty MW3 Limited Edition, while others prefer the tried-and-true Rubicon.
As a final note, did you know that the Jeep's general design was inspired by a bulldog? Inventor of the Jeep Wrangler Design, Michael Santoro says this is accurate.
So, let's dive into the 7 Best Jeep Wranglers ever made.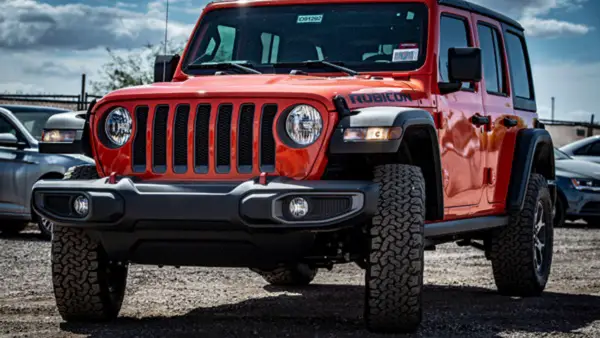 1- Jeep Wrangler Mojave
While the 2021 Jeep Wrangler Mojave is not yet available for purchase, this Jeep Wrangler model has the potential to be one of the best ever made.
The 2.0-liter turbocharged 4-cylinder engine powers both the 2- and 4-door Wrangler Mojave models. Its design would also be influenced by the Wrangler Rubicon and Gladiator Mojave.
As a member of Jeep's Desert Rated line-up, the new 2021 Jeep Wrangler Mojave should be able to tackle both the Rubicon's thick rock-laden tracks and the rocky, sandy, and slippery terrain of desert trails – and go back in time.
2- Wrangler Black Bear 2016
The "best" of something is usually a personal preference.
The 2016 Jeep Wrangler Black Bear qualifies in this situation due to its ability to handle the legendary off-road trail that bears its name.
This special edition Wrangler was specifically engineered to handle the Black Bear Pass and is hence virtually unstoppable.
Another reason it became popular was because of the appearance pack, which tragically appeared to garner most of the attention.
If your abilities equal those of the Jeep Wrangler, as reported by Car and Driver, you will have no problem navigating the Pass in this vehicle.
Additionally, owning this limited-edition Wrangler comes with an abundance of accessories and aftermarket backup supplies that you can use to customize and personalize your Wrangler to suit your needs.
3- Wrangler TJ 1997
With the introduction of the 1997 Wrangler TJ, the Wrangler nameplate entered a new era.
For much of its existence, the Jeep Wrangler was known as an off-roader, but that changed when the 1997 TJ model went on sale.
This model had effectively merged road abilities into the Wrangler, resulting in handling that was just as responsive on the road as it was on the terrain.
In reality, this new addition to the brand maintained the brand's off-road strength while still providing owners a comfortable and secure road trip.
4- Wrangler Willy's Wheeler
The 2014 Willy's Wheeler JK variant pays homage to the Jeep Wrangler's illustrious past.
"This new Jeep vehicle combines pure functionality and substantial capability in a unique package that reflects the brand's origins," says CEO Mike Manley.
In fact, by emulating the military jeeps that led men into battle, this model is sure to appeal to Jeep lovers searching for a piece of history and authentic style on their Wranglers.
The base model was inspired by the Wrangler Sport and came standard with a 285-horsepower 3.6-liter Pentastar V6 engine.
5- Wrangler Unlimited North-Edition
Not all fantastic Jeep Wrangler models are "out of production." Allow us to introduce you to the 2020 Jeep Wrangler Unlimited North Edition.
What distinguishes this Wrangler model is that it was designed to withstand the snow, dampness, and ice of frigid areas.
The construction is based on the Sahara model and has the Selec-Trac 4 4 system, which drives you through the elements, as well as a removable 3-piece hardtop to keep you warm and dry.
Both the seats and the steering wheel are heated for your comfort, and tow hooks are included in case you need to pull a downed driver's vehicle out of a cold, snowy ditch.
Another characteristic is the anti-spin rear differential axle.
6- Jeep Wrangler Moab 2018
This is the model for you if you're seeking the "ideal" Wrangler – one that's strong as nails, capable of navigating rugged and winding terrain and also has a more modern design.
Built to take on Utah's rugged, demanding, and unforgiving off-road terrain, the 2018 Jeep Wrangler Moab delivers hardcore off-roaders the power they crave to tackle the Metal Masher trail, while also delivering comfort and safety to both drivers and passengers.
The Moab is one of the greatest Jeep Wranglers on the market because it combines Rubicon's supremacy in the mountains with the Sahara's high level of comfort and exterior appearance.
7- Wrangler Rubicon
Let us present you to the 2018 Wrangler Rubicon, the admiral of the Wrangler fleet. The Rubicon, named after one of the world's most famous off-road trails, represents the hardest and toughest of Wranglers.
As soon as the 2020 Jeep Wrangler Unlimited Rubicon EcoDiesel is released, the 2018 model remains one of the top Wranglers on the market.
It provides the keen off-roader with an outstanding combination of usefulness and driveability.
Its 3.6-liter V6 engines produce up to 285 ground-hungry horsepower, while its enormous 33-inch wheels provide the necessary ground clearance.
Bonus: Wrangler Unlimited TJ 2004
Now this one's a bonus from my side, my personal fave! The 2004 Jeep Wrangler Unlimited TJ, often known as the "LJ" by some, quickly became a favorite among Wrangler enthusiasts.
It was the 2004 Unlimited TJ model that really demonstrated the brand's massive off-road capabilities to the general audience.
This stretched or lengthened Wrangler had an extra 15 inches of muscle and was introduced at the Detroit Auto Show by Chrysler officials as "A New 2004 1/2 Jeep Wrangler Unlimited Offers Customers A New Option."
The improved storage space and legroom, as well as the increased towing capability and off-road capabilities, are steadily becoming popular among automobile buyers.

Based in Orem (Utah) John Paterson graduated from Utah Valley University and has begun writing in 2009. He has a large wealth of experience in writing articles related to cars, automotive repair, wheels, cleaning/maintenance, and much more. He has also written instructional articles in a similar niche for a few online publications as well. Currently, he works as a mechanic in his personal garage shop where he loves serving his countrymen from his heart.