Toyota is one of the first names that comes to mind when thinking of well-known automotive companies that have left their impact on the world.
Toyota has made a global impact with everything from amazing eco-friendly Hybrid automobiles to racing on the F1 track.
From the legendary Toyota S800 to the all-time favorite Toyota Supra, we're listing the 10 Best All-Time Toyota Race Cars ever built after taking things like performance, historical importance, and overall appeal into account.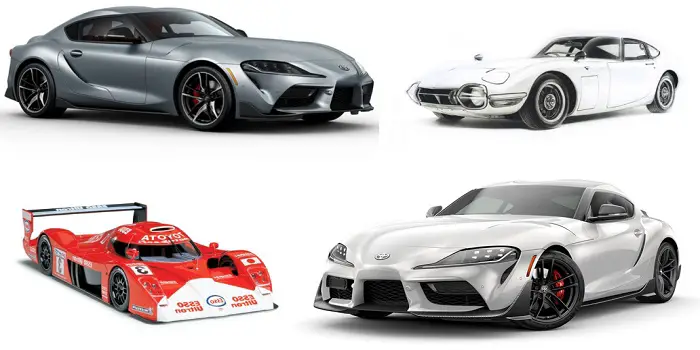 1. Toyota Supra Mk4 Twin-Turbo
The Toyota Supra is without a doubt one of the most well-known Toyota race cars in the globe.
Everyone knows what a Supra is, from kids to senior citizens they all are well aware of this monstrous machine.
What distinguishes this race car from others? The first iteration of the automobile was released in 1978, and it was the car of choice for everyone who didn't want a Celica. 
Drifters and tuners adored the fourth-generation Supra, and the vehicle was featured in global hit films like The Fast and the Furious. 
The Supra had two engines, a 3.0-liter twin-turbocharged unit (2JZ-GTE Inline 6) producing 320 horsepower and 431 NM of torque, and a 3.0-liter naturally aspirated unit (2JZ-GE Inline 6) producing 225 horsepower and 285 NM of torque.
When compared to other race cars in the same market, the MK4 or fourth-generation model made the Supra more affordable and the most iconic race car ever to date.
2. Celica GT-Four (ST205)
The silver award goes to the final version of the extremely popular, rally-derived Celica GT-Four.
When it debuted on sale in the UK in 1994, this model, codenamed ST205, was the apex of the Celica line-up. 
The Celica GT-Four was a turbocharged, four-wheel-drive coupe that served as the foundation for Toyota's World Rally Championship vehicle. 
The road-going variant sped from 0 to 60mph in 5.9 seconds and could achieve 153mph thanks to the 2.0-liter engine's 239bhp. 
Toyota was required by WRC regulations to produce a minimum of 2,500 production vehicles, with 100 versions priced at £29,235 in the UK making it one of the best and most affordable race cars in that segment of that time.
3. Lexus LFA
The Lexus LFA was created to be the greatest pure race car on the market, and with its one-of-a-kind design and power, it created a sensation in the car industry overnight. 
The Lexus LFA was created in exceedingly small numbers, making it both extremely costly and exclusive that even Paris Hilton pays a hefty rent for having one.
The Lexus LFA was an extraordinary feat of engineering, with a 4.8-liter V10 engine configuration producing 552 horsepower, it was a screamer.
There isn't enough room here to detail every technical marvel crammed into the LFA, but the ultra-expensive, ultra-fast Lexus offers an exhaust tone and driving sensation that very few other race cars have ever produced.
4. Toyota GT-One
Contrary to popular assumption, Toyota is a well-known carmaker in racing circuits ranging from Formula One to NASCAR. As a result, the Toyota GT-One is one of the world's quickest and most accomplished race cars. 
With its low to the ground design and gorgeous appearance, the Toyota GT-One is by far one of the greatest race cars ever created, rivaling Honda's S2000 and the extremely rare Honda Beat.
5. Toyota 2000GT
Possibly the most renowned and valuable Toyota road automobile of all time.
The 2000GT co-starred with James Bond in his film You Only Live Twice (although in one-off convertible configuration) and is currently helping to reinvent race cars for a new generation over 40 years later. 
The Toyota 2000GT, powered by an in-line six-cylinder engine, was the company's first 'grand tourer' when it went on sale in 1967.
The Toyota 2000GT was famous for its lovely flush headlamps and trademark style, which was reminiscent of the Nissan Z. 
Overall, the Toyota 2000GT is a one-of-a-kind car, noted for a type of sportiness and design that no other race car has matched.
6. Toyota Soarer Turbo
Even though there were four generations of Soarers, it was the turbocharged variants that set new performance and luxury benchmarks. 
The Soarer had two turbocharged engines in 1988, but it was the addition of the 1JZ 2.5-liter turbocharged six-cylinder engine in 1991 that made this car a rocket.
The Toyota Soarer Turbo had numerous benefits over its domestic Lexus relatives, from having a lot more distinct look and having extra amenities developed especially for the racing track and it left no stone unturned in establishing itself as one the best Toyota race cars of all time.
7. Toyota Celica AWD Turbo
During the 1990s, there were several race cars on the market from various automakers, and Toyota, not wanting to be left out of the race, so produced the Toyota Celica AWD Turbo which broke all the records in terms of power, speed and design.
The Celica is a nameplate that has been around for quite some time. Although rear-wheel drive and front-wheel drive variants were available at times, it was the all-wheel-drive vehicles that stood out. 
The first all-wheel-drive turbocharged Celica dubbed the GT-Four, debuted in 1986, powered by a 190 horsepower 2.0-liter four-cylinder engine moonlighting its way to creating history so that have to list it in this article.
8. Toyota AE86
The AE86 is a kind of race car that has appeared in hundreds of automotive video games, periodicals, and just about everywhere else.
It is the car that has made its imprint on the performance community. 
The AE86 was famous for its hatchback design, which had a large interior and driver-centric elements, giving the car a race-inspired vibe while remaining true to Toyota design standards. 
The AE86 had an automatic gearbox option, which many drivers took advantage of when purchasing this one-of-a-kind Toyota foreign sports vehicle.
9. Toyota MR2
The mid-engined Toyota MR2 is also known as The Toyota Ferrari by many in the automotive press. 
It was a design masterpiece with a marvelous style that is still famous today even without being exceptionally quick as a two-seat roadster.
It was constructed on a lightweight design that made it extremely enjoyable to drive making its way onto the drifting circuit. 
10. Toyota S800
The Toyota S800 was Toyota's first real race car ever, and it is also regarded as one of the greatest pure race cars in the world. 
It is a mix of sheer genius and flair. 
The naturally aspirated engine was among the finest available at the time.
The S800 was powered by a 0.8-liter, two-cylinder horizontally opposed engine weighing less than 1,300 pounds producing a modest 44 horsepower. 
It was a two-seat Targa with a removable roof panel. Overall, the Toyota S800 was one of the most impressive race cars ever built.
Conclusion
We listed the top 10 greatest Toyota race cars ever built in history. 
From Toyota's first-ever real sports car S800 to world-renowned and remarkable Supra Twin-Turbo describing their power, speed, and seamless beauty. 
If you think we missed some greater Toyota race cars which are worthy of being on this list, let us know in the comment.

Based in Orem (Utah) John Paterson graduated from Utah Valley University and has begun writing in 2009. He has a large wealth of experience in writing articles related to cars, automotive repair, wheels, cleaning/maintenance, and much more. He has also written instructional articles in a similar niche for a few online publications as well. Currently, he works as a mechanic in his personal garage shop where he loves serving his countrymen from his heart.