You're amazed by their immense force as you watch them speeding along the tracks.
Yes, Formula One cars are engineering marvels. 
In case you didn't know, these screamers and their sport, Formula 1, have a 70-year history.
There have been some genuinely remarkable F1 cars of all time.
You might have pondered which of these cars were the finest at times. While no car has ever won all of the races in a single season, but some have dominated in a given season. 
We present to you some of these F1 cars, which we believe to be the greatest of all time.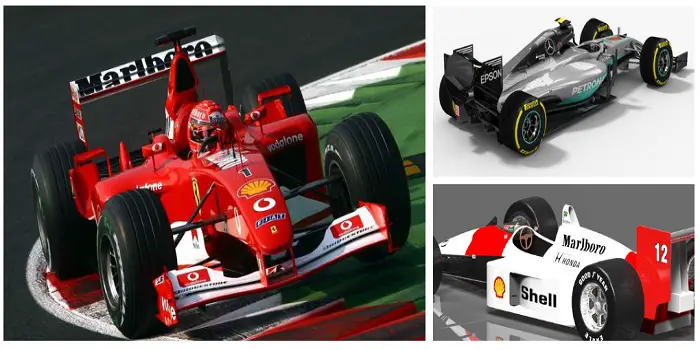 1. Mercedes F1 W07 Hybrid
The Mercedes F1 W07 Hybrid was the pinnacle of Mercedes' success throughout F1's hybrid V6 era. 
The W07 was designed by John Owen under the technical guidance of Paddy Lowe and raced by Lewis Hamilton and Nico Rosberg in the 2016 season, which marked the pinnacle of the 'Silver War' between the two teammates.
Its chassis featured the characteristic "S-Duct" to improve airflow from the front to the back of the car, and it was upgraded during the season with 'L-shaped turning vanes' beneath the chassis and beside the bargeboards, as well as improved front wing fins to channel the airflow.
The F1 W07 Hybrid won 19 races (10 for Hamilton and 9 for Rosberg), 20 pole positions (12 for Hamilton and 8 for Rosberg), nine fastest laps (three for Hamilton and six for Rosberg), 14 front row lockouts, and eight 1–2 finishes, earning Mercedes the championship.
2. Ferrari F2002
The F2002 is a masterpiece from the Maranello stables, designed by chassis designer Rory Byrne under the technical guidance of Ross Brawn. 
The car's design concept was unique, with a small lightweight clutchless direct-shift gearbox, fluid traction control system, and periscopic exhaust outlets to regulate airflow. 
It was powered by a 3.0-liter V10 engine and driven by Michael Schumacher and Rubens Barrichello that season, and it earned 11 poles, 15 victories, and 28 podiums, making it one of Ferrari's most successful entrants ever, winning the F1 drivers' and constructors' championships.
3. McLaren MP4/4
The McLaren MP4/4, designed for Ayrton Senna and Alain Prost, is regarded as the F1 car that gave Senna his first championship. 
The MP4/4 was one of F1's most dominating cars, winning 15 races and claiming 15 poles while leading 1003 of 1078 laps.
The MP4/4 was designed by American engineer Steve Nichols under the technical guidance of Gordan Murray and was powered by an RA168 E 1.5-liter V6 turbo engine that produced over 700 BHP. 
The dominating car won both the drivers' and constructors' championships in 1988, declaring the beginning of McLaren's domination in F1.
4. Lotus 78
The Lotus 78 designed by Colin Chapman in 1977, was the first F1 vehicle to employ ground effects.
The automobile, which was inspired by the Havilland Mosquito fighter aircraft, had unusual wings beneath the car as well as on side skirts to channel underbody airflow, thereby turning the car into a large, inverted wing. 
As a result, the 78 generated far greater downforce than cars with simply typical overhead wings.
The Lotus 78 driven by Mario Andretti and Gunnar Nilsson, won five races in 1977 and two more the following year before the Lotus 78 idea was modified to produce the Lotus 79, which went on to dominate the majority of the 1979 F1 season, with Andretti winning the drivers title.
5. Williams FW14
The Williams FW14B is one of the most inventive F1 cars ever created by the Grove-based team. 
It was designed by Adrian Newey, with technical guidance from Patrick Head. The FW14B was the result of ingenuity, technical brilliance, and unrivaled accuracy. 
This F1 car included unique cutting-edge technology such as traction control, anti-lock brakes, and a primitive blown diffuser, and was powered by a Renault V10 engine connected to a semi-automatic transmission.
It also featured a one-of-a-kind active suspension technology built by a special team led by Paddy Lowe, which was outlawed by F1 before the 1994 season.
The FW14B was one of the most technologically advanced and visually beautiful vehicles, and its innovations helped to redefine the sport's history. 
Sebastian Vettel is said to have acquired one of the six FW14Bs on the market.
6. Maserati 250F
The Maserati 250F may not be the most dominant automobile on our list, but it was a long time. 
It debuted in 1954 and won its first two races. Fangio drove the 250F in 1957, winning the world championship with six podiums out of seven races. 
Maserati as a team left Formula 1 following that season, however, the car was utilized by private entries until 1960. 
In total, this F1 car earned eight victories and 26 podium finishes.
7. Alfa-Romeo-158/159
A car equipped with a powerful 8-cylinder engine that distinguished it from the competition. 
Known as the Alfetta ("Little Alpha" in Italian), this race car is one of the most successful masterpieces ever made.
It was the first vehicle to dominate Formula 1, winning 47 of the 54 races it competed in.
The Alfa-Romeo-158/159 won races at the famous circuits of Monaco, Spa, and Silverstone.
8. Red Bull RB9
The RB9's most notable feature was its unusual stepped nose shape, which was designed by Adrian Newey and aerodynamicist Peter Prodromou for the 2013 season. 
The car was equipped with a 2.4-liter Renault RS27-2013 V8 engine producing 750 horsepower.
With its distinctive aerodynamic wing and rear design, the vehicle dominated the 2013 season. 
Driven by Sebastian Vettel and Mark Webber, the RB9 has won 11 pole positions, 12 fastest laps, 13 races, and 28 podiums that season helping Red Bull win its fourth Drivers and Constructors title.
9. Brabham BT52 1983
The Brabham BT52 was the first turbocharged Formula One vehicle to win a World Drivers' Championship.
The BT52 was equipped with a 1.5-liter turbocharged inline four-cylinder BMW M12/13 engine capable of 1000bhp in qualifying trims. 
Driven by Nelson Piquet and Ricardo Patrese, the BT52 went on to win four races, two pole positions, and four fastest laps that season.
Crowning Piquet as the very first turbo-powered F1 champion and assisting him in winning his second career title.
10. Ferrari 125 F1
Scuderia Ferrari's first Formula 1 car was the Ferrari 125 F1. When it debuted on the Piacenza racing track on May 11, 1947, it was the first car to wear the Ferrari brand.
Equipped with a 1.5-liter engine manufactured in 1947 by Ferrari of Modena, Italy, was utilized by the Italian team in eight World Championship Grands Prix during the 1950 and 1951 seasons, and what makes it to this list is that there are only two of these.
Conclusion
In its rich history, Formula 1 has seen many cars burn the tracks. We've compiled a list of the finest of them all.
If you think that there are other cars that need to be listed here please contact us and we will do our best to update the article ASAP.

Based in Orem (Utah) John Paterson graduated from Utah Valley University and has begun writing in 2009. He has a large wealth of experience in writing articles related to cars, automotive repair, wheels, cleaning/maintenance, and much more. He has also written instructional articles in a similar niche for a few online publications as well. Currently, he works as a mechanic in his personal garage shop where he loves serving his countrymen from his heart.