It seems like the clock is turning back when it comes to car designs as new and modern machinery is being introduced to the world of cars.
A lot of companies are going back to their old designs and re-launching old models with better, more powerful engines and equipment to please their customers.
Imagine having to get the best of both worlds.
The advanced, powerful equipment and machinery of the modern era cars combined with the cool, chic looks of vintage cars.
Ain't that a sight for sore eyes?
And in this article, you'll find out 15 of the greatest modern cars that are yet vintage and retro-inspired: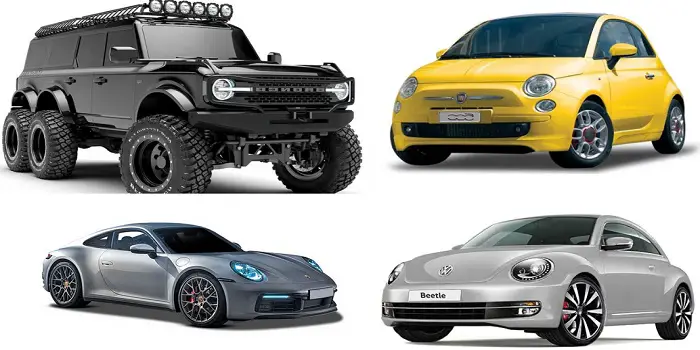 1. Ford Bronco
2021 launched Ford Bronco is heavily inspired by its original predecessor 1966 Bronco Dune Duster.
The design of the newest Bronco is the same as that of the 1996 Bronco.
The 2021 model is in its sixth generation after getting a re-launch after 25 years as it was discontinued in the year 1996 itself when the demand for such compact off-road vehicles declined during the late 90s to early 2000s.
The original first-generation Bronco's had all its glasses flat, bumpers were straight C-sections, and the left and right door skins were symmetrical, so styling was subordinated to simplicity and economy (before the fitment of door-mounting hardware).
It also had convertible features which were very new and unique at the time.
The newest version seems to follow the same concept with focus and priority given to making it seamless, simple, and economy friendly.
2. Volkswagen New Beetle
The Volkswagen New Beetle was originally introduced as a compact car in 1997 by Volkswagen.
The New Beetle is always a reliable option and one of the most beloved retro-inspired cars because of its simplicity, its originality, and how well it meshes with the modern age, and its prices.
Its affordability gives a modern chic look and remains loyal to its original design.
What more could a car connoisseur ask for?
They are tiny vehicles that get good mileage, making them a suitable choice for a daily driver or commuter car. They are also inexpensive to acquire and repair, making them a good starter automobile.
3. Ford GT
The original Ford GT goes as far back as 1960.
It's a two-seater sports car manufactured by the famous American automobile company Ford.
The new design of the Ford GT takes inspiration from its original and one of the most famous models, the 1966 GT40 which was a consecutive 4-time winner of the famous race of 24 hours of Le Mans.
The 24 Hours of Le Mans is a long-running sports car race that takes place in the French town of Le Mans.
The newest GT is similar to its predecessor GT40 but it's just bigger, broader, and taller which allows the driver and the people sitting in it to be more comfortable and sit without any hindrance.
4. Fiat 500
The original Fiats were launched during the years 1957 to 1975 specifically for compact cities and roads of Italy and they were an instant hit.
Because of their mini, yet stylish look and easy-to-drive handle the car has always been in huge demand.
The newest version of the Fiat takes inspiration from its founder dating back to the year 1958 Nuova 500.
It had a metal roof at the top with three long grooves.
The newest model of Fiat also has the same design elements plus it also offers convertible options to make it more desirable for the customers.
5. Porsche 911
The original Porsche 911 is a two-door, 2+2, two or four-seater car as per the buyer's requirements created by the Porsche company in Stuttgart, Germany in the year 1964.
Since its foundation, the 911 has always been one of the most successful high-powered racing cars winning some of the most famous races like the 24 Hours of Daytona, 24 hours of Le Mans, and Targa Florio.
The 911 has always remained the same when it comes to design.
Just minor changes as far as its headlights and rear engine layout can be seen.
It's one of the most unadulterated retros, vintage yet modern cars out there in the market which doesn't change its originality at all.
6. Jeep Wrangler
The famous squared-off body, slatted design, and external fenders have been the hallmark of the fenders since 1986.
If you are passionate about old-looking cars then a jeep wrangler is worth trying out.
In recent years the Wranglers have been made safer by adding better suspensions, drivetrain, and interior to attract more drivers.
7. Dodge Challenger
The Dodge Challenger is a one-of-a-kind muscle car produced by Dodge since 1959.
The earliest versions of the car were a two-door coupe only but now the newer, modern designs have grown in size and seats to offer more for the buyers and appeal to lovers of muscle cars.
8. Ford Mustang
The Mustang is the longest produced and one of the best-selling Ford motorcars since its production dating back to 1964.
It's among the best modern retro cars that you can go for.
And the original design of the vertical taillights, fastback shape, and long hood have all kept their originality throughout the years.
9. Honda S660
The S660 is a two-person car with a traverse mid-engine, rear-wheel-drive layout.
If you want to own one of the best cars that look classic this is a great one to have.
It's a convertible car paying homage to its original model which was the Honda Beat.
10. Mini Cooper
The Mini is a 3 or a 5 door compact city car produced by BMW since 1969.
The original model had only 2 doors and was built specifically to help locals of cities with smaller roads.
The newer versions also seem to have the same design but with more seats and doors to offer.
11. Suzuki Jimmy
Jimmy is a brilliant one in the groups of new cars with old body styles.
It is a line of off-road mini-SUVs produced by the famous automobile company Suzuki.
Throughout its production since 1970, the Jimmy has kept to its original design of the boxy, straight line, upright grille, and round headlights and still attracts a lot of buyers to this day.
12. Alpine A110
The Alpine is a rear mid-engine, rear-wheel-drive, high-powered sports car produced by the automobile maker Alpine since the year 1963.
It still carries its hallmark small enclosed two-door berline dating back to the original which makes it a perfect retro-designed car.
13. Mitsuoka Rockstar
This famous Japanese car is famously modeled after the Chevrolet Corvette C2 of the 1960s.
With a design like round lights in front and rear, chrome bumper trim and side sills make it look like an exact copy of the Corvette.
Making Mitsuoka infamous for redesigning famous American and European cars of the 60s.
14. Chevrolet Camaro
The Chevrolet is a pony car first introduced in the year 1966.
It comes as a coupe or convertible and is a perfect retro-designed car that offers to go loud and fast with comfort for its owners.
It has a similar muscle car design to the Mustang.
15. Mercedes Benz G-Class
This 5 seater G-Wagon has been using the same designs of boxy silhouette and round headlights for over 4 decades.
Originally introduced by Mercedes in 1979, the car has not lost a single tilt since its founder.
So, if you really are a fan of new cars that look retro and at the same time come with all the best amenities of a modern car, this is the one you will love to own.

Based in Orem (Utah) John Paterson graduated from Utah Valley University and has begun writing in 2009. He has a large wealth of experience in writing articles related to cars, automotive repair, wheels, cleaning/maintenance, and much more. He has also written instructional articles in a similar niche for a few online publications as well. Currently, he works as a mechanic in his personal garage shop where he loves serving his countrymen from his heart.