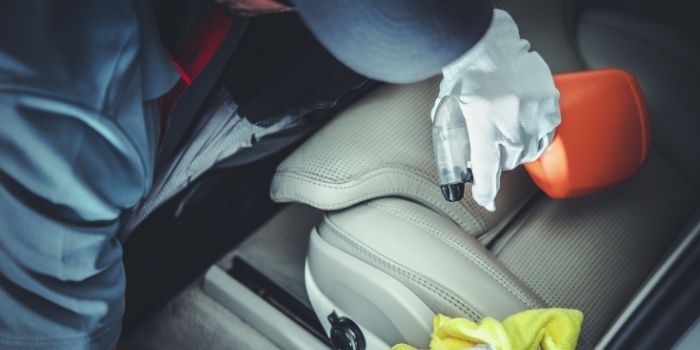 If you're like most people on the road these days, you probably spend a lot of time in the vehicle, which almost appears to be a mobile home.
When you're traveling down the highway or doing errands for hours, the last thing you wish to look at in your rearview mirror is a huge ugly burn mark on your upholstery.
Don't be alarmed if something hot, such as a cigarette touches your car's interior. The burn hole or stain may be removed with a few DIY procedures.
Here are the step-by-step procedures to fix burn holes from car seats and upholstery.
Fixing Burn Holes in Leather Seats
You may erase an ugly burn hole from a leather seat that has not completely pierced the leather by partly trimming out the burn. 
Step 1: Start by trimming across in the burn about half the bottom of the leather, then use a scalpel to trim the burn out around the edge.
You may skip to the #5 step if the burn did not to the bottommost of the leather.
Step 2: If your burn has gone to the bottom, you should trim all the way through, vacating a hole in the process.
Step 3: Work the hole by inserting canvas material under the leather using tweezers, ensuring the cloth is precisely flat, and leaving approximately a half-inch overlap underneath all of the hole's borders.
Step 4: Lay glue to the hole using a paint stirrer, scalpel, or another thin tool, pressing one side down to elevate the different side up.
Now, apply glue to the hole's bottom edges and push them down. This procedure should be repeated on all corners. Allow for a 20-minute resting period.
Step 5: Apply three small applications of leather filler after that.
Let the first application dry for around 3-4 minutes with a hairdryer before gently pushing it down with your fingers. Repeat with the following two layers.
Step 6: Match the color of the leather using a leather touch-up kit using a cotton swab and dry it down using a hairdryer.
Let it settle for 1-2 minutes, then add more color so that it is thoroughly blended.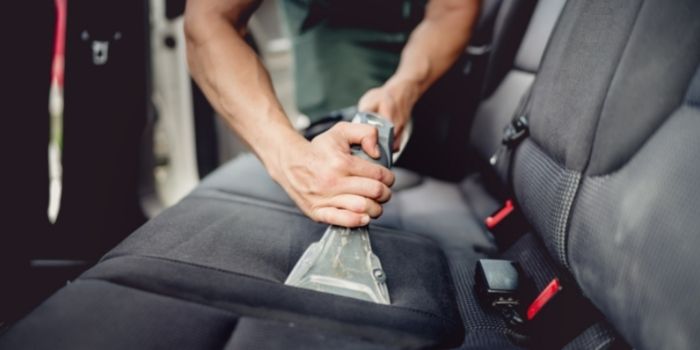 Repairing Vinyl Upholstery in the Car
Step 1: Using a scalpel, trim around the hole of the burn making it a bit larger. 
Step 2: Put the trimmed-out material on a fresh piece of vinyl. Trim your patch and apply it to the burn hole ensuring it fits.
Step 3: Smooth the area with fine sandpaper.
Step 4: Rubbing alcohol should be used to clean the area.
Step 5: Use a clothes iron with less heat setting on the patch to bond the fibers.
Patching Burn Holes in Fabric Upholstery
Step 1. Start by rubbing a little amount of mayonnaise on the hole. Allow it to settle for 2-3 minutes.
Now using a clean moist towel, remove the residue. This procedure aids in the removal of melted burn scars.
Step 2. Using a scalpel, scrape away any lingering burn scars.
Step 3. Using a tiny razor, take a piece of fabric from under the seat.
Ensure you pick a piece that appears similar to the cloth where the burn happened (be sure any pattern matches). Make a patch that fits the location of the hole.
Step 4. Using fabric adhesive, adhere the patch to the burn.
Step 5. Wait for the adhesive to cure. The patch will then blend in with the rest of the seat, concealing the formerly unsightly burn hole.
Following these procedures will allow you to get rid of those ugly burn holes regardless of material like leather, vinyl, different kinds of fabrics, etc…
Hope you liked it, following are some of the frequently asked questions you may wish to have a glance at.
Do burn marks fade overtime?
Burns of the first degree should heal on their own within a week without leaving scars.
Burns of the second degree should heal in about two weeks.
They may leave a scar, but it will fade with time. Burns of the third degree may take months or years to heal.
How much does it cost to repair a car seat burn?
Replacement car seats may range in price from $300 to $2500.
Simple repairs that may be done at an upholstery shop can range from $70 to $350 per seat, depending on the amount of damage to the car seat.
And a lot less if you're doing it yourself.
How to repair a cigarette burn on the inside of a car's door?
If you haven't previously, cut your vinyl patch to size.
If required, apply fabric glue to the packed burn and the surrounding region.
Wait for the glue to cure before gluing on your patch. Remove any excess glue immediately, and your repair is complete.

Based in Orem (Utah) John Paterson graduated from Utah Valley University and has begun writing in 2009. He has a large wealth of experience in writing articles related to cars, automotive repair, wheels, cleaning/maintenance, and much more. He has also written instructional articles in a similar niche for a few online publications as well. Currently, he works as a mechanic in his personal garage shop where he loves serving his countrymen from his heart.