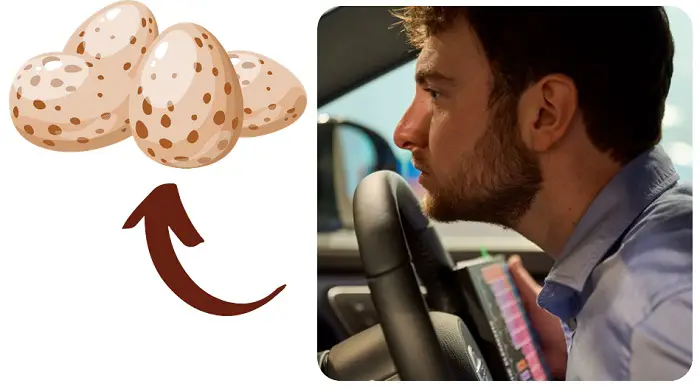 No one on earth will like the strong unpleasant potent smell of rotten eggs in their car while driving.
If by chance you experience such a smell while driving in your car, be careful.
It can be a sign of some serious issue.
And if you really need to get rid of such a smell, knowing what is actually causing it will help a lot.
So, before I discuss the steps to remove the rotten egg smell in your vehicle, let's understand why the heck your car is getting smelly in the first place.
What Causes Bad Egg Odor in Car?
The irritating odor like that of decayed eggs coming from your car, especially when you accelerate, is usually due to the following reasons…
1- Old Transmission Fluid
Due to the regular missing of transmission flushes in your car, the fluid may sometimes leak into other systems.
This usually happens in manual cars which can then cause a smell similar to bad eggs.
Car manufacturers often suggest checking and changing your vehicle's transmission fluid on a regular basis which can often solve and prevent such problems.
2- Broken Catalytic Converter
The catalytic converter is a part of the vehicle's emission system.
If it gets jammed or broken, it can cause car smells like sulfur or decomposing eggs.
This is usually caused due to malfunctioning of the catalytic converter which will mostly require a repair or a complete change of the component.
If it's a new car you have recently purchased, check if the repair can be covered by your warranty.
3- Failing Fuel Pressure Sensor or Worn-Out Fuel Filter
Fuel pressure sensors functions to regulate the use of fuel in a vehicle.
If it fails or malfunctions, it can overheat the engine or clog the catalytic converter in your vehicle with too much oil.
This can later produce an odor like bad eggs and need to get fixed as soon as possible.
---
How to Remove the Smell of Rotten Eggs?
In most cases, foul odors like rotting eggs are easy to remove from inside the car.
Just follow these simple steps and you are good to go…
Step 1 – Locate the smell
The very first step is to check and locate the source from where the smell is coming.
Sometimes there can be food items, or eggs pushed under your car seat and you have forgotten to remove them.
If that's the case, simply remove all the trash food and make sure the smell isn't coming again.
Step 2 – Use baking soda
If you still experience the bad smell of eggs in your car, sprinkle some baking soda on your car's floor mats and onto the carpeted areas.
If possible, remove the mats first and keep them out in the sun.
Then after an hour or two, vacuum up the carpets and mats to remove the baking soda.
This will help in removing all the bacteria that may be causing the foul odor.
Step 3 – Use vinegar and lukewarm water
As an alternative to baking soda, you can use vinegar and water solution to remove and stop the rotten egg smell from coming inside your car.
In a small bucket pour 3 cups of lukewarm water and add 1 cup of vinegar
With a soft sponge or a piece of rag wipe the car seat surfaces, dashboard as well as door interiors
Leave the solution on the surface for about 10 minutes and then with clean water wipe away all the vinegar mixture from the car surfaces
Finally, leave your car to air dry for an hour or two and most likely the smell will be gone after that. If required spray an air freshener on all surfaces lightly
While cleaning your car to remove bad egg odors, make sure that you leave the car doors and windows open to allow proper ventilation.
BONUS TIP:
Car diffusers come in handy when you want to keep your car smelling awesome.
They are mostly available in a sleek, elegant design to fit in most cars and act as an air freshener – to help keep your car fresh.
Some of these devices are also equipped with a small car purifier that automatically sterilizes and adjusts the ozone concentration with low energy consumption.
With these devices, you will definitely be feeling better and ready for calm driving.
---
What Other Types of Smells You Can Feel in Your Car?
Besides, rotten eggs, when you sense a different smell in your car, it is worth paying attention to it and trying your best to address it as soon as possible.
These can be something that includes:
1- Exhaust Odor
Out of the many car odors, exhaust fumes are one such thing that you should not ignore.
Exhaust fumes inside the car's interior are an indication of leakage in the exhaust structure or it can be due to bad sealing on your car's door or window.
When exhaust smell like rotten eggs it is harmful to you, your family, and your pets when inhaled.
Circulation of these fumes inside your car's limited space will affect your breathing and make you gasp for fresh air.
As soon as your smell these fumes, without any second thought take it to the mechanic to fix the issue that causes this leakage.
2- Car Smelling Like Gas
It's time for you to draw your attention if you still sense the gas smell inside your car when your car is running.
There are chances that it is due to the fumes lingering in your clothes or shoes when you last filled them in a gas station.
If this is the reason you are lucky and the smell should disperse into thin air once you keep the windows open for a few minutes when you drive the car.
If it continues to last longer than expected for long hours, it is difficult to get rid of the smell and need to look at the source point that causes the gas leakage.
It could be due to issues in the gas cap or leakage in the gas tank.
Either of these will prove harmful to your health and it will affect your car's performance as well.
It is wise to approach the nearest car servicing station where this issue will be addressed perfectly by the expert technicians who will find and seal the gas leakage spot.
3- Smell of Burning Rubber in Car
As long as you are not a race car driver driving on a racing track, the smell of burning rubber should be a cause of concern for you.
It is an indication of a loose rubber belt or hose under the car's hood.
As a result, during movement, these loosened parts will come in contact with heated engine parts and you smell the rubber burning odor.
Other causes of this rubber burning smell can arise from oil leakage or an old drive belt.
These belts and hoses are subject to wear and tear always and it is wise to repair your car once you sense this type of smell.
They will diagnose the trouble and get it done right.
4- Other Burning Smells from Your Car
Some smells are not familiar or distinguishable with a name like rubber burning, exhaust odor, etc.
Even if you sense some weird or different smell, then also it is wise to take it to the car repair shop and rectify the issue.
Some other smells can arise from an overheated AC compressor, burst electrical fuse, or damaged brake pads.
Even if you are not sure about the source of the smell, the trained technician will find it accurately and do the needful for safe driving.
 5- Sour or Musty-Smelling A/C in Your Car
A moldy odor arising from AC ventilation is an indication of moisture accumulation beyond a certain level in air drainage or filter.
It can also smell like dusty socks or vinegar.
Inhalation of this odor over a period of time without addressing it, thinking it is not a major issue, will lead to respiratory problems.
Technicians specializing in car AC servicing will help you to keep these allergic smells at bay.
This will ease your breathing while driving and help to increase the performance and life of the AC in your car as well.
Conclusion
If you are like me, you obviously spend a great deal of time in your car – like driving to work, picking up your children from school, and going to the store on weekends.
But foul odors during a car ride can ruin all your mood and therefore need to get fixed asap.
Hopefully, the above tips will help you get rid of and stop the awkward smells and you will never ever have to experience rotten eggs in your car.

Based in Orem (Utah) John Paterson graduated from Utah Valley University and has begun writing in 2009. He has a large wealth of experience in writing articles related to cars, automotive repair, wheels, cleaning/maintenance, and much more. He has also written instructional articles in a similar niche for a few online publications as well. Currently, he works as a mechanic in his personal garage shop where he loves serving his countrymen from his heart.