The cost of painting a car's door depends on various things like DIY painting (do it yourself), where it will be a lot cheaper, or DFY painting (done for you) that is hiring a professional to do it for you, which will cost you more.
The quality of paint used also affects the cost, and in this article, we're going to learn every aspect of painting a car's door and how much does it cost to get it done?
To cut a long tale short, it will cost between $350 and $1200 or more to paint the car door.
The majority of conventional automobiles with basic paint projects cost between $500 and $800, while bigger vehicles and those with unique paint will cost more.
Those adventurous ones who paint the door themselves may undoubtedly save at least 40-50% off by removing labor expenditures.
So, if you want to know how much you should budget for getting the door of your car painted, keep reading the post for all of our advice and insights below.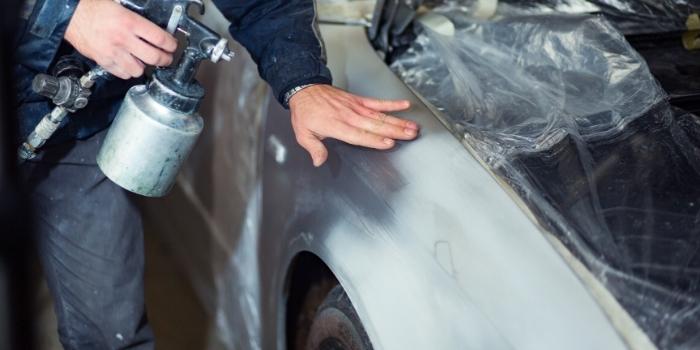 Some Factors Affecting the Cost
Before, you plan to paint do remember that there are several variables that will influence the cost to paint a car door.
One of the most crucial considerations is the size of the panel.
Larger doors need more paint and effort; thus, they are more expensive to paint.
Another key aspect of the pricing is the type of paint used.
Some paints are more expensive than others, particularly bespoke paints and those seen on luxury automobiles.
And the paint job you desire might have a significant impact on the price.
Those who revamp a damaged door with personalized and tailored paintwork pay far more than those who use regular paint with no particular patterns.
The Cost of Painting a Car Door the DFY Way
It's not simply the expense of the paint or the time it takes that drives up the cost of having a car door professionally painted.
What you're paying for are the years of expertise, talent, and commitment that the body-work specialist and auto-painter has collected during her or his career, ensuring that your door will appear as good as new when the job is completed.
As a result, having your vehicle door painted by a garage with an outstanding reputation that you can trust might and will cost you anything between $400 and $1200.
Although they will need to purchase the same paint, stripper, and body filler that you need, any body shop that you hire to paint your car door will have all of the essential tools.
What you're paying for is the professionals' time, work, and expertise.
And those charges may pile up, especially if they discover any more concerns while stripping down and repainting your door.
In all, including labor, having your car door painted will cost between $400 and $1200 if you're getting it from professionals.
However, the procedure might sometimes be utterly out of your control.
If you were in an auto accident or reported the damage that you're attempting to repair by painting your door to your insurance company, they will almost always insist on having your automobile, wherever the damage is, repainted and fixed by a professional.
And if that option is taken away from you since there is nothing you can do about it, you will have to go with a professional painting flow.
Of course, there are a few advantages to having your vehicle door painted professionally.
You will exactly know that the work will be done to a precise degree, which will help your car keep its worth if you decide to sell it at any time.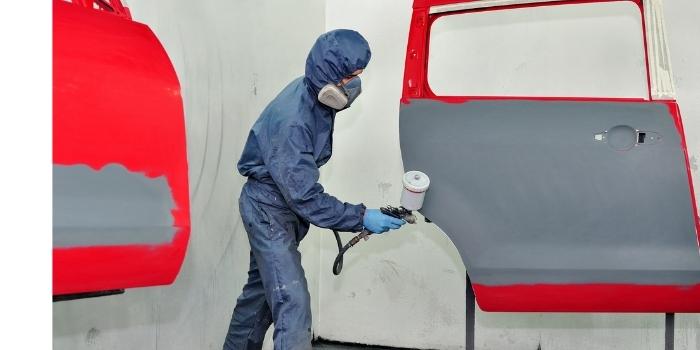 ---
The Cost of Painting a Car Door If You Choose the DIY Way
The majority of amateur mechanics will tell you the same thing.
A single-car door will cost roughly $75 to spray, with each can of priming, paint, and clear coat costing around $25.
That is if it weren't for the fact that, like most things in life, it isn't quite that straightforward.
To complete the job well, you'll need more than a few cans of paint.
This includes the necessary tools to ensure that if you're going to paint your vehicle door yourself, you get it correctly the first time.
Here are some tools and supplies you should have on hand.
Paint Spray Gun
The first item you'll need is a spray paint gun. You don't need a large-capacity spray gun if you're merely spraying or painting a small area.
You'll need a supply of compressed air to power it, but our best advice is to rent rather than buy.
Lookup tool and automotive supply companies online, and if you phone them, they'll gladly send you in the correct way of a nice compressor for rent.
Paint mask
Any paint is harmful, and automotive paint is more deadly if you breathe in the fumes or get it in your eyes, so you'll need to wear a complete face mask when painting your vehicle door.
It is always preferable to be safe than sorry.
Sandpapers
Begin with coarse sandpaper, such as an 80-grit. You may even go so far as to use a paint and rust remover to remove all of the paint down to the metal.
Wet sand with 220-grit sandpaper will give the best results, and don't forget to use compressed air to wipe the dust off before repainting.
Masking Tape
You'll need to make sure that no overspray reaches the portions of your car or the near area where you're working that you don't want it to, as well as a blade or knife to cut it
Body Filler and Spreaders
If you're going back to bare metal and want to ensure that your car appears as good as new after you're through painting it, it's usually a good idea to spend a couple of additional hours filling all of the dents and damage with body filler.
Drop Cloth
It's easy to overspray and gets paint on surfaces you don't want it on, so if you're not applying a paint shop or a spray booth, we'd always recommend using this cloth to screen anything you don't want to paint the same color as your vehicle door.
These are everything you'll need for the entire job, and to properly paint your car door.
Assuming you don't have any of the necessary equipment in your garage, it won't cost you more than $250.
Which even at the most conservative estimate, is less than half of what it would cost to get the car's door painted professionally.
A fair warning if you want to DIY painting:
Even while it will save you some bucks in the short term, it is not suggested that people without competence try to paint your car door themselves.
If you make a mistake during a DIY vehicle painting endeavor, you will almost certainly have to send the car to a body shop to have the error rectified, which will end up costing you more than if you had just let the pros paint it in the first place.
Before performing any automobile repairs, be careful and honestly assess your ability and determine whether it is beneficial to accept the dangers connected with doing so.
Final Words 
Everyone enjoys saving some cash.
In this uncertain world, every dime counts, trust us, we understand and appreciate it.
And, if you're determined to stretch your budget as far as possible, you may paint your vehicle door yourself for significantly less than most body shops and garages would charge you to perform the same work.
However, if it is within your means to have your vehicle door professionally painted, we would always strongly advise you to do so and focus on finding someone who understands what they're doing.
The time, headaches, and tension you'll save will be worth every extra dollar you pay.
When the process is over, the paint fumes have cleared, and your door is dry, your automobile will appear as good as new if it was painted by a professional.
Hope you found this article helpful, and if you liked what you read, please tell us in the comments and we will push more informative information like this regularly on our website to help maintain your car new and that too without breaking the bank.

Based in Orem (Utah) John Paterson graduated from Utah Valley University and has begun writing in 2009. He has a large wealth of experience in writing articles related to cars, automotive repair, wheels, cleaning/maintenance, and much more. He has also written instructional articles in a similar niche for a few online publications as well. Currently, he works as a mechanic in his personal garage shop where he loves serving his countrymen from his heart.