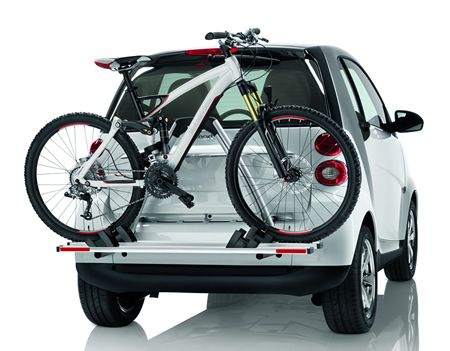 Today, you will find the most adventurous bikers and professional riders carrying their bikes for longer distances when they travel.
The reason for this is they are passionate about biking and want to enjoy it wherever they go.
If you are also one of the biking enthusiasts and are in search of a new creative accessory that is suitable for your car to carry your bicycle and to reach the long-distance, then there are bike racks for your sedan or hatchback available.
The main reason to choose a bike rack depends on your needs and evaluating your present car or vehicle is an important aspect.
While buying a rack check about the distance of transportation and how often you are going to use it.
Also, if you are looking for a stylish bike rack for the sedan which makes it safe to move your bike, there are many choices to choose from.
3 Types of Bike Racks for Sedans
When you buy a bike rack for a car, you have to be sure that it fits the car and isn't very sturdy.
In general, there are three kinds of bike racks for cars and you have a plethora of models suited to hatchbacks, SUVs, sedans, and minivans.
These include:
1- Rooftop
If you're looking forward to donning a Tour de France look, then going for a rooftop bike rack is the right option.
Usually, people go for it because they want to utilize the trunk space as well as extra space to include more bikes.
The option is good for those who can easily climb up on top of their cars to load and take down the bike.
2- Trunk mount
These are quite useful for cars and not mini trucks and SUVs.
They can be installed on the trunk via steel frames and straps.
With an assembled rack, the mounting job is very easy. The mount is easy to install and the bike can be easily taken down.
3- Hitch mounted
Such kinds of bike racks can suit any vehicle which dons a hitch receiver.
There are options of 2-inch receivers and 1 & ¼ inch receivers. The rack is light in weight and quite robust.
When you're choosing a bike rack for a car, then make sure you narrow down your options to the specific kind of rack and then go through the reviews of the people who have already purchased it.
It will make your purchase greatly feasible. Considering the price, vehicle weight, and other things related is also important at the same point in time.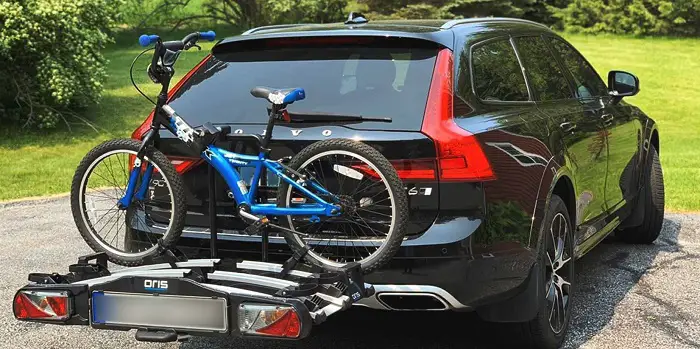 ---
How to Attach a Bike Rack to Sedan?
In general, you will need to use either the straps or clamps that come with the rack to secure it to the car.
If you are unsure, consult the instruction manual or the website for the rack manufacturer.
Some newer cars have special attachment points for bike racks that make it even easier to secure the rack.
If your car has these attachment points, follow the instructions that came with the rack or consult the car's owner's manual to learn the process.
Choosing the Right Bike Rack for Your Sedan
There are a few different factors to consider when choosing the best bike rack for a sedan.
First, you'll need to decide whether you want a roof-mounted or trunk-mounted rack.
Roof-mounted racks are generally more expensive, but they offer a higher level of security and stability.
Trunk-mounted racks are less expensive and easier to install, but they can be less secure and may not be as stable.
You'll also need to consider the size and weight of your bike when choosing a rack.
Larger and heavier bikes will require a more heavy-duty rack, while smaller and lighter bikes can be transported on a more basic rack.
Finally, you'll need to decide how many bikes you want to be able to transport at one time.
Some racks only accommodate one or two bikes, while others can transport up to four or five.
Basically, the racks with carrier arms and frame are given priority as it typically holds the bike in a firm position and presents a greater chance of safety when compared to other bike carrier designs.
Especially for sedans, the most important thing to consider is proper ground clearance. Roof mount bike racks are therefore the best options out there.
But do remember that they will require having crossbars mounted to the roof.
Trunk mount racks and trailer hitch on a sedan can also work but they are not as secure as roof mount versions.
How Much Does it Cost to Install a Bike Rack on a Sedan?
The cost of installing a bike rack on a sedan will vary depending on the type of rack you choose and the make and model of your car.
Generally speaking, however, you can expect to spend anywhere from $50 to $200 on a quality bike rack.
If you have a particularly large or heavy bike, you may need to purchase an additional support arm or brace, which can add to the overall cost.
Installation costs will also vary depending on your car and the complexity of the rack itself; some racks require drilling into the body of your car, while others simply attach to the existing bumper or trunk mounts.
You can typically expect to pay around $50 for installation, although this cost may be higher if your car requires special modifications.
FAQs
Do bike racks fit all cars?
No, bike racks come in many different sizes and shapes to fit various car makes and models.
You'll need to consult your car's owner's manual or measure the dimensions of your vehicle's trunk, hatchback, or roof to find a rack that's compatible.
Keep in mind that some cars have particular attachment points for racks that you'll need to use in order to avoid damaging your vehicle.
Can a bike rack damage my car?
If not installed properly, a bike rack can damage your car.
This is most likely to happen if the rack rubs against the paint or scratches the finish. In some cases, the rack may even dent the car.
To avoid this, consult your car's owner's manual or measure the dimensions of your vehicle's trunk, hatchback, or roof to find a compatible rack.
Additionally, be sure to follow all instructions carefully when installing the rack.
Can you open the trunk with a bike rack?
In most cases, you will not be able to open the trunk with a bike rack installed.
This is because the rack usually blocks access to the trunk.
However, there are some racks that come with a swinging arm or another mechanism that allows you to swing the rack out of the way when you need to open the trunk.
The Conclusion
Carrying your bike while you are traveling long distances and on uneven roads is now made possible through bike racks.
Installing bike racks that are available in different shapes and sizes can help enjoy your passion for biking wherever you go while protecting your bike from scratches and damage.
With a bike rack installed in your sedan, you can lift and secure the bikes whenever needed. And thus it proves to be the best carrier for your cycles.
If you are confused to pick the design, narrow your choices and check the bike racks online that suits your personal opinions and budget.

Based in Orem (Utah) John Paterson graduated from Utah Valley University and has begun writing in 2009. He has a large wealth of experience in writing articles related to cars, automotive repair, wheels, cleaning/maintenance, and much more. He has also written instructional articles in a similar niche for a few online publications as well. Currently, he works as a mechanic in his personal garage shop where he loves serving his countrymen from his heart.