Triumph has produced some of the most iconic sports cars over the years. 
From the 1800 and 2000 Roadsters of the 1940s to the iconic Triumph TR in 1953 which got super hit and made the franchise a lot of profit and market share.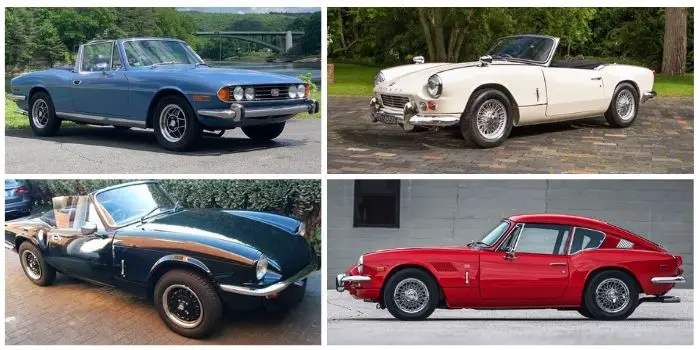 In this article we'll go over 7 of the most iconic and amazing Triumph sports cars that have made a lot of name and market share for the company and are worth a look:
1. Triumph Stag   
It is a 2+2 sports tourer planned by an Italian designer Giovanni Michelotti and sold by Triumph Motor Company between 1970 and 1978.
The Stag was envisioned as a premium sports automobile as a direct competitor of Mercedes-Benz SL class cars.
They were all four-seater convertibles, but for structural rigidity, and to fulfill American rollover rules at the time, a B-pillar "roll bar" hoop joined to the windshield frame.
Detachable body-colored hardtops, rear window de-icing wires, full headliners, and lever-operated side windows were very popular options in the early Stags and were eventually given as a standard fitment.
2. Triumph GT6   
The Triumph GT6 is a 6-cylinder barrel back version of the Spitfire, designed by Giovanni Michelotti, an Italian designer to take on MG Midget and Austin Healey.
They were produced in the 1965 Le Mans 24 Hours for seven years from 1966 to 1973 and over 40,000 UK-class cars were sold.
In addition to the excellent parts supply, their best point is that unlike MG and Austin Healeys with unreliable SU electric fuel pumps, the GT6 uses a long-lasting mechanical fuel pump that operates from the camshaft to guarantee long-term reliability on the road. 
And if you own one, you don't have to wear a brass hammer to hit the fuel pump and restart it when it doesn't work like an MG and also Healey owners need to do it from time to time making driving the GT6 an absolute explosion.
3. Triumph Spitfire 
It was a two-seater convertible with a rear-wheel drive and a front engine.
The Spitfire was built as a shortened version of the Triumph Herald chassis and features its Standard SC engine.
It was designed by Giovanni Michelotti and nicknamed 'Bomb,' was based primarily on the Triumph Herald. 
It weighed 711kg with a compact body and deployable roof.
Weather protection was also given with a manual convertible feature which was much improved on subsequent versions, and a custom hard-top was also offered as a factory option.
It wasn't fast at the start, with a 1.2-liter four-cylinder engine, but it allowed car aficionados all across the world an inexpensive opportunity to get into sports driving.
4. Triumph TR2
It was manufactured in the United Kingdom by the Standard Motor Company between 1953 and 1955. It was only offered as a roadster.
The Triumph Roadster from Standard was out of date and underpowered.
The CEO of the company, Sir John Black attempted but couldn't succeed to buy the Morgan Motor Company. 
He still desired an economical sports vehicle, so a two-seater prototype was created.
The Triumph 20TS prototype that resulted was unveiled at the London Motor Show in 1952.
A test driver, a BRM development engineer, and Ken Richardson were requested by Black to evaluate the 20TS. 
A project was launched to modify the design after their declaration as a "death trap".
And just after a year, TR2 was shown. It had a more appealing appearance, a longer body, a larger boot, and a basic ladder-type chassis.
5. Triumph TR5   
It was a sports car manufactured between August 1967 to September 1968.
At the time, fuel injection was an unusual phenomenon in road cars. Triumph claimed in its promotional brochure to be "the UK's first mass-produced fuel-injection sports car."
Price pressures and stricter emissions rules in the United States led to not very powerful carburetted variant sales in the North American market.
In the United Kingdom, the starting price for a 1968 TR5 was £1,260, including taxes. 
A four-speed transmission, pinion steering, rack, independent rear suspension, and front disc brakes were all standard. 
While wire wheels, overdrive, and a tonneau cover were available as options.
6. Triumph TR6   
The TR6 debuted in January 1969 and was manufactured until July 1976.
The doors, body tub, running gear, engine, and structure were all inspired by the Michelotti-designed TR5.
Karmann of Germany restyled the front and back of the automobile, however one source suggests the new squared-off Kamm tail design was taken from an unrelated Michelotti prototype. 
But all TR6s were powered by Triumph's 2.5-liter straight-6 engine, with the same mechanical gasoline injection system as the TR5 for the UK and international markets.
7. Triumph TR7 
This sports vehicle was produced in the United Kingdom by the Rover-Triumph Division of the British Leyland Motor Corporation (BLMC) from 1974 to 1981.
It was first manufactured at Speke, Liverpool, before transferring to Canley in 1978, and ultimately to the Rover Solihull facility in 1980.
The automobile was first introduced in January 1975 in the United States, and it had its home market debut in the United Kingdom in May 1976.
Because of the overwhelming demand for cars in the United States, the UK debut was delayed at least twice.
This wedge-shaped coupe was driven by a 2.0-liter four-cylinder lump producing just 105bhp, and due to looming safety requirements from America, the newest TR couldn't even be ordered with a ragtop.
In 1979, a TR7 Convertible was introduced, and the car grew into a respectable Sportster that always drove better than many people expected.
So, these are some of the greatest Triumph sports car models which are worth mentioning in this list article and we hope you liked it.

Based in Orem (Utah) John Paterson graduated from Utah Valley University and has begun writing in 2009. He has a large wealth of experience in writing articles related to cars, automotive repair, wheels, cleaning/maintenance, and much more. He has also written instructional articles in a similar niche for a few online publications as well. Currently, he works as a mechanic in his personal garage shop where he loves serving his countrymen from his heart.