Being the owner of a furry friend can be highly rewarding, but let's accept the fact that it isn't really low maintenance.
They may be all-loving and caring but they do make a lot of mess.
Whether you are taking them to and fro the park or going to the supermarket to load up some dog food or preparing for a long road tour, your car plays a major role when you talk about taking care of the fuzziest member of your family.
Hence, here are some dog-friendly cars suitable for your dog, take a look: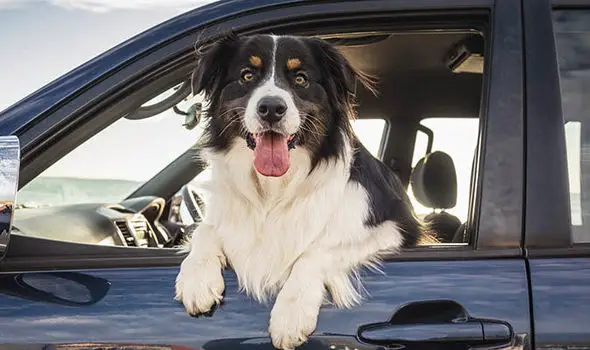 1- Chrysler Pacifica Hybrid
The car comes with a low floor and power sliding doors for dogs of all sizes to come in and go out. The rear bumper is low to get access to the cargo area.
You can fold the third-row bench to make a place for the kennel.
It comes with tri-zone climate control to keep the kennel cool in the back. All in all, it is a plug-in hybrid that can go up to 32 miles on electricity.
So, it has good fuel economy and can help you go to the wet and other short trips with your dog silently.
2- Volkswagen Golf
With a boot space of 380 liters, the New Volkswagen Golf is the recent launch in the long-established family hatch.
It comes with a top-notch interior, remarkable refinement, and a wide choice of engines. You may not be able to find a better car in this category.
It is highly reliable and safe to drive with dogs. You can use some dog-friendly accessories like a rear sill cover and load liner.
3- Vauxhall Mokka X
With a boot space of 356 liters, the Vauxhall Mokka is perfect for all those looking for a practical car that makes a statement.
The rear seats can be folded down if the dog guard is in place and you can also use it to transport large items when your favorite buddy isn't around
. It is suitable for dogs of all sizes and comes with a dog guard and cargo liner.
4- Chevy Equinox
If you are looking for secure and reliable transportation for your dog, then Chevy Equinox offers great safety and reliability rates.
It also offers a comfortable ride that can calm down nervous dogs.
The floor of the car is low so dogs of all sizes can easily hop in and out. The rear seats can be folded flat and the cargo has a wide opening to easily fit the crate in the backside.
There are a lot of cubbies all over the cabin to tie leashes. You also have underfloor storage to store treats and balls.
5- Volkswagen Caddy Life
With a boot space of 340 liters, the Volkswagen Caddy Life is a small MPV decked with a plethora of functionalities.
It is a solid build car from a German manufacturer. It comes with a sharp-looking machine with great real-world practicality in one package.
It has the dimension of a Caddy van and hence your furry friend will have no problem in getting cozy.
6- Mazda3
The sporty drive of the Mazda3 makes reaching the dog park and being at the dog park fun. It is a great option as it has the best safety pick.
If you spend a little more than then the hatchback offers synthetic leather upholstery which is simple to wipe and more area in the cargo for a crate.
7- Volkswagen Tiguan
With a boot space of 615 liters, the Tiguan is known for its refinement and driveability.
It has a big boot space for its class to fit dogs of all sizes. It is a refined and cost-effective vehicle.
8- Jaguar E-PACE
With a boot space of 577 liters, the vehicle focuses on performance and style but is practical also.
Hence, you don't have to compromise on anything when thinking of buying a car keeping your dog into consideration.
Also, the small SUV allows a smaller jump to your four-legged friend.
9- Land Rover Discovery Sport
With a boot space of 981 liters, the Land Rover Discovery Sport is the best in its class with a beautiful interior and impressive off-road ability.
It can reach from 0-62 in just 7.9 seconds, so you can surely visit the vet in an instant.
10- Audi A4 Avant
With a boot space of 505 liters, the Audi A4 Avant gives you a mature drive. It has the biggest boot in its range.
It is a great option than the saloon and is a more versatile, refined, and practical option for dogs.
11- Mitsubishi Outlander PHEV
With a boot space of 463 liters, the Outlander PHEV offers you plenty of things. It is the best plug-in hybrid with top-notch entry-level SPC.
It also comes decked with an impressive standard kit.
It gives you features like climate control, 18-inch alloy wheels, auto headlamps, and a reversing camera. It is a great option for your four-legged buddy!
12- Tesla Model 3
It is one of the best electric cars from Tesla with a minimum range of 250 miles.
The rear seat may be small for passengers but dogs with harnesses wouldn't mind getting comfortable at all.
The cushions of the rear seat are low which makes it a plus point for dogs to jump in and out. If you fold them, it makes space for a smaller crate.
It comes decked with additional specs like windshield wipers and climate control in the front and back seat.
Back in 2019, Tesla released Dog mode to all its cars.
It means when you leave your dog in the car, you can set the climate control to maintain a secure, comfy, and cool temperature for your furry friend.
There is a 15-inch touch screen stating "My owner will be back soon" and reads the interior temperature of the vehicle.
13- Kia Soul
The Kia Soul comes with the traits of reliability, safety, value, and quality, recommended for dogs greatly.
It was named as the best new car for teens. And any car that can manage teenage drivers well can also deal with furry beings too.
The seats are present in leather or synthetic option, particularly simple to clean.
You have a good amount of passenger space in the Soul to fit a dog crate inside. The liftover height of the load is low so your dog can easily get in and get out.
14- Subaru Outback
It has all-wheel drive, a great cargo area, and a range of safety specs. And as you can make out from the Subaru advertisement, dogs love riding these.
The seats can fold flat and the back opening is wide, so almost all sizes of kennels can fit. You have cargo hooks in the rear to tie crates.
If your dog is adventurous, then you can go for the Onyx Edition as you get off-road-ready features, water repellent synthetic upholstery with it.
15- Honda CR-V
It has a giant cargo space along with a small footprint making it a more versatile compact SUV.
In case you need more space in the back for the crates, then a second-row fold is also possible. The suspension works well and makes the ride smooth for anxious dogs.

Based in Orem (Utah) John Paterson graduated from Utah Valley University and has begun writing in 2009. He has a large wealth of experience in writing articles related to cars, automotive repair, wheels, cleaning/maintenance, and much more. He has also written instructional articles in a similar niche for a few online publications as well. Currently, he works as a mechanic in his personal garage shop where he loves serving his countrymen from his heart.