Cars now are safer than ever before, and advancements are continuous.
When shopping for a new automobile, most consumers are likely to notice the fantastic touch-screen display, seat heating features, interior decorations, remote start, power liftgates, and sophisticated digital instrument gauges before they understand the car's safety features.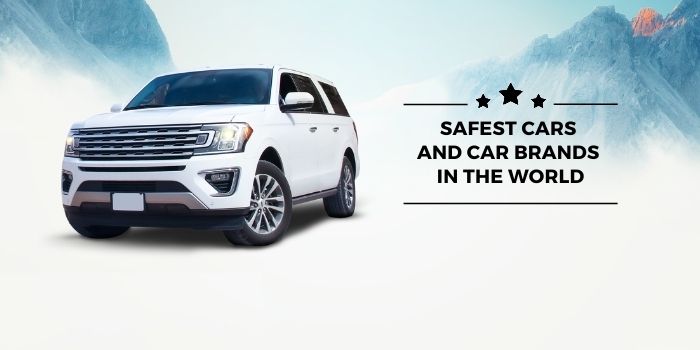 All of the aforementioned features, which were formerly reserved for pricey luxury top model vehicles are becoming more widespread in many new automobiles.
Some of these amenities may even be found in smaller, less costly vehicles, and it's not uncommon for automakers to offer some of them in base trims.
Having said that, comparable developments have happened in the field of active safety assistance.
It wasn't long ago that systems like adaptive cruise control, lane keep assist, automated emergency braking was only available in the highest trim levels of pricey automobiles.
Most automakers expand the number of basic safety features in their vehicles with each new model year and offer even additional advanced safety features as options.
Now, let's get to the main part and discuss the 11 safest cars and car brands from all around the world.
1. Civic from Honda
Its average USN safety score is 9.48/10.
Honda's inventory comprises automobiles ranging from compact to the three-row large pilot SUV, as well as almost every other vehicle type in between.
A minivan and a small pickup truck are also available from the Japanese carmaker.
Honda has always been a pioneer in safety technologies.
The brand has everything covered, from its famous LaneWatch blind-spot camera to its entire Honda Sensing suite of sophisticated driver-assist features.
Traffic sign recognition, road departure mitigation, adaptive cruise control, collision mitigation braking, and lane-keep assist are all part of the sensing package.
2. Giulia from Alfa Romeo
Its average USN Safety score is 9.50/10
The selection of Alfa Romeo's model is limited to three models: the Stelvio, Giulia, and 4C.
The 4C is a premium sports automobile that was not necessarily developed with safety in mind.
It has not been crashing tested by the NHTSA or IIHS, and it lacks active safety measures other than rear parking sensors.
While the premium compact Giulia receives excellent safety ratings from the IIHS, although it has not been tested by the NHTSA.
It comes equipped with automated emergency braking, front collision warning, and rear parking sensors.
Adaptive cruise control, front parking sensors, automatic high-beam headlights, rear cross-traffic alert, lane departure warning, and blind-spot monitoring are among the other optional safety features.
3. Forte from Kia
Its average USN Safety score is 9.51/10
Kia's automobiles were once known for being low-quality and lacking in features.
While today's Kias are unquestionably affordable, they have an established track record for safety and plenty of modern driver aid technology.
Kia's model collection includes everything from the small Rio to the all-new Telluride big three-row SUV.
The IIHS awarded Kia five Top Safety Pick and seven Top Safety Pick+ awards.
It's a significant accomplishment when you realize it represents the vast bulk of the automaker's inventory.
Several safety measures are standard on Kia vehicles.
The Kia Forte includes standard systems such as automated emergency braking, frontal collision warning, driver attention monitor, lane keeps assisting, and lane departure warning.
4. BMW 5 Series from BMW
Its average USN Safety score is 9.53/10
BMW not only produces vehicles with exceptional performance, eye-catching appearance, and rich interiors, but it also focuses on making significant advancements in its high-tech safety features.
In reality, while BMW's semi-autonomous feature isn't yet ready to chauffeur you about, it can drive itself in certain circumstances.
BMW's adaptive cruise control technology supports stop-and-go driving.
Meanwhile, its lane maintenance assist, lane change help, steering plus lane guiding aid, active lane-centering, and side collision avoidance functions will keep your car where it needs to be.
You may not even need to grab the steering wheel, but it's always a good idea to do so.
Its front collision warning technology is capable of detecting pedestrians and bikes as well.
Not to mention BMW's capabilities that identify road signs and allow your vehicle to park itself.
Many of the features listed above are standard on new BMW models such as the 5 Series.
5. Audi A3 Sportsback from Audi
Its average USN Safety score is 9.56/10
Audi, like BMW, has upped its focus on introducing a slew of enhanced safety measures.
Despite its broad and diversified portfolio, the German carmakers use preventative safety features such as automatic emergency braking on practically every vehicle.
Pedestrian detection is also common in the majority of Audi models.
The A3 offers adaptive cruise control with stop-and-go, traffic jam assist, parking aid, active lane help, night vision are just a few of the high-tech safety features.
6. Hyundai Accent from Hyundai
Its average USN Safety score is 9.63/10
The IIHS designated every car in Hyundai's portfolio as a Top Safety Pick or Top Safety Pick+.
This is a significant accomplishment given that, like Kia, the brand was formerly regarded as a low-cost automaker.
Hyundai's cheapest model, the Accent, has optional head-on collision warnings and automatic emergency braking, whereas several rival subcompact cars do not.
7. Acura MDX from Acura
Its average USN Safety score is 9.64/10
Acura provides a comprehensive range of advanced driver aid systems.
The MDX offers you the AcuraWatch which is a suite of safety features that includes a road departure mitigation system, adaptive cruise control, automated emergency braking, front collision warning, lane keeps assist, and automatic high-beam headlamps.
8. Corsair from Lincoln
Its average USN Safety score is 9.65/10
Lincoln has lately taken significant steps to enhance its general reputation.
This is due to the brand abandoning aged models, introducing new vehicles, and expanding its list of standard and optional active safety systems.
The Corsair has automatic high beams,  lane keeps assist, lane departure warning, pedestrian recognition, automated emergency braking, front collision warning, rear cross-traffic alert, and blind-spot monitoring are all part of Lincoln's full safety package.
9. Forester from Subaru
Its average USN Safety score is 9.69/10
When many people think of automobiles with the highest level of safety, Subaru is likely to spring to mind.
It's no wonder that its portfolio has garnered a whopping ten IIHS Top Safety Pick+ mentions.
Nearly every car in Subaru's expanding portfolio comes common with all-wheel drive.
Furthermore, its EyeSight safety package is accessible across the board.
EyeSight from Subaru incorporates adaptive cruise control, front automatic emergency braking, pre-collision throttle management, lane departure and sway warning.
10. C-Class from Mercedes-Benz
Its average USN Safety score is 9.78/10
Mercedes-Benz, like other German automakers such as BMW and Audi, is a pioneer in semi-autonomous technology and its worth to be noted that it was one of the first brands that brought such technology to the market.
However, the most powerful driver-assist technology was first reserved for the most costly models as pricy upgrades.
C-Class from Benz now comes normal with a plethora of safety features, and it even incorporates semi-autonomous assistance.
Its portfolio includes standard features such as pedestrian recognition, automated emergency braking, and front collision warning.
11. Volvo XC90
Its average USN Safety score is 9.90/10
The Volvo XC90 2021 is one of the safest luxury SUVs on the market today.
It received the Top Safety Pick + Award from the Insurance Institute for Highway Safety (IIHS) and the highest five-star overall rating achievable from the National Highway Traffic Safety Administration (NHTSA).
Volvo is now the only automaker in the United States whose whole model lineup has received the prestigious safety award. That's true, all Volvo 2021s are IIHS Top Safety Pick Plus.
To keep the driver safe, every Volvo is outfitted with sensors and cameras.
Volvo's adaptive cruise control, traffic sign recognition, and steering support are all standard features on many of its vehicles.

Based in Orem (Utah) John Paterson graduated from Utah Valley University and has begun writing in 2009. He has a large wealth of experience in writing articles related to cars, automotive repair, wheels, cleaning/maintenance, and much more. He has also written instructional articles in a similar niche for a few online publications as well. Currently, he works as a mechanic in his personal garage shop where he loves serving his countrymen from his heart.