Certain automobile models are connected with specific nations.
For example, America is recognized for muscle cars, Italy for supercars, the same way Japan is for Kei cars.
But what exactly is a Kei car?
It denotes "Keijidosha", alternatively, a light car.
Which is exactly what they are. They're the lightest, smallest, and least powerful vehicles money can purchase.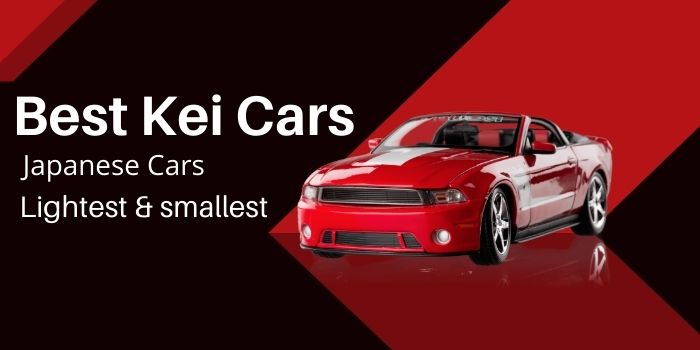 The class is intended to meet the unique demands of Japanese drivers by offering tax insurance and public road usage benefits.
During the 71 years since its founding, it has always been a significant part of the new car market in Japan.
And here are the ten greatest and most popular Kei cars that have ever graced the earth:
1. Subaru 360
When Kei automobiles initially arrived, laws required that their engines should not exceed more than 360 CC (cubic capacity).
Automobiles such as the creatively titled Subaru 360 appeared as a result of this. It was just 454 kilos in weight.
When it was initially debuted in 1958, three hundred ninety-two thousand 360s were sold in the 12 years it was on the market, including bespoke convertibles and the sporty youthful model.
The Subaru 360 was a two-door, rear-engined city vehicle.
Inexpensive cars were developed in response to the Japanese government's regulations on light vehicles and the proposal for large "domestic vehicles" that would help Japanese people to motorize after World War II.
The overall size was small, the curb weighed 1,000 pounds, and it featured monocoque construction, a swing-axle rear suspension, a fiberglass roof panel, and a rear pivot door.
2. Mazda R360
If you thought the Subaru 360 is light, consider the Mazda R360.
It is lighter than the 454 kilograms 360 by 74 kilos, weighing just 380.
The R360 was a fashionable small coupe. It was one of the most popular Kei vehicles on the market between 1960 and 1966, and it generated several various variations, including a sedan and even a truck.
Mazda had seized a large portion of the Japanese lightweight (Kei vehicle) market within a few years of releasing the R360.
Later in 1962, R360 was replaced by the P360 "Carol" two-door and four-door sedan.
The R360 was manufactured for six years and throughout its hot run, it was one of the companies' most popular cars.
3. Suzuki Jimny LG10
Here's something you might be more familiar with: Suzuki Jimny.
Even though the Jimny was not originally planned as a key vehicle Suzuki brought the exterior spare wheel into the cabin to make its overall length no more than three meters,
As a result, it was a three-seater. a teeny-tiny tall McLaren F1.
However, when combined with a 360 cc two-stroke engine change, the LG10 acquired Kei car classification.
Initially constructed by hand, much like a Bentley, manufacturing was swiftly stepped up following the model's tremendous initial success.
Granted, it's a heavyweight in comparison to the other entrants thus far, weighing in at a hefty 590 kg, but it's still a Kei vehicle.
4. Suzuki Fronte Coupe
It was conceptually comparable to the Subaru 360. But it's the coupe that arrived ten years ago that has piqued our interest.
The arching coupe window reminds us of the Lancia Fulvius Sport Zagato or the Montreal from Alfa Romeo.
We are now over ten years into the Kei vehicle category, therefore the weight is rising.
In comparison to the Kei car founding dads, the front coupe was a heavy beast.
At 500 kilos, it was also the forefather of the equally adorable and much more widely accessible in Europe SC100 Wizkid.
5. Honda Beat
Fast forward to 1991 and one of the most well-known Kei vehicles ever produced.
In 1990, the Kei laws were revised, and cars were somewhat longer but permitted bigger 660cc engines.
While regulators gave with one hand, they took with the other, since bigger engines were limited to 64 horsepower.
The Honda Beat is one such vehicle, with a drop-top dynamic Pininfarina style, and color selections that are more Marinello than Suzuki.
Thanks to its unique track system and separate throttle bodies, and the 656 CC three-cylinder engine, capable of producing 64 horsepower.
It also revved to almost 8000 RPM, so if it sounds like a motorcycle engine.
The Beat was one of the sporty Kei vehicles that appeared in the 1990s and 2000s.
6. Suzuki Cappuccino
It is the only Kei automobile that can claim to be more well-known than the Beat.
It, too, debuted in 1991 with a 675 cc three-cylinder engine and a teeny-tiny turbocharger.
It had a pop-out canopy for the air-in-your-hair feeling and a total of 64 horsepower by Kei vehicle standards.
Though it was never intended to be exported, Cappuccino did finally make its way to the UK, but only for a few brief years and in modest quantities.
7. Autozam AZ-1
It brought the cause of developing minuscule supercars ahead.
It was mid-engined, with a turbocharged 3-cylinder engine similar to the Suzuki Cappuccino.
Aside from its appearance, what made the AZ-1 stand out?
Doors with gullwing.
The RE Amemiya G-Reddy VI-AZ1 is the most insane of all the later-day modified variants of these autos.
It received suspension changes identical to those seen on a Porsche 962 and brakes were taken directly from a Ferrari F40 after changing out the three-pot with a 20B Mazda rotary engine.
8. Daihatsu Copen
A Kei automobile from the early 2000s was arguably the most successful Kei vehicle in Europe.
It ditched the rough and tumble appearance of its early 1990s counterparts in favor of a softer, and rounder appearance resembling an Audi TT.
Under 660cc, but with four cylinders and a turbocharger rather than three it was introduced a somewhat beefier 1.3-liter engine outside of Japan.
9. Honda S660
It is the alluring successor of the honda beat.
It's a two-seater roadster with aesthetic cues akin to the contemporary Honda NSX supercar.
Of course, the limitation is that this is a Kei vehicle.
So, instead of a 570 horsepower hybridized twin-turbo V6, it has a 658 cc three-cylinder turbo.
10. Caterham Seven 160
Some automobiles find their way in that were never meant to be classified as Kei cars
And this is possibly the most eloquent illustration of the latter.
The Caterham 160 is probably one of the most unique and unusual Kei vehicles.
With a 660cc Suzuki engine, a thin body, and narrow tires, it pushes the already tiny Caterham over the line in terms of requirements as a Kei vehicle.
In Japan, it generates the required 64 horsepower, but in the UK, it produces a whopping 80.
It won't set your hair on fire, but with only 500 pounds to move, it's an incredible blast.

Based in Orem (Utah) John Paterson graduated from Utah Valley University and has begun writing in 2009. He has a large wealth of experience in writing articles related to cars, automotive repair, wheels, cleaning/maintenance, and much more. He has also written instructional articles in a similar niche for a few online publications as well. Currently, he works as a mechanic in his personal garage shop where he loves serving his countrymen from his heart.