If you have a big family and you stand at the chauffeur position or just wish to appreciate a lot of space in your car, then a vehicle with a good number of seats is just the right choice for you.
If you have a big family, then going for SUVs, minivans, trucks can be a great idea. Here is a list of the 15 best cars for big families at least 6 members.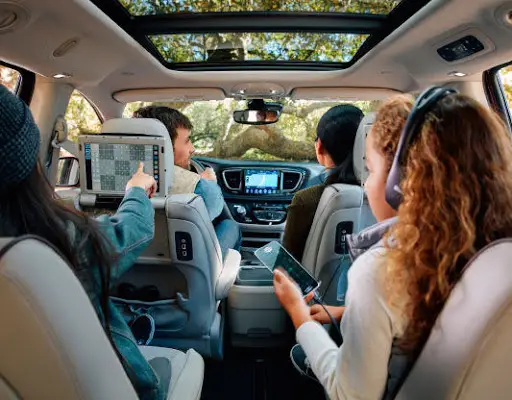 1- Toyota Highlander Hybrid
The completely new designed Toyota Highlander Hybrid comes back with a more efficient fuel economy than the other three-row SUVs.
It offers better acceleration, top-class interior with two giant rows of seats. But the third row is majorly recommended for kids. The car has been bestowed with the 2020 Best Hybrid SUV for Families award.
This hybrid will cost you a little more than the other SUVs of its class. But, it offers a nearly perfect reliability rating, high standard safety, and convenience specs.
The steering and brakes are the best when compared to the other hybrids. All in all, it is a spacious car for big families.
2- Kia Sedona
It comes in the mid of minivans ranking. It offers a good quality interior, great performance, and decent specs. The Sedona offers an above-average reliability rating and good crash test marks.
However, it isn't the most spacious minivan but has good space for big families to settle well along with their gear. It offers a pleasant ride experience with great power for daily drives.
3- Lexus RX Hybrid L
The Lexus RX hybrid offers a pretty interior, stupendous ride, and highly predicted reliability score. It provides energetic acceleration, great fuel economy, and easy transitions from electric to gas.
The Lexus Safety System+ 2.0suite of great security aids along with other enhancements. It has two rows of seats with decent space for 5 people.
The long-wheelbase 450hL gives seating for at least 7 people in 3 rows, but the rear seats are a little tight fit.
4- Lexus RX 350L
The new Lexus RX 350 comes in the range of luxury midsize SUVs because of its amazing predicted reliability rating and brilliant crash test scores.
It isn't sporty like other luxury crossovers but boasts of a V6 engine, 4-wheel drive, and coddling ride.
It has a top-quality cabin with brilliant driver assistance technologies. It offers standard seating for 5 people but you can upgrade to a long-wheelbase RX 350L to get an additional seat row.
Cargo space is great in both two and three-row variants.
5- Tesla Model X
The Tesla Model X is a hybrid and electric SUV. It accelerates just like a supercar and comes with an all-wheel drive and specs like a comfy ride, poised handling, and great cargo capacity.
The cabin exudes a premium feel and seats 5 people in its normal setup. However, for an additional amount, you can get the third row and seat up to 7 passengers, but the rear seats are recommended for kids.
6- Honda Odyssey
If you like to chauffeur a large squad, then the Honda Odyssey is the best option for you. It can accommodate 6 passengers in its EX or higher trim version.
The brand upgraded to an auto 10-speed transmission to give you a smooth ride experience. If you don't have more passengers then you can remove the middle seat from the center row.
7- Volkswagen Atlas
If you want a low price three-row SUV for you, then Volkswagen Atlas is the best option for you. It offers comfort, good steering, and braking.
The safety specs include automatic headlamps and heated side mirrors. The SE and higher variants have climate control in every row so kids can turn the AC up or down by themselves.
8- BMW X5
The BMW X5 offers 5 people standard seating, but you can add a third row to accommodate more people.
However, it gets a little costly, especially with upgraded upholstery. Moreover, the cargo volume is reduced.
The X5 has a great position in the luxury midsize SUV ranking because of its potent engine, amazing cabin, and great crash test verdicts. The adaptive suspension offers a great balance between sporty handling and a comfy ride.
9- Subaru Ascent
The entry-level variant is decked with an all-wheel drive. The Rear Seat Reminder will make the kids not stay in a hot car. It comes decked with 19 cupholders for the complete family.
The Ascent's cushions are least contoured which makes the installation of car seats simpler.
10- Nissan Pathfinder
The standard variant comes with top-notch blind-spot monitoring and rear parking sensors.
The car honks when you open the back door before stopping, helping prevent kids from being left in an idle and hot vehicle. It comes powered by a v6 engine with great steering.
11- Ford Expedition
The Ford Expedition is a non-luxury SUV and if you are looking for a mammoth size vehicle with a spacious cargo area, three expansive rows, and a gigantic engine, then this Ford will keep you covered.
Its size makes it tough to maneuver in small areas though steering and braking are great and the ride is smooth.
It has been bestowed with the 2020 Best Large SUV for Families award. It tops the SUV ranking because of its handsome interior, fuel economy, and top-class towing capacity.
It charges a high price, but Ford's Co-Pilot360 safety suite along with user-friendly infotainment technology makes it worth it. If you want to add more cargo volume, then you can choose for long-wheelbase setup.
12- Chrysler Pacifica Hybrid
The Chrysler Pacifica Hybrid is a Plug-in hybrid electric vehicle. It is the first hybrid minivan in the automobile sector.
It offers exceptional fuel economy and can go up to 32 miles on electric power. The minivan is extremely spacious with loads of cargo space and seating for 7 passengers.
The car is expensive in comparison to the other minivans and boasts of a modern interior, poised handling, and great crash test rating.
13- Mercedes Benz GLE
The new Mercedes Benz GLE offers seating for 5 passengers in two rows. But with additional money, you can add a third row, majorly for kids.
The GLE is a luxury midsize SUV car because of its safety specs, reliability rating, brilliant ride, and handling. The car has an opulent cabin, comfy seating, and great state-of-the-art technology.
14- Lincoln Navigator
The car enjoys a top position in the luxury large SUV series. It is a great option because of its robust powertrain, lavish interior, top-notch cargo space.
The Navigator offers a comfy ride and can seat around 8 people with great comfort and support in its 3-rows.
It comes decked with standard safety specs and an array of convenience features. In case, you need a bigger car, you can go for a long-wheelbase configuration and enhance the cargo area.
15- Ram 1500
It is a big 6-passenger vehicle offering an exquisite tide, great overall performance, and a top-notch interior with good space.
If you need spacious accommodation, roomy space for your equipment and lots of ability, then this is the car for you.
It can easily accommodate 6 people in its base version. However, it cannot tow or haul, but still has impressive specs.
It offers good fuel economy and enjoys good safety scores and a high predicted reliability ranking.

Based in Orem (Utah) John Paterson graduated from Utah Valley University and has begun writing in 2009. He has a large wealth of experience in writing articles related to cars, automotive repair, wheels, cleaning/maintenance, and much more. He has also written instructional articles in a similar niche for a few online publications as well. Currently, he works as a mechanic in his personal garage shop where he loves serving his countrymen from his heart.