Did you ever believe in love at first sight?
Even though the famous saying goes – Not to judge a book by its cover.
But, Aesthetics.
The eye wants what the eye wants. 
And especially when it comes to cars there are always some cars that attract attention and grab all the eyeballs leaving its owners filled with pride and the spectators jammed with sore eyes.
Let's take a look at 15 of the most beautiful cars of all time which are eye candy and a sight to behold. I simply love to own all of them and hope you will too: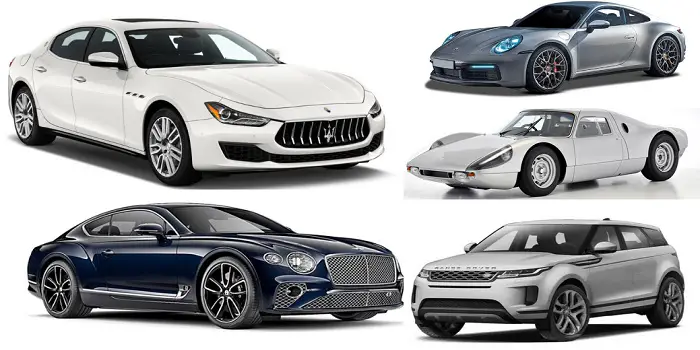 1. Maserati Ghibli
If this car was nicknamed Shark of the Cars, it wouldn't come off as a surprise.
It has a striking presence thanks to its well-shaped rears and shark-like front.
This car is long, low, and wide giving it a unique look just like its slogan says – "You're not like everyone else."
2. Aston Martin DB2 Mark III
The Aston Martin DB2 Mark III is a sports car sold by Aston Martin from 1957 to 1959.
What makes this Aston Martin iconic?
Bond. James Bond.
James Bond drove it in the movie Goldfinger which gave the car a huge boost in popularity and prestige.
3. 904 Carrera GTS
Also called the Mona Lisa of Porsches as they featured Porsche's first composite body which allowed a very low curb weight of fewer than 1500 pounds. 
This led to a huge increase in the top speed of the 904 Carrera to an impressive 160kph.
4. Bentley Continental GT
Backed by one of the world's most powerful engines, W12 with twin turbos.
The Bentley Continental GT is exactly what it's supposed to be.
Insights into the lives of the ultra-rich and the elite.
Some of the best words to describe this car would be – Exquisite, exclusive, and over the top. 
Cause that's what it is. 
5. 2003 Ferrari Enzo
The Enzo is a nonhybrid, original one-of-one Ferrari supercar which was built for thrill and adventures.
Named after its founder Enzo Ferrari, it boasts as a symbol of wealth, power, and significance.
6. Bugatti Bolide
This car is awarded as the most beautiful car in 2020 at the Internation Automobile Festival.
The Bugatti Bolide is a brute with uncompromising high performance and driving experience that is second to none.
Backed by one of the world's most powerful engines, the W16, it's raw, authentic, and an absolute rebel in its class.
7. Range Rover Evoque
This car is a minimalist and refined compact SUV car.
It is stylish on the outside with high-tech interiors and boasts the ability to traipse further off-road than any other SUV.
Its sliding panoramic roofs are another reason you may just love driving in it with family and friends.
8. 2001 Lamborghini Murcielago
It was introduced as a coupe in 2001.
With completely redesigned aerodynamics it's one of the fastest cars of its time.
And also one of the very first hypercars for the Lamborghini brand which is a perfect introduction to the new 21st-century era of hypercars.
What stands out the most for this Lamborghini supercar is that when other supercars have turbochargers and superchargers to boost their speed and performance.
The engine of the Murcielago doesn't need superchargers or turbochargers.
Its got a naturally aspirated engine and can still match the speed and performance of the engines of other cars.
9. Mclaren 540C
Yes. It's an entry-level McLaren and the cheapest car Mclaren has to offer.
The Mclaren 540C is your everyday sportscar.
With a performance engine of a supercar its also got luggage space and extra space where you can keep your daily tools, equipment, and luggage.
It's got a 3.8-liter twin-turbocharged V8 which takes it from 0 to 62mph in just 3.5 seconds and boasts a top speed of 199mph.
10. 1967 Corvette Sting Ray
The Corvette Sting Ray was an ambitious project by Chevrolet to hit the sportscar market and it did wonders for them.
Making 1967 one of their most iconic years as far as growth is concerned.
What made the Sting Ray so famous and popular at the time was its smaller, more advanced coupe-only model packing an unconventional rear suspension and four-wheel disc brakes.
11. 1962 Jaguar E Type
Enzo Ferrari, the founder of Ferrari famously called Jaguar E Type – The most beautiful car ever built.
And he's not farther from the truth.
The E Type is one of a kind when it comes to beauty.
What makes the E-Type so enthralling and exclusive to this day is that it's not machine-made. Its made by hand and specifically customized to meet its specifications.
In comparison to the supercars and hypercars, the Jaguar E-Type is very modest and elegant.
12. Alfa Romeo 2000 Sportiva
After winning Formula 1 back to back in 1050 and 51. Alfa Romeo had to quit racing because of financial troubles.
That's when they decided to create a 2-liter supercar to compete in that era.
And with a high speed of 137 mph and 0-62mph in around 6 seconds they certainly created one of the most beautiful as well as powerful supercars of its time.
13. Audi TT
The Audi TT is a marvelous luxurious sportscar, which is elegant, very easy on handling and steering, and also got a turbocharged engine for maximized performance.
It comes in coupe and convertible styles and provides world-class interiors and seating materials.
If you're looking to own a supercar without breaking the bank then Audi TT is one of the best options for you.
14. Second-gen Mercedes CLS
The Mercedes CLS is beautiful with affordability and feature-packed.
It comes with two powerful, turbocharged engines, that ride smoothly and also gives good mileage.
Giving you a good luxury experience without breaking the bank.
It's better than its past models in the fact that it not only offers prestige, luxury and comfort but is also more dynamic to handle and offers more burst.
Mercedes also added more interior work to support comfort and even gave options of an extra 5th seat to make this car an absolute no-brainer for everyone.
15. Toyota 2000GT
The Toyota 2000GT is a limited edition two-door, two-seater supercar.
The most special thing about this car is it not only has breathtaking beauty but it also revolutionized the way the world sees Japan.
Previously seen as makers of punitive, timid cars.
When the 2000GT was launched, it instantly boosted the credibility of the Japanese automobile manufacturers with their first legit supercar.

Based in Orem (Utah) John Paterson graduated from Utah Valley University and has begun writing in 2009. He has a large wealth of experience in writing articles related to cars, automotive repair, wheels, cleaning/maintenance, and much more. He has also written instructional articles in a similar niche for a few online publications as well. Currently, he works as a mechanic in his personal garage shop where he loves serving his countrymen from his heart.