Any experienced mechanic will tell you that his or her tools are his or her life. A mechanic and their tools are inextricably linked.
However, having a comprehensive toolbox is very difficult. You will always need another tool to complete the kit.
The quality of the tools will vary depending on the manufacturer and it is wise to purchase them from the greatest tool companies only since you will be assured of the quality you will be provided.
Most of these famous brands are serving customers for a quite long time now and are known for their reliability.
They have learned their clients' wants and enhanced their quality over the years.
14 Best Automotive Tool Brands for Mechanics
With plenty of brands available today, the simplest method to choose the correct technician tool is getting from a renowned manufacturer.
The following are the major machine tool manufacturers on the market.
1- Blackhawk
It is one of the well-known automotive tool manufacturers today. It was created in 1919 in Milwaukee, Wisconsin. This firm is a Stanley Black & Decker Proto division sub-brand.
This company sells a variety of tool kits, varying from master sets to simple sockets. They think of themselves as hardworking instruments for industrious professionals.
Blackhawk strives to make the job of a mechanic simpler by creating high-performance tools.
Their tools are all created in the United States, so you can be assured of their quality. The company has been in business for almost a century and is still expanding.
Blackhawk tools are designed with the customer's heritage and safety in mind. Regardless of the conditions, mechanics can utilize Blackhawk tools with ease.
The Blackhawk brand offers over a thousand different types of tool storage boxes, wrenches, master sets, sockets, hammers, punches, pliers, pullers, chisels, and specialty automotive tools.
All the tools of this brand are made of cold-forged quality steel and do more than just meet the requirements of ANSI.
On top of that, a lifetime warranty on their products will make you rely on them completely.
2- Channellock
It is also a well-known brand which is known for its quality tools. The pliers are perhaps the most noticeable and sought-after tool.
Given that the firm was started in 1886, it has progressed from producing simple hand tools to currently producing a variety of crucial items.
Currently, the firm manufactures tools for plenty of industries. Automotive, linemen, HVAC & plumbing, first responders, electrical, metal manufacturing, and agricultural are some of the industries it manufactures for.
It's a no-brainer why it's among the hearts of millions of Americans.
This brand produces around 140 different varieties of pliers. If you thought you knew everything there was to know about pliers, check out the company's official website to discover what additional sorts you've never heard of.
In addition to pliers, the firm manufactures screwdrivers, wrenches, toolsets, and a variety of other specialist equipment.
3- Chapman Tools
This brand is a must-consider for everyone seeking quality and excellence.
Since 1936, the firm has been producing hand tools, giving them over 80 years of experience. There is no question that every instrument produced by the company is of the highest quality.
Even though the firm manufactures hand tools, it also practices green manufacturing.
Given that we are all seeking methods to keep contaminants out of the environment, it is encouraging to hear that numerous firms are taking it seriously.
Chapman hand tools have been used by several branches of the military. This demonstrates that their quality and craftsmanship are high enough that the military employs their tools.
Based on the different testimonials regarding their instruments, you would acquire them knowing that they operate well.
Chapman brand is specialized in manufacturing hand tools for plenty of sectors, including military, automotive, sewing machines, industrial machinists, bicycles, and others.
Whatever field you work in, the brand will offer a set of hand tools that you may utilize.
4- Craftsman
Even just by looking at the name of the brand, you can tell it must be a sough-after for tools. It is a popular American brand that has been in existence for over a century.
Throughout the years, the organization has tried to provide equipment to vehicle enthusiasts, master mechanics, builders, and homeowners.
The firm has spent the previous few years improving its products to better serve the global customer base.
With a lengthy history of producing high-quality goods, there is no question you would feel confident in purchasing them.
To put your mind at ease concerning durability, the firm also provides an amazing guarantee duration.
And there is no doubt people from all around the world can't stop raving about its tools ranging from finishing tools, ratchets, wrenches, nut drivers, pliers, hex keys, hand saws and many other tools which they manufacture and market.
Along with a large range of hand tools, it also produces high-performance tools like boots, work clothes electronics, tool storage boxes, lawn and garden equipment, etc…
You may visit their official website to locate woodworking tools, portable inverter generators, impact wrenches, cordless nailers, air compressors, hybrid table saws more quickly.
It makes no difference what industry you are in because you can always find something intriguing with this brand.
5. Gearwrench
Gearwrench, as the name indicates, is a widespread brand among mechanics. This is due to the brand's expertise in producing practically every hand tool that a mechanic might require in a workshop.
The firm has expanded to assist mechanics all over the world since 1996.
So far, the business has produced up to 4,800 various gadgets that technicians may use when working on autos.
Striking tools, pry bars, screwdrivers, pliers, sockets, ratcheting wrenches, and numerous automotive specialist tools are examples of their hand tools.
Gearwrench is also regarded as a game-changer in the realm of hand tool manufacturing. This is due to the implementation of new production procedures that increase the quality and decrease the production time.
Nonetheless, it has received several honors for the various tools it has introduced to the business.
There are several testimonials regarding their tools on their website. This is a proven approach to ensure that the tools they create meet the demands of their clientele.
6. Husky
Husky is one of the most recognized brands of mechanical tools, and its price reflects its excellence.
It is a product range that includes hand tools, pneumatic tools, and tool storage. This brand's tagline is "become the hardest name in tools."
Sears tools introduced them to the market. Previously, all husky tools were built in the United States, but they are now largely created in Taiwan and China. Cobb County, Georgia, is where their headquarters are located.
Over the years, the Husky tools have been sold to a variety of firms.
Stanley purchased it in 1986 and later in October 1992, he surrendered part of his shares to the Home Depot completely.
Their tools are reasonably priced, of great quality, and are backed by a lifetime warranty.
The Husky firm intends to market its products to householders. This does not imply that they are unsuitable for professionals.
They are an excellent alternative for beginning or experienced mechanics on a tight budget.
Most people have mixed up Husky with Kobalt, however, they are not the same thing.
Their manufacturers vary, and their quality differs as well. Customers choose Husky tools because they are more durable and provide better value for money.
7. Ideal
The ideal is another manufacturer with a reputation for manufacturing high-quality tools. That may be why most pros have many Ideal instruments in their toolkit.
It has gotten its impeccable popularity for ingenuity and innovation throughout the years.
The ideal is also a very adaptable brand. This is because it manufactures tools for a variety of industries.
Automotive, alternative energy, aerospace, electrical, and construction are all its examples.
As you can see, regardless of industry, you should be able to get the proper tool from the same manufacturer.
Given that it has over 100 years of expertise in manufacturing various tools, it should be the best site to get high-quality items.
Always visit its official website to discover what tools are offered in each category.
8. Mac Tools
Because of its outstanding performance, Mac is one of the most renowned brands in the tool manufacturing sector.
It is a corporation based in the United States that markets and sells professional mechanic products and equipment.
Mechanic Tools and Forge Company was founded in 1938 in Sabina, Ohio, to help mechanics in their craft by manufacturing high-quality tools.
In 1961 its name was changed from Mechanic Tool and Forge Company to its now-famous trademark Mac Tools.
This brand offers over 800 professional tools, including screwdrivers, ratchets, wrenches, and other air tools.
They are manufactured at many Stanley Black & Decker factories across the world. Their tools offer a diverse set of tools for both expert and novice repairs.
They provide hand tools, specialist tools, and other essential mechanical toolsets.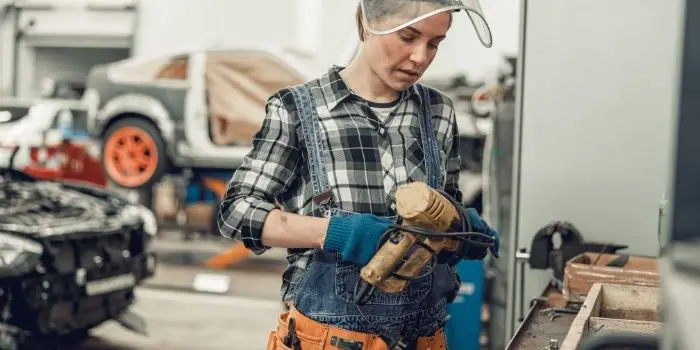 9. Makita
It is a producer of power tools from Japan. It was established on March 21, 1915. It started as a seller and repairer of lighting equipment, motors, and transformers.
They started exporting their electric motor line in the mid-1930.
Makita has become increasingly inventive over the last decade, producing a stronger brand each time.
They presently have eleven manufacturing sites in eight different countries. Their headquarters are in Buford, Georgia, where the majority of their instruments sold in the United States are made.
Their tools have a three-year limited guarantee and are popular for being simple to operate, lightweight, and efficient.
As a result, the brand is suitable for both newcomers and seasoned users.
10. OTC
OTC, formerly known as Owatonna Tool Company is famous for being one of the most sought-after toolmakers in the industry.
This company is well-known for providing automotive diagnostic equipment, fuel maintenance equipment, car repair tools, etc…
A man named Godfrey Kaplan created this enterprise in Owatonna, Minnesota. This manufacturing enterprise was already providing mechanic products to service stations and farmers by 1934.
After being bought by Bosch in 2012, it was eventually merged into the Automotive Service Solutions Business Unit.
It is a global supplier of high-performance automotive specialized tools, fuel systems services equipment, and automotive electronic diagnostic instruments.
Consumer praise OTC for its outstanding performance, durability, and safety.
Aside from the common tool, special tools that are solely tailored for certain jobs are also provided by them.
European radio removal toolsets, radio servicing kits, antenna, soldering kits, slide hammers, and driving tools are among the OTC specialist tools.
All OTC tools are meant to be more powerful, efficient, and simple to use that making your job as a mechanic easier and faster without sacrificing quality.
11. Proto
Stanley Proto tools are commonly referred to as Proto. It is a manufacturer and supplier of industrial hand tools based in the United States having headquarters in New Britain, Connecticut.
In 1907, the firm was founded as Plomb Tools. Charles Williams, Jacob Weninger, and Alphonso Plomb established it.
In 1933, Pronto made a name for itself by creating the first line of combination wrenches. In 1948, the firm adopted the brand name Proto, which stood for PROfessional TOols.
One of the first 500 top producers of home hardware and industrial equipment Stanley Black & Decker now operates and owns Proto.
Other tools available from this brand include specialist tools, master sets, storage tools, torque tools.
Their tools are well-known for their dependability and excellence and are made of superior quality alloy steel for ultimate longevity and strength.
The business assures that its tools will function effectively even in difficult environments.
Customers of Proto have voiced their appreciation for the professional chrome finish and sturdy construction of their tools.
Customers also like proto tools' low costs and extensive variety of product options.
12. Snap-On
Snap-On was founded in the 1920s, and its initial patent was issued in 1923.
Snap On Inc. is the parent company of several brands, including Lindstrom, Blue Point, CDI Torque, Irimo, Bahco, and Williams having headquarters in Kenosha, Wisconsin.
Professional mechanics just love this brand as it offers a wide range of superior quality machine tools, including screwdrivers, wrenches, pliers, sockets just to name a few.
They produce heavy-duty mechanical tools, kits, tool storage cabinets, and an asset management system too.
The top industry has acknowledged this firm for its inventiveness and innovation.
Snap-On Company has a global presence in over 130 countries. They have offices, research and development, distribution, storage, and manufacturing facilities around the globe.
The brand's mission is to increase productivity. The organization may also provide bespoke solutions and programs to match your company's asset management and production requirements.
For the century that the market has been in existence, manufacturers have mastered the wants of their clients. Customers are therefore assured of good quality.
13. SuperKrome SK
This brand is a mid-tier automotive supplier with a great reputation and lower pricing than other larger companies.
In the early 1900s, Noah Grover Klove and Manson H. Sherman established this brand of mechanic tools.
Sherman Klove was the original name of the SK brand. They began making tools for American experts after creating motor shell casings and bombs.
They have been improving mechanic equipment since then, guided by the tagline "producing excellent tools for American technicians."
Ideal Industries Inc. has owned SK tools since 2010. In Sycamore, Illinois, they have a distribution and manufacturing industrial hub, and in Colorado, they have forging facilities.
SK produces almost 3000 mechanic items with the commitment of providing high-quality tools to the market.
The SK brand tools are created in the United States of America using American steel which assures quality.
Another excellent feature of these products is that they have a lifetime warranty and these tools are suited for both professionals and do-it-yourselfers.
14. Wright Tool
It is an American firm that manufactures exceptional mechanic tools all over the world.
Wrenches, screwdrivers, and pliers are among the hand tools manufactured by the firm.
It has been in the manufacturing sector in the United States since 1927. Cougar Pro is another brand owned by the corporation.
Despite its tiny size, Wright Tool meets both domestic and worldwide demand for hand tools.
Their equipment is utilized in a variety of sectors, including mining, refining, power generating, and transmission.
Aside from the infrastructural and industrial sectors, mechanics, plumbers, and homeowners can utilize the equipment for mechanical and automotive jobs.
In addition, regardless of order size, Wright Tools produces customized tools.
Inspection mirrors, hammers, punches, chisels, bars, attachments, sockets, ratchets, hex keys, scrappers, knives, torque wrenches, screw extractors, screwdrivers, scissors, clamps, pliers, and nut drivers are among the equipment available under the Wright Tool name and all of these tools are covered by a lifetime guarantee.
This company produces these products with the customer's safety, comfort, and happiness in mind.
Their products meet the American Society of Mechanical Engineers' quality, relevant design, and safety criteria.
So, these were all about 14 of the best tool brands that have proven their exceptional quality and customer satisfaction to the fullest.
If you are planning to buy the tools set and kit for your garage most likely you will get the best ones from these brands.

Based in Orem (Utah) John Paterson graduated from Utah Valley University and has begun writing in 2009. He has a large wealth of experience in writing articles related to cars, automotive repair, wheels, cleaning/maintenance, and much more. He has also written instructional articles in a similar niche for a few online publications as well. Currently, he works as a mechanic in his personal garage shop where he loves serving his countrymen from his heart.