Are you looking for information regarding the painting of your car hood?
How much does it cost? How to DIY paint it? Whether to hire a professional to do the job or not?
Then you've come to the right place.
In this article, you'll learn –
The average cost to paint the car hood,
Average cost if you do it yourself as well as the cost if you hire a professional,
Benefits of DIY painting as well as professional painting,
Things you need to paint the car hood,
And finally, how to paint if you want to DIY.
So, keep reading this guide to the very end and learn everything regarding the painting of your car hood like its average cost, DIY (do it yourself) cost, and DFY (done for you) cost, and many more other related information.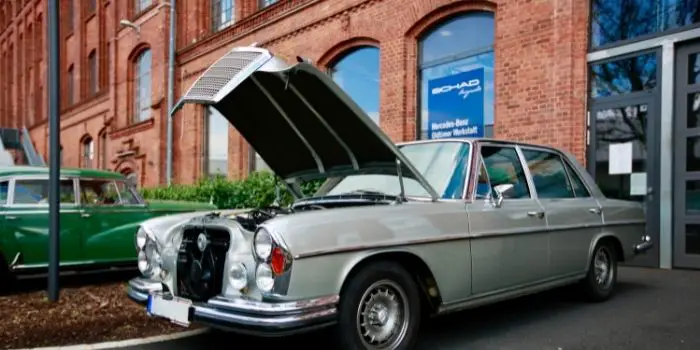 Average Cost to Paint a Car Hood
Car hood or bonnet can be often painted which will be costing between $120 and $1000.
Several elements, like the type of paint used, your custom needs, the brand and model of the beautiful car, and who is painting the car hood, can all influence the price and outcome of car hood paint.
However, two key factors influence the cost of your automobile hood paint.
You may hire a professional, with rates varying depending on which expert you pick, or you can go the DIY way and do it yourself.
As previously said, painting the hood of your automobile may cost anywhere from $120 and $1000 on average, with the DIY approach being the least expensive and hiring experts being the most expensive.
But which should you choose?
Well, let's discuss both.
Painting a Car Hood Cost – If You Do It Yourself?
The most cost-effective method is to paint the car hood yourself.
Buying spray paint cans and doing it yourself is the cheapest approach to get it done.
Make a phone call to your best buddy and finish the painting. It will strengthen the bond between you two as well.
If you earn decent money from your job and are able to hire a professional to get it done, you may save money in the long run if you do it yourself.
However, keep in mind that when you do it at home, the paint may not always match perfectly.
Also, if you do it yourself (DIY) it will cost you around $60 to $150. Depending on your skill level, painting your car's hood might take around 5 to 10 hours.
Before selecting the suitable paint colors for your vehicle you should consider measuring your car's hood first.
The cost of paint varies according to hue as well. Certain hues are more costly than others.
It is critical to calculate how many quarts of paint coat and base coat you would need. Here is a quick summary of quarts.
The project requires approximately one quart of color coat and one quart of base coat.
In general, you'll need to spend $50 to $120 altogether, which works out to around $25 to $60 for each quart of paint.
Keep in mind that the more coats you put to your hood, the better the paint job is going to be.
How Much Does It Cost – If You're Hiring a Professional?
When you employ a professional, you can expect a high-quality paint job.
You may be surprised to see the final finish of your hood as sometimes it matches with the showroom quality.
However, hiring a professional is costly.
Professionals might charge anything from $220 to $1000 to simply paint the hood.
Professional firms may charge you differently depending on how well they accomplish their task.
You may acquire the treatment at a reasonable price from respected bodywork or auto body companies after justifying their rates.
If there is significant damage to the hood, you must get ready for additional charges.
And before you begin painting, you must repair the damage.
Professional hood painting takes 2 to 4 hours on average and most shops charge an hourly rate.
To repair properly and professionally, the hood of your car may also be removed which increases the labor time and hence the labor cost.
---
How to DIY Paint Your Car's Hood? (Supplies You'll Need and Steps to Follow)
Now that you know the average cost of painting a car hood, whether you do it yourself or hire a professional for the same along with the benefits of each and thing required to do it, let's discuss how to paint it – if you are going a DIY route.
Before you start, the following items are likely to be required for the job.
a) HVLP spray gun
Spray guns have gotten more affordable over the years, and when you get one, you can use it for more than simply painting your automobile.
If you're looking for high-quality paint, this spray gun could be just what you're looking for.
b) Sandpaper
It is critical to use sandpaper. It imparts a smooth, tactile feel to the paint.
Sanding is a required process before painting and, in certain cases, between applications.
c) Body filler or filler spreaders
Large dents and corroded regions can be found in certain situations.
To provide a flawless finish, you'll need body filler and filler spreading equipment once the automobile has been painted.
d) Dent puller kit
They are reasonably priced and will assist you in removing dents from the hood before painting.
After you've removed the dents and made the surface somewhat even, you may use body filler to even out any irregularities.
e) Masking Tape & Drop cloths
This is useful for covering the borders of the hood so that you only spray paint where you want it to.
If you do it in your garage, make sure to keep the floor clean. You may use a drop cloth or a sheet from your local paint store.
Alternatively, you can use a spray paint booth that can help spray paint without over-spraying.
Steps for Painting
Once, you are ready with all the paint supplies, follow the following steps to paint the hood of your car yourself.
Step 1 – Mask the Hood
Remove the car's bonnet and mask off the front grille and fenders.
Begin the tape beneath the hood, making sure no paint seeps into the crevices, and then close the hood.
Continue to apply paper and tape to the fenders, headlights and grille, and windshield.
Step 2 – Clean the Hood
Sand the whole hood using a dual-action sander and 300-grit sandpaper.
To smooth the hood, repeat the sanding procedure using 800 grit paper.
Clean the sanding dust from the hood using a grease remover, wax, and a towel.
Repeat this process until the hood is fully clean.
Step 3 – Apply the thin layers of primer
Spray the primer on the hood, beginning towards the center of the windscreen and working your way forward.
From the windshield to the front of the hood, use a single long stroke.
Return to your starting point and spray another stroke directly below this one, beginning at the windshield and terminating at the front of the hood.
Repeat until one side of the hood is finished.
Repeat the process on the opposite side of the car.
Allow two layers of primer and get it dry before proceeding.
Step 4 – Apply the paint
Spray three or four thin layers of paint on the hood, using the same pattern as the primer.
Before applying the next coat give some time for each coat to dry.
Let the paint completely dry before proceeding.
Before you remove the masking tape, get the paint dried by leaving it for at least 30 minutes.
Summing It Up
To summarise, how much does it cost to paint the hood of a car?
When you do it yourself, the usual cost is between $60 and $150.
Hiring an expert will cost you anything from $220 to $1000 or more, depending on the service.
However, if you want to estimate the work's cost more correctly, you must consider three major factors:
The labor charge,
Paint cost,
And the cost of the tools and equipment required to accomplish the task.
And that's it for this article and we hope you found this post helpful.
We wish you the best of luck in getting your car hood painted and preserving the beauty and value of your vehicle for a long.

Based in Orem (Utah) John Paterson graduated from Utah Valley University and has begun writing in 2009. He has a large wealth of experience in writing articles related to cars, automotive repair, wheels, cleaning/maintenance, and much more. He has also written instructional articles in a similar niche for a few online publications as well. Currently, he works as a mechanic in his personal garage shop where he loves serving his countrymen from his heart.