Roof rack (also referred to as crossbar, and roof bar) is a must-have for car owners who need to carry additional stuff when traveling.
Especially for campers installing a roof rack is beneficial by which they can easily carry goods that will generally not fit inside their car.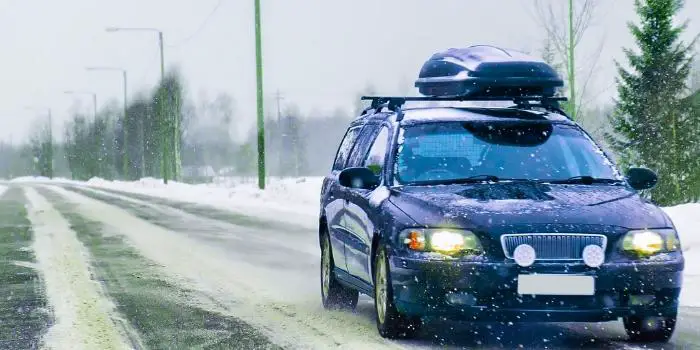 What Are Roof Racks Used for In Cars?
If you don't own a large-sized car capable enough of carrying your bicycle or surfboards.
Don't worry. You can always find ways to accommodate them in your car without disturbing your passengers.
No need for the passengers to sit in the cramped space due to space occupied by surfboards. The above issue can be addressed through the solution of installing roof racks or carriers.
Safety should be of paramount importance when it comes to carrying large objects in your car.
By following some good tips, you can make the travel with big objects a breezy one. Let us look at how roof racks can be put to better use.
1- Awnings
Have you ever thought of creating a shelter by using awning?
Certain roof rack types specifically designed for this purpose can come in handy in installing awnings over the roof or on either side or the backside of your car.
This enables you to use the extra area as shelter which gives you shade during sunny times. The extended area under the awning can be used for BBQ or food preparation purposes.
2- Securing load
Whenever you plan for a weekend trip or lengthy trip, there must be a lot of things for you to pack and you might find yourself want of space.
You can opt for an alloy tray or mesh basket or roof-top box that is sturdy, all weatherproof to accommodate extra items that don't fit easily inside the car.
Sometimes you would be placing expensive items like kayaks or surfboards on the roof rack. These items can be stolen easily within a glimpse.
But to make it secure and safe from being stolen, it is wise to invest in a quality locking strap.
These reinforced lock straps made of stainless steel are hard and cannot be cut easily with a knife. It can lock in your surfboard or kayak perfectly.
3- Carrying a bicycle or surfboard
Carrying bicycles in your car can be a challenging task unless you have a specially designed bike carrier attached to the rear of your car.
They are available with or without a tow bar for all types of cars.
Surfboards, snowboards, and paddleboards can be carried on the roof racks, making more free space available for the passengers and luggage inside the car.
While trying to pack heavy kayaks or canoe you will be needing the assistance of one or two people for easier loading and locking it perfectly.
---
How to Use a Roof Rack Safely? 
The major components of the roof racks are towers, mounts, and side rails.
The towers are attached to the rails, while the mounts hold the roof rack firmly to the car roof.
To give better stability without swaying while driving, tie down the items you place on the roof rack from all four corners.
Wrap the items you place on the roof rack multiple times to avoid any dislodge from all four corners to ensure they are secured.
When you tie it, make sure to provide a firm tight grip to the straps in a single knot itself, instead of tying with multiple clumsy knots.
It's common for people to use roof racks and you need not worry about their safety and other features.
No one would be using these if they find that their items are getting lost because they kept them on the roof rack.
Moreover, even while you travel, you can see many cars plying on highways with roof racks with items fully loaded and driving at a good speed without any worries.
That is the trust people have on these roof racks while traveling without any worries, provided they follow the safety tips as mentioned below:
Correct Fit
First thing is to select the right roof rack that fits correctly.
Other points you going to follow will not work if the exact fitting roof rack is not chosen.
Just imagine, if the fitting is not perfect, what will happen when you are zooming in at 100 miles per hour with a load above 100lbs?
The items along with the roof rack can fall and break down due to the air pressure caused by the heavy blowing winds.
When fitted correctly, these speeds or weight are not an issue for the roof rack to handle.
Correct Installation
After choosing the suitable roof rack for your car, now is the time for installation.
You don't need big tools to install and can be done easily with relatively small tools.
Sometimes you don't need any tools for installation. No need to worry in the future once the installation is done perfectly.
Height Restrictions
Installing roof racks will definitely increase the height of your vehicle and it increases more when you load items on it.
If you own tall cars like SUVs, then you should be careful while driving through roads with low height caution.
When you load it up with kayaks or mountain bikes, make sure you slow down and pass through that area with caution.
Center of Gravity
When you have decided to load items on the carrier, make sure to load the heavy items in the center surrounded by light materials around the sides and corner.
If you place the heavy items around the edges or sides, there are chances that they might lose control over the straps and fall when you maneuver through the curves or go at high speed.
Total Weight
Take into mind the total weight that your roof rack can handle smoothly.
If the items are placed in such a way that the weight is distributed evenly throughout then it can handle up to 150 lbs normally.
If the item's size is uneven and weight gets concentrated on one or two places in a roof rack, then it is better not to load up further as extra caution is needed when weights get concentrated in one place.
Some common problems encountered by people while using roof racks are – formation of dust under the roof rack grills that can erode the coating.
While strapping the items tightly along with the roof rack can cause the paint to strip away over a period of time.
Sometimes, roof racks get dislodged when driving at a higher speed. Following the above tips are easy and gives you a stress-free riding.
---
What to Look for when Choosing a Roof Rack?

You may own a car without a carrier or roof rack. In such cases, you can browse through the plenty of roof racks available in the market to choose from.
Before buying it – lookout for the features mentioned below:
Connectors – 
As per the design of your car, you have to use connectors that suits you well.
Below are the different methods you can try to fix the roof rack for your car.
Construction Material – 
When it comes to the material of roof racks – it is either steel or aluminum.
Steel is not costly but weighs more. In the case of aluminum, even if though it is a little costly – it is worth the money due to its lightweight nature and design.
Keyed Lock – 
Roof racks that attach with a clamp should be secured with keyed lock to prevent thieves from stealing them.
Roof racks that secure via fixing points or inside the door jamb don't need to be locked.
Weight Capacity – 
On average, a weight of 150 to 160 lbs can be carried easily on roof racks for many trips.
If you need more, you have to take into consideration the built of your car as well as the roof rack.
Aerodynamic/Low Profile Design – 
It's a plain piece of knowledge, that when you load heavy items like kayaks on the roof rack or bicycles on the bike carrier on the rear of your car, the performance and fuel efficiency of your car will come down.
Down the line, continuous usage of roof racks with a full load or without any load will lead to poor mileage.
Caution must be exercised in installing aerodynamic roof racks to nullify or reduce the negative effects.
Final Thoughts
When buying roof racks for your vehicle there are certain things you will need to check for.
And if you are looking for the best racks for cars you should give your preference to the internet stores.
Choosing the best roof racks for cars becomes very easy and quick with the help of the internet.
And if you don't want to spend much time in the research of finding the best racks then you should simply give your preference to the best-listed racks of the year.
They have the necessary experience of selling the best auto parts including roof racks.

Based in Orem (Utah) John Paterson graduated from Utah Valley University and has begun writing in 2009. He has a large wealth of experience in writing articles related to cars, automotive repair, wheels, cleaning/maintenance, and much more. He has also written instructional articles in a similar niche for a few online publications as well. Currently, he works as a mechanic in his personal garage shop where he loves serving his countrymen from his heart.