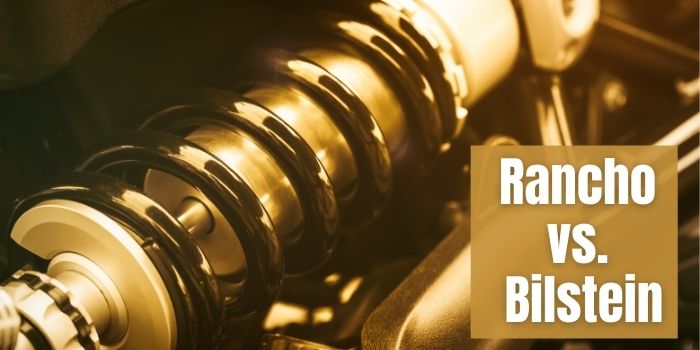 When a vehicle lacks the necessary components, having a good time driving on or off the road might be risky.
Lift shocks, for example, which substantially improve your experience behind the wheel regardless of the terrain, are one of those necessary elements.
When it comes to decent lift shocks, two brands are often recommended: Rancho and Bilstein Shocks.
These items have been on the market for quite some time, and their relevance endures to this day.
They're among the most valued options for a reason.
If you're wondering which is superior, I'll answer that question in this post when we compare them both. 
So, let's get started…
Rancho vs. Bilstein Shocks Compared
Today, Bilstein and Rancho are embroiled in a squabble. They are both very good at what they do.
There are, however, some distinctions between the two. Let's compare both of them in a comparison table below…
| Rancho 9000 | Bilstein 5100 |
| --- | --- |
| 18mm Rod size | 14mm Rod size |
| 9 adjustable position setting | Ride height adjustable setting |
| Self-lubricating feature | Self-adjustable deflecting disc valves |
| Metallic finish with durable body | The steel body with a zinc-plated finish |
| Best for on and off-road SUVs, trucks, and jeeps | Good for SUVs and lifted trucks |
| Comfortable off-road experience that guarantees sturdy control and smooth turns on every road | Superior control for large tires but doesn't perform as well on bad roads |
| Comes with a 90-Day Free Ride Offer and Limited Lifetime Warranty | Backed by Limited Lifetime Warranty |
Rancho RS9000XL Shocks
Rancho Shocks is the biggest maker of high-performance suspensions and shocks in the world.
Because of a variety of qualities, these shocks are the most popular.
Compatibility
These shocks are completely compatible with the Rancho MyRIDE wireless controller.
It has received recognition from the "Specialty Equipment Market Association."
It has a one-touch remote tuning feature. In addition, the wireless controller has several one-touch settings, such as Sport, Off-Road, Highway, and Haul or Tow.
The Rancho shocks are finished with silver metallic liquid for a beautiful and sophisticated appearance.
Damping Maybe Adjusted
The Ranchos shock absorber is available with a 2.38 or 2.75 diameter reverse tube and adjustable damping.
It is made of a bigger piston rod than the typical 18-mm diameter chromed piston rod. 
Even under the most strenuous towing or hauling conditions, its robust shock body keeps it operating continuously.
As a result, it improves overall durability and performance.
Adaptability
Rancho shocks are designed to survive high temperatures and rough climates.
Monotube shocks are ideal for off-roading as well as larger wheels and tires.
The shocks provide accurate and rapid reactions whether towing, hauling, or driving on difficult terrain. 
Rancho shocks also have a smaller oil reservoir because of the lower amount of up-sprung weight.
Its valves are securely attached to the frame rather than the axle.
Guarantee
Rancho's shock absorbers will provide tough performance in any off-roading or on-roading usage. 
It comes with several advantages, including a ride guarantee and a free ride offer valid for 90 days.
As a result, as a customer, you have 90 days to return the shocks. 
Fortunately, there is also the option of receiving a full refund of the product's purchase.
---
Bilstein 5100 Shock Absorbers
Bilstein supplies classic technology for lifted vehicles, Jeeps, and pre-runners. It's intended for lift kits with stock OEM mounting setups.
Bilsteins feature a single-tube construction with high gas pressure for consistent action and extended life.
Better Construction
Bilstein shock bodies are carefully produced using a proprietary seamless extrusion method.
Superior strength is achieved as a consequence of the high-quality finish.
The shock body is resistant to salt spray for 240 hours thanks to a unique paint finish.
Solid induction-hardened steel is coated over a completed chrome-plated body.
The shaft has been polished, the valve components have been machined, and the seals are of the greatest quality.
Comfort and Performance
Because of the piston head design, independent compression tweaking is available.
Damping forces provide optimal performance and comfort. It has fewer components than traditional engines. 
Rancho shocks are less expensive yet more effective for your car.
With the Bilstein shocks, you may level your car by elevating the spring seat by 0.5 to 2 inches.
Durability
Bilstein shock absorbers are a long-lasting and durable product due to their basic but remarkable performance.
For example, Bilstein is a famed brand that reinvented the complete shock system.
Rancho shocks eventually entered the market and established their brand.
Because of this, Bilstein shock absorbers are more costly. They're also more sturdy and endure longer.
Capability
High-pressure compression is provided by Bilstein monotube shocks.
However, while driving on roads, off-roading, hauling, or towing, this monotube shock can provide a smooth ride. 
Bilstein has a famous reputation among off-road runners.
With a 46 mm piston, heavy Jeeps and trucks may be driven on the zinc-plated body.
Essentially, it's a great shock absorber for any modded car.
The Technology of Gas Pressure
The gas pressure technique is used in Bilstein shock absorbers.
They have become a standard as a result of this technology. 
Shock absorption is made more dependable and efficient using this technology. 
Gas pressure shocks eliminate the issue of shock fading caused by bubble formation, which is common with oil shocks.
Warranty
The Bilstein Company promises to the original retail customer that the shocks will be free of faults in workmanship or materials for the life of the product. 
The procedure warranty requires evidence of purchase. Products should be returned to the store where they were purchased.
---
Frequently Asked Questions:
Are Bilstein Shocks Suitable for Towing?
There are Bilstein shocks that are ideal for towing, generally the 5100s.
These heavy-duty yellow and blue shocks are designed to be used with stock height vehicles and may even be utilized for minor off-roading.
Although certain Rancho shocks may not give outstanding towing stability, some will.
When it comes to hauling and towing, the RS9000XL shock series is ideal.
You can tow a boat, camper, or ATV securely and pleasantly if you have Rancho RS9000XL shock absorbers fitted.
Are Bilstein Shocks Suitable for Off-Road Use?
If you like off-roading, you'll love it.
Bilstein's off-road shock absorbers can't overheat as quickly because of its external reservoir, and the vast amounts of oil assist to mitigate that.
You even get greater off-road performance as a result of the shocks themselves.
Rancho shocks also have been a popular choice for off-road and interstate trips since 1985.
These are not awful for off-roading since they provide the same effects regardless of where you drive the majority of the time.
How Long Do Rancho Shocks Last?
Again, as with Bilstein shocks, the lifespan of Rancho shocks will be primarily determined by the kind of driving and how much of it you do.
Consider a vehicle that will be doing a lot of towing with high loads. 
In this situation, with the correct Rancho shocks fitted, you should be able to depend on them for around 80,000 miles.
If your vehicle is primarily used for minor towing and is mostly driven on the highway rather than off-road, you may anticipate the shocks to last roughly 130,000 miles.
How Long Can Bilstein Shocks Be Expected to Last?
While there are no defined intervals for changing shock absorbers, Bilstein shocks should be changed after 75 million cycles.
For example, while driving on a well-paved road, shocks may go up and down 1,500 to 1,900 times every mile.
In this situation, the 75 million cycles will be surpassed after around 50,000 kilometers.
However, since this varies greatly, it's advisable to replace your shocks as they wear out.
Final Words
To be honest, both Rancho and Bilstein provide high-quality shocks that meet or exceed expectations.
Setting one of the setups will transform your once-burned-out vehicle into a new, renewed, and more pleasant ride.
Keep the facts stated here in mind when you contemplate Rancho and Bilstein Shocks. 
You'll be able to invest your money more wisely.

Based in Orem (Utah) John Paterson graduated from Utah Valley University and has begun writing in 2009. He has a large wealth of experience in writing articles related to cars, automotive repair, wheels, cleaning/maintenance, and much more. He has also written instructional articles in a similar niche for a few online publications as well. Currently, he works as a mechanic in his personal garage shop where he loves serving his countrymen from his heart.