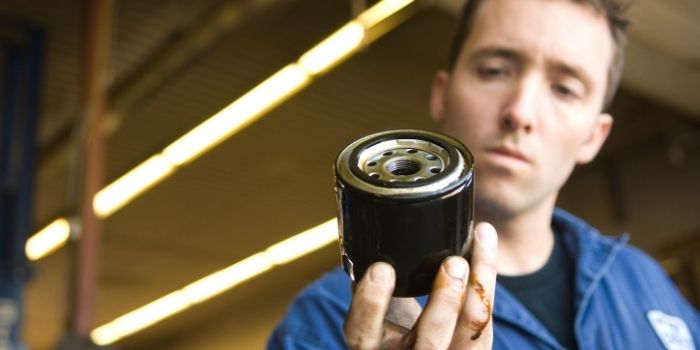 Engines are very sensitive; a few undesirable particles might do significant harm to your vehicle. 
Therefore an oil filter is the single most important component of any automobile's engine, that you should not overlook.
Many automobile manufacturers now provide oil filters for internal combustion engines.
And you can undoubtedly consider Valvoline oil filters as your best choice.
But before we move further let me discuss the main question for which you're here.
Who manufactures Valvoline oil filters?
Although Valvoline oil filters were previously manufactured by Champion Laboratories, the current makers are known to be "Purolator" which is a German-based company.
Now when you know who makes them, you may be eager to know what distinguishes them in the industry? Are they reliable and what about the costs?
All of these queries are answered in this short piece of content. I will also add a brief evaluation of some reliable Valvoline oil filters later in this post too.
So without wasting any more of your time, let's tune it.
Manufacturer's Information
Valvoline inc. owns Valvoline oil filters. They are a distributor and producer of Valvoline-brand car oil, lubricants, and additives in the United States. 
And since 2016, this company is one of the largest oil replacement companies in the USA alone.
Dr. John Ellis invented Valvoline on September 6, 1866, in Binghamton, New York. He and his son-in-law relocated their company to Brooklyn.
Worked with numerous racing vehicles for many years, moonlighted their way to get their names written on many race cars today.
Ashland Inc. purchased Valvoline in 1949, and Valvoline accounts for 37 percent of Ashland's annual income in recent years. 
But the question remains the same, who manufactures Valvoline oil filters?
Champions Lab once manufactured the Valvoline oil filters, but Porulator now manufactures and distributes them.
Champions Lab
They began in 1936 as an automobile filter-producing company and have grown to become one of the major brands in the USA.
For a long time, they were the primary maker and distributor of Valvoline oil filters, but in recent years they have lost that position to Purolator.
Purolator
Purolator's name was derived from pure oil later; Purolator is the abbreviation for this. 
They began their adventure in 1923, with Ernest Sweetland and George H. Greenhalgh at the helm.
The Valvoline oil filters are manufactured and distributed by Purolator.
They are a subsidiary branch of the MANN+HUMMEL Gruppe, a German liquid air filter manufacturer.
Purolator has producing facilities located across the USA.
They do, however, have their headquarters in Fayetteville, North Carolina, where they also have a producing factory.
Are Valvoline Oil Filters Reliable?
Speaking from my experience they are the best in terms of reliability.
With its oils, Valvoline has proven to be one of the finest on the market. Valvoline Inc. is dedicated to producing high-quality goods. 
They have established their worth and have become household names in the USA and other areas of the globe for a reason.
They employ strong steel casings to guard against high-pressure surges.
A filter may collapse under harsh circumstances. But Valvoline employs a thick gauge inner core to avoid this issue. 
Finally, there is the Lubricated Gasket. Aids in the conditioning of the gasket for simpler filter removal.
Valvoline is the greatest for OIC (Oil Change Interval) and may provide you with a premium feel. Despite a few critical reviews, most of them are good. 
So, you can claim that Valvoline oil filters are without a doubt among the finest and have a premium feel to them.
But what sort of filters does Valvoline employ?
Valvoline's, according to their official website, employ spin-on filters.
They also employ the Double Rolled Locked Seaming, which can sustain high hydrostatic pressure.
Which Valvoline Filters are the Best?
Although Valvoline makes numerous fantastic oil filters, let's take a look at their two finest.
1. Engine Oil Filter Valvoline VO-108
This is one of Valvoline's top oil filters.
This filter offers high filtering quality and a large dirt retention capacity. If you utilize this filter, no pollutants will enter the engine.
2. Oil Filter Valvoline VO-106
This is another Valvoline oil filter that I highly recommended.
This oil filter is intended to eliminate metal debris and hazardous contaminants while allowing the oil to flow freely. 
According to consumer feedback, the majority of customers are pleased with the product's quality, including me.
Valvoline is most likely available at your local automobile parts shop in the United States.
If you can't locate them locally, you can purchase them online. 
Valvoline oil filters will be available on websites such as Amazon, Walmart, and eBay. You may also get them through Valvoline's official website.
Why are Valvoline Oil Filters so Costly?
When compared to other oil filters on the market, Valvoline oil filters are the most costly. 
Why is this the case? 
If you poll the public, you will discover that many individuals believe Valvoline oil filters are superior to others. Others believe that the high price of a Valvoline oil filter is due to the brand's worth.
You might consider either of them, but brand value does have an impact on the product price. 
Valvoline has been in business for years and has gained the confidence of its customers. 
As a result, they are more trusted than their competitors. That trust, though, as well as its quality has made Valvoline essential for automobile owners.
What are Some Good Alternatives to Valvoline?
In comparison to other oil filter brands, Valvoline is less popular among customers. So you have some excellent possibilities.
You may also use alternative Purolator oil filters, Motorcraft oil filters, or BOSCH oil filters. Fram and Filtech oil filters are also excellent. 
So it's also not difficult to discover Valvoline oil filter replacements.
Conclusion
No one can deny that Valvoline oil filters are excellent oil filters with high efficiency. 
However, the majority of Valvoline filter customers are unaware of the maker and the brand. 
This post seeks to address such queries and provide clients with a thorough grasp of Valvoline products.
I hope you found it helpful and got all your queries regarding this brand is cleared.
If you liked what you read feel free to share the word with your family, friends, and colleagues.

Based in Orem (Utah) John Paterson graduated from Utah Valley University and has begun writing in 2009. He has a large wealth of experience in writing articles related to cars, automotive repair, wheels, cleaning/maintenance, and much more. He has also written instructional articles in a similar niche for a few online publications as well. Currently, he works as a mechanic in his personal garage shop where he loves serving his countrymen from his heart.