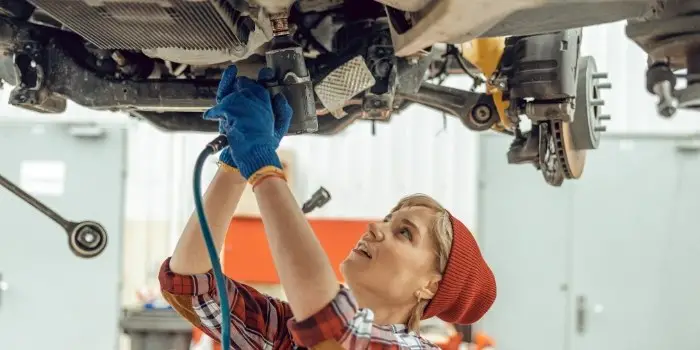 Wrenches are among the most fundamental tools that every artisan, home repairman, or car mechanic should own.
Wrenches are common tools, however, manual wrenches may not be very easy to use on some tightly mounting bolts and nuts.
It is particularly true when working on automobiles or bigger buildings that need repair or maintenance.
Oftentimes bolts and nuts are fitted so firmly that it is not easy to remove them using muscular force.
Dealing with standard bolts and nuts it's fairly simpler to use a specialized tool rather than removing them by fingers.
Here comes the impact wrench.
They are powerful instruments that have the same quick reaction and outstanding outcomes as screwdrivers or manual drills.
While any impact wrench may be useful, knowing the difference between air and electric impact wrench might help you decide which one to use.
Fortunately, our detailed guide will assist you in making an educated selection and deciding whether to go with air or electric-powered impact wrench.
Electric Impact Wrench 
As the name implies, it is fueled by electricity.
They are available in both corded and cordless versions.
The first version offers greater power than the latter one and can generally remove bigger nuts and bolts, and various kinds of screws.
Power & Portability 
A cordless electric impact wrench is very portable and often has a lower size.
As a result, they're great for transporting from job site to job site or for usage in difficult-to-reach areas.
Cordless electric impact wrenches, on the other hand, may rapidly lose power and are often not as forceful as other varieties.
Type of Trigger 
Variable triggers are available on both kinds of electric impact wrenches, giving you more power over the tool's turning speed.
This may make them more suitable for accuracy wrench jobs, particularly for novices.
Pros: 
Many models include changeable triggers. 
Simple to use. 
Ideal for usage in small or compact spaces. 
Cons: 
Less power compared to air impact wrenches.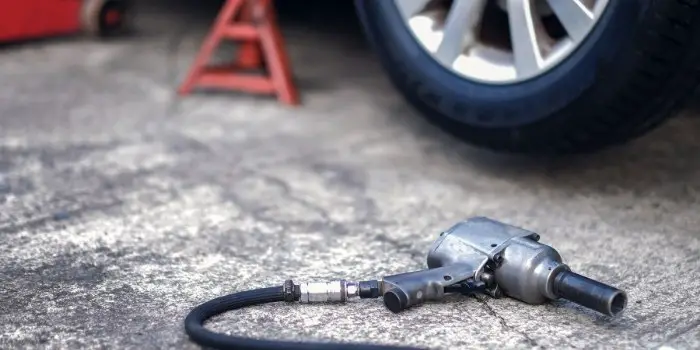 Air Impact Wrench 
The primary distinction between air and electric impact wrench is that air wrench utilizes compressed air to propel the interior hammer and spin the driver.
Instead of depending on an internal motor, compressed air accomplishes all of the jobs.
It necessitates the use of a strong air compressor connected to the wrench for it to work.
Power & Portability 
As a result, an air impact wrench is often better suited for stationary labor or usage at a fixed workplace. They are ideal for use in auto repair garages and matching locations.
Although they are heavier than cordless electric impact wrenches, they often give greater force.
As a result, they're more suited to dealing with larger bolts and nuts.
Type of Trigger 
Since they do not often feature variable-speed triggers, they are rather simple to use, and the force may be adjusted by changing the associated air compressor.
Pros: 
Most powerful impact wrench on the market. 
Ideal for fixed garage.
Cons: 
Hefty and tough to transport.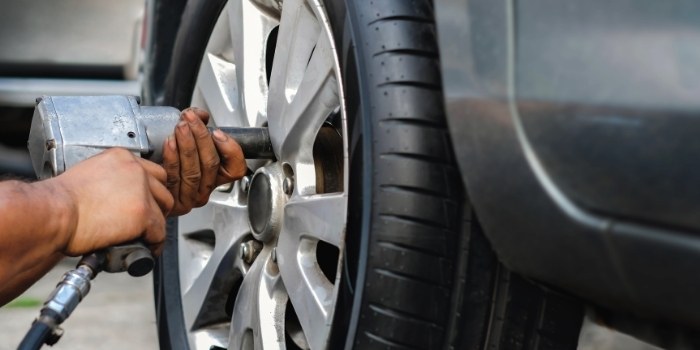 ---
Differences Between Electric and Air Impact Wrenches
Weight 
When it comes to weight, electric impact wrenches come out on top. They're built for speed and portability, with lighter internal mechanisms.
Meanwhile, air impact wrenches are often larger and heavier. Internals are typically composed of metal, which adds weight, and the air hose is frequently in the way.
Power 
Air impact wrenches are more powerful. They do not employ an internal hammer mechanism and instead depend on pressurized air to generate maximum torque, easily unscrewing and loosening tighter nuts and bolts.
Maintenance 
Electric wrenches simply have fewer moving components to maintain. All you have to do is make sure the batteries are fully charged and ready to go.
Air wrenches, on the other hand, might be difficult to keep in good working order.
They are larger, need frequent lubrication, and certain internal components may need to be changed from time to time.
Convenience 
The added weight of air impact wrenches makes them uncomfortably heavy to operate for extended periods. While electric wrenches, which weigh just 2 to 3 pounds, provide additional versatility and convenience.
Price 
Air-powered impact wrenches are often less expensive than battery-powered impact wrenches, but since you'll need to purchase an air compressor, a reel, and an airline, they're not exactly inexpensive.
Of course, you'll be able to utilize the air compressor with a variety of different air equipment, but the investment is still significant.
The price range is likewise quite broad, ranging from inexpensive $110 entry-level devices to luxury $1100 units.
Whatever you choose is based on your demands, frequency of usage, and budget.
When Should You Employ an Electric Impact Wrench? 
Impact wrenches of all varieties may be utilized for a wide range of construction and maintenance activities.
They are most typically seen in the automobile sector.
However, there are several situations in which an electric impact wrench is preferable to an air impact wrench:
For numerous work locations.
For interior maintenance work or operating in confined spaces.
When you're just starting.
The final criteria are critical because an electric impact wrench is more user-friendly than an air impact wrench.
When Should You Employ an Air Impact Wrench? 
They are the kings of the impact wrenches because of their greater average power.
You need to use them when:
Having a lot of super-tight bolts and nuts to deal with at an auto repair shop or garage.
At a long-term workplace without the requirement for mobility in a house garage with lots of space.
When money isn't an issue.
An air impact wrench is usually always more costly than electric impact wrenches.
Conclusion 
Overall, the choice between electric and air impact wrench is simple: 
Mobility or power?
If mobility is your concern, go with an electric one. 
If you're going to keep it in one place, air impact wrenches could be the best option for you.
In any case, impact wrenches of both varieties may make your maintenance or repair job considerably quicker and simpler.

Based in Orem (Utah) John Paterson graduated from Utah Valley University and has begun writing in 2009. He has a large wealth of experience in writing articles related to cars, automotive repair, wheels, cleaning/maintenance, and much more. He has also written instructional articles in a similar niche for a few online publications as well. Currently, he works as a mechanic in his personal garage shop where he loves serving his countrymen from his heart.