A grand tourer, or GT for short, is an automobile intended for both long-distance travel and fast speeds.
These automobiles, which often have 2 or 2+2 seating layouts, are well-known for being the ideal blend of luxury, comfort, and cutting-edge performance.
These are the vehicles to choose from if you want something speedy, sporty, and comfy while going for a long drive.
And in this article, we're going to list out 10 of the best and most popular GTs ever made.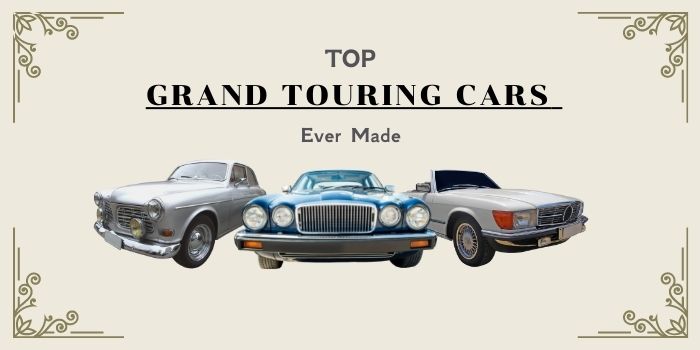 While some of the choices on this list may be debatable, we believe they are excellent representations of this unique class of automobiles.
1. Mercedes Benz AMG GT
It is a one-of-a-kind vehicle, but it's not the only grand tourer built to dazzle. The AMG GT is a high-end grand tourer that comes with a beefy price tag.
Many grand tourers are intended to be long-distance vehicles, but they don't always make the driver feel at ease. The AMG GT, on the other hand, stands out because of its comfortable interior.
It's a spot where you could spend hours simply listening to the exhaust growl as the monstrous V8 pins you in your seat, putting it among the top grand tourers available.
2. Ford GT
Its first produced model was introduced in 2005, and all the praises for Ford would be less for this gem. Even though it only has two seats, this vehicle is loaded with power.
With the Ecoboost option available to drivers this Ford GT is powered by a 5.4-liter V8 engine that delivers between 550 and 647 horsepower.
What is our favorite feature? The car's ferocious racing look. This machine is a total head-turner and it's easy to see why everyone adores the new Ford GT.
3. Bentley Continental GT
It established the bar of the sumptuous grand tourer as the optimum blend of performance and elegance. The Continental GT Speed is constructed on a cutting-edge chassis that incorporates four innovative technologies.
The manufacturer has improved its sports capability while maintaining ride comfort, and the all-wheel steering and electronic rear differential improve its dexterity and resilience.
New carbon-ceramic brakes with tremendous stopping capability and the W12 TSI engine provides 659 hp and 664lb-ft of torque under the hood of the updated version 6.0L.
It goes 0-62mph in 3.6 seconds, with a peak speed of 208mph. There is also a convertible and a V8 edition of the Continental GT.
4. Rolls Royce Phantom
It embodies luxury, elegance, and comfort. When someone thinks of grand touring vehicles, these are the first marques that come to mind.
But, if you're going on a long trip, there's no better spot than the back seat of a Rolls-Royce while driving one, on the other hand, is a lot of fun too as the Phantom is one of the finest automobiles ever produced by Rolls Royce.
Yes, it is not inexpensive, and it does not include a chauffeur. The automobile is hand-built and created to order, hence the fuel efficiency is non-existent. But none of this diminishes the Phantom's status as the pinnacle of luxury.
The ride is fantastic, the suspension is so smooth that it seems like you're driving on air.
You'll literally hear the ticking of the clock while cruising at more than 60 miles per hour. All thanks to the super quiet twin-turbo V12 engine that's capable of producing 563 hp which the occupants may not notice. It is that fantastic.
5. Ferrari GTC4 Lusso
Even Ferrari's sports vehicles have an impressively supple ride these days and it is not surprising that this Italian firm's grand tourer is even better at smoothing down uneven and rugged roads.
But it's not just about the pillowy ride. The engine is a 6.3-liter naturally aspirated V12 with a rev limit of 8250rpm, producing 680bhp and 514lb-ft of torque, as you'd expect from a Ferrari GT.
Its equipped with four-wheel drive for increased traction, and four-wheel steering for improved dexterity and stability, and four seats for lots of interior room. It checks all the requisite GT car boxes.
6. McLaren GT
The mere sight of this automobile is enough to turn heads. This GT is unquestionably comfortable. It's easy to see why this McLaren made the list because it's constructed of nothing but absolute luxury quality.
Despite how it seems on the outside, there is plenty of room, making it ideal for long-distance trips. with not to mention the incredible suspension.
With the new model, this GT is fitted with a 4.0-liter V8 engine that delivers up to 612 horsepower making it one of the fastest grand tourers today.
7. Lexus LC500
It may not have the same track record as the other big names in the GT car industry but, truly it's a fun car that continues to fly under the radar as Toyota employed every bit of expertise and experience they had while creating this automobile.
It may lack the "street cred" of other Lexus models such as the LFA, but that's beside the point because it is now one of the best grand tourers available on the market today.
It has a naturally aspirated 5-liter V8 engine that's capable of producing 471 horsepower and a heavenly symphony, along with a 10-speed automatic transmission.
It is also quite comfortable and can be driven at high speeds without difficulty.
8. Maserati Granturismo
You may be wondering what the Maserati Granturismo is doing with all of these vehicles. Now you don't have to question since the Granturismo is one of the greatest first steps towards having an experience to owing a grand tourer as it can provide some of the best driving experiences available today.
The pricing is one of Granturismo's strong points. You can purchase one for a reasonable price. The sweet-sounding V8 beneath the hood is one of the reasons that this car made it to this list.
It's something exceptional in and of itself, derived from a Ferrari engine. It's a stylish car with acceptable performance and a lot of fun.
9. Mercedes Benz 300SL
It is one of the German automaker's most recognizable models. Apart from being the first automobile with gullwing doors, it is a fantastic car with a rich racing history.
And if you somehow discover and get your hands on a well-kept example, you may drive it as hard as you like.
We trust Automobile and Driver when they declare the 300SL "the greatest production car in the world." The 300SL was undoubtedly a pioneering sports vehicle at the time of its introduction, and when Mercedes introduced it to the public in 1954, it quickly became one of the best grand touring cars.
With a roaring inline-6 and a peak speed of 160 miles per hour, it is a car that can draw attention at a car show and then take you home in style and speed.
10. Lamborghini Espada
It is a divisive vehicle. If you look at photographs on the internet, it may appear strange. However, the automobile appears considerably better in person.
Aside from its divisive appearance, few could doubt its achievements as one of the finest grand tourers of all time.
The Espada was one of the earliest unique four-seaters, and it did a lot of things correctly.
It features a spacious cabin with plenty of legroom, four comfy seats upholstered in luxurious Italian leather, and excellent visibility.
It had a 3.9-liter V12 engine and could reach a peak speed of 160 mph which is why for a long period, the Espada was Lamborghini's best-seller and it even made to this list.
So, these were all the famous grand touring cars ever made, and if you think we missed some, please tell us in the comments and let the debate begin among the community.

Based in Orem (Utah) John Paterson graduated from Utah Valley University and has begun writing in 2009. He has a large wealth of experience in writing articles related to cars, automotive repair, wheels, cleaning/maintenance, and much more. He has also written instructional articles in a similar niche for a few online publications as well. Currently, he works as a mechanic in his personal garage shop where he loves serving his countrymen from his heart.