Typically, each country's automobiles have something unique to them: Germany's high-quality engineering, Britain's luxury, and America's muscle. But what about Italy?
In terms of reputation, many consider Italy to be Europe's supercar/hypercar capital.
Several manufacturers have emerged from Italy over the generations, only to blow the rest of the globe away with their fancy cars.
Here are 10 of the greatest Italian cars ever made to demonstrate exactly how influential Italy has been on car culture.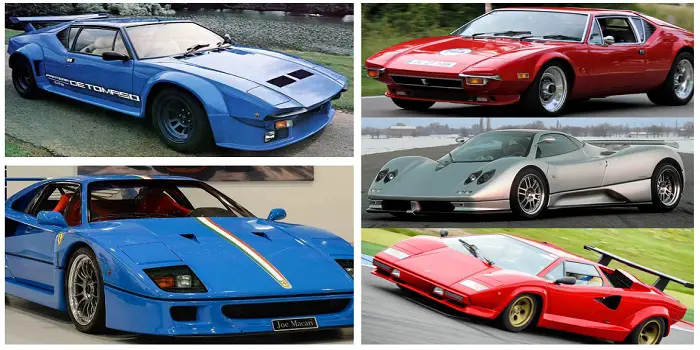 1. De Tomaso Pantera
When most people think of iconic Italian cars, Ferrari, Lamborghini, and Maserati are likely to spring to mind. 
These brands are, of course, exceptional, but some of the greats fade into obscurity with time, as illustrated by the De Tomaso Pantera.
Unfortunately, the De Tomaso no longer exists. However, when they were in action, they developed numerous interesting automobiles, especially the Pantera. 
In terms of appearance, the Pantera almost resembles an American car with European styling features.
You'd be quite fortunate to get your hands on one of these badass boys.
2. Pagani Zonda 
When the Pagani Zonda was released in 1999, the odds were stacked against it. Pagani was a new and relatively unknown brand, and the car was extravagant.
The Zonda ended up becoming one of the greatest Italian supercars ever manufactured, much to the amazement of the industry and media. 
Yes, it was desirable, yes, it was fast (especially as subsequent versions were released), but most importantly, it was very, very good.
It was dependable and, despite its jaw-dropping aesthetics, it was allegedly pretty easy to drive. 
The Mercedes-AMG V12 engine produced massive amounts of torque, the steering and chassis were well-calibrated, the clutch was light, and the interior was spacious. 
It was a modern-day Countach, but only in the greatest possible sense.
3. Lamborghini Countach
Lamborghini is famous for its extravagant design. The majority of their cars are commanding in appearance, with strong lines.
They've had other magnificent automobiles, but the Countach was the one that began it all.
Designers were so taken by the Countach in the 1970s that they named it after what they said (Countach means "Wow" in Italian). 
Even by today's standards, the automobile was breathtaking. Even though it lacked aerodynamic qualities and was quite tight on the interior, the Countach is regarded as one of Lamborghini's all-time greats.
4. Ferrari F40
The Ferrari F40 is the cream of the crop, the greatest Ferrari ever manufactured. At least, that's what many Ferrari fans think. But what makes the F40 so unique?
For starters, the F40 was a game-changing piece of technology, capable of exceeding 200 mph and shattering lap records all over the world. 
All of this, along with the fact that it was Enzo Ferrari's final Ferrari before his death, and became a legend in the automobile world, now and forever.
5. Maserati MC1
When looking at Maserati now, it may be difficult to realize that they formerly dominated racetracks all over the world, but they have a lengthy history of doing so. 
Maserati built the MC12 for both the road and the track to pay homage to its legacy.
The Maserati MC12 competed with the Ferrari Enzo. Both were introduced around the same time, with identical power statistics, but one became far more well-known. 
Regardless of how quickly it fades from people's memories, the MC12 is (possibly) Maserati's best sports car.
6. Alfa Romeo Giulia Sprint GTA
Alfa Romeo was developing performance variations of its ordinary road vehicles long before BMW M, Mercedes-AMG, and Audi Sport. 
The Giulia of the 1960s is maybe the greatest illustration of this pre-super saloon era of tarted-up ordinary cars. 
The Giulia GTA ditched the steel exterior in favor of aluminum, and its 1.6-liter engine had a twin-plug head. 
The A stood for Allegorita, which means "lightened" in Italian. We won't tell you how magnificent this small car was because you already know.
7. Fiat Panda
The Fiat Panda was a great car without a question.
It followed in the footsteps of the equally superb 126 and, indeed, the original 500. It was more indication that Fiat was the undisputed king of the people's car. 
From 1980 until 2003, it functioned as an economical automobile for purchasers before being replaced by the equally great next-generation model. 
It was very adaptable, with electrified variations, a variant supplied by the iconic 4×4 version. 
Did the Panda 4×4 give birth to the current crossovers? This could make a nice argument.
8. Lancia Stratos
The Stratos, designed by Bertone's Marcello Gandini, had a mid-mounted Ferrari V6 engine connected to a five-speed gearbox. 
The Lancia Stratos is widely regarded as the first car built from the ground up for the sole purpose of participating in the World Rally Championship, and it is undoubtedly the most renowned Group 4 rally car of all time. 
9. Lamborghini  Miura
When Lamborghini initially unveiled the Miura, originally codenamed 400TP, it turned the high-performance sports car segment upside down. 
The Miura was not only the world's first mid-engined, rear-wheel-drive, two-seater supercar, a formula that has since become the industry standard in the supercar and hypercar segments.
But it was also the world's fastest production car when it was released, with a top speed of 63mph, and a 6.3-seconds for 0-6mph time. 
10. Ferrari 250 GTO
If you've ever read an article about super expensive cars, you've undoubtedly come across the Ferrari 250 GTO. 
It's a vintage Ferrari racecar that can also be driven on the street. Oh, and they're generally more than $40 million.
Yes, you read that right: $40,000,000 and above. Because of their rarity, lineage, history, and racing prowess, these Ferraris are the most valuable cars in the world. 
In terms of attractiveness, you would not be alone in your desire for this automobile, since nearly everyone feels the same way. 
Although only the richest of the affluent can afford this car.
Conclusion
We shared the 10 most popular Italian cars ever made along with their history, achievements, and exclusivity. 
However, there are a ton of other cars too worthy of inclusion on this list, but as this is subjective, we curated them based on our preference and deep research.
If you think of some other cars that need to be listed here, please contact us and let us know, we will do our best to respond and update the article ASAP.

Based in Orem (Utah) John Paterson graduated from Utah Valley University and has begun writing in 2009. He has a large wealth of experience in writing articles related to cars, automotive repair, wheels, cleaning/maintenance, and much more. He has also written instructional articles in a similar niche for a few online publications as well. Currently, he works as a mechanic in his personal garage shop where he loves serving his countrymen from his heart.