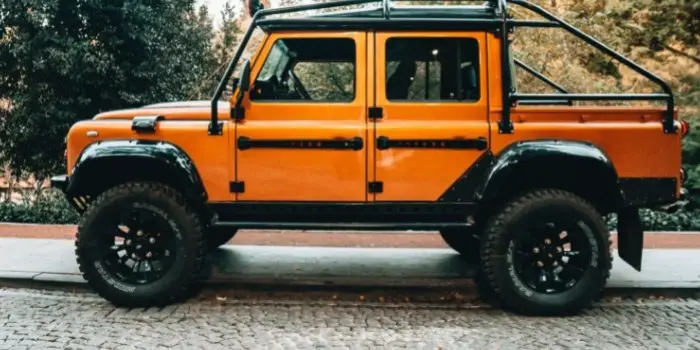 These days, people are lifting their trucks not just for their stylish appearance but for practical purposes as well.
Lifting a vehicle improves its road visibility and the off-roading capabilities it offers among others.
No matter the reason you want to lift your vehicle, it is important to install the proper lift in order to avoid damage to the car.
What Lift to Use for 33-Inch Tires?
In most cases, you will need a minimum lift of between 2.5 and three inches for 33-inch tires.
The most common lift size for SUVs is four inches for the front wheels and two inches for the back wheels, but there may be other options.
You may also need extra fender liners, trimming, and body mounts to get the best fit. This will ensure you don't cause any unnecessary damage to the vehicle.
Potential Vehicle Damage Due to Lift Kits
Much like anything else, lifts run the risk of damaging your vehicle if they aren't properly installed.
Alongside the physical damage that they risk, there are some compromises you'll have to face.
This includes compromised handling, the voiding of your warranty, higher maintenance costs, and faster wear and tear. You will also be raising your maintenance costs.
Some of the pros and cons of lift kits are as follows…
Pros of Lift Kits
Customization power
Offers a better view of the road
Improves overall handling of your vehicle
Cons of Lift Kits
May lose some gas mileage
May affect your vehicle's warranty
May increase the cost of maintenance
Can You Use 33-Inch Tires Without a Lift?
It may be possible to fit 33-inch tires on your car without needing to lift it.
You'll just need to make sure there is enough room to avoid your tires hitting the mudguards of the vehicle.
For example, it is possible to put 33-inch tires on a Toyota Tundra without having to lift it, given that the tires aren't too wide and don't have an intense tread pattern.
Even so, you may run into some back clearance issues if you take your vehicle onto off-road trails.
When testing the wheels, the tire will roll just fine on the road but when the wheels come into contact with potholes, a curb, or trails, there may be some rubbing.
Because of this, fitting 33-inch tires without lifting may be no problem at all if you aren't worried about a little rubbing because of the lack of clearance.
If the rubbing is something you want to avoid, the best lift for this size tire is between 2.5 to three inches.
Can You Install 33-Inch Tires Without a Lift?
As stated, the best lift for a 33-inch tire is somewhere between 2.5 to three inches, though it is possible to use a two-inch lift.
As always, keep in mind that you need to provide enough clearance otherwise there may be some issues with rubbing.
At the end of the day, using a two-inch lift for your 33-inch tires is better than mounting them without any lift at all.
Better still, to be sure that your 33-inch tires perfectly fit the car, try to use only 2.5 to three-inch lifts.
Are 33-Inch Tires Too Small for a 6-Inch Lift?
Technically, you can mount 33-inch tires on a six-inch lift.
Doing this may yield a strange, unattractive appearance, however.
So, while it is possible to use this combination, it is not one that vehicle modders are likely to recommend, and most agree that it is quite strange looking.
How Do 33-Inch Tires Affect Fuel Economy?
Lifting a vehicle will lower its mileage due to reasons such as added vehicle weight and increased wind resistance.
When you lift the car, it will have greater wind resistance, which can cause turbulence that in turn may directly affect the gas mileage due to the pressure that is generated.
Wind pressure can slow down your vehicle, and in turn, reduce the gas mileage.
On the other hand, a lift can affect other things such as steering geometry, gear ratios, brake lines, and general weight. Each of these things may contribute to mileage loss for your vehicle.
You can try to minimize the effect on gas mileage by choosing the right tire. Keep in mind that tires that have aggressive treads, such as those used for off-roading, can lower your gas mileage.
Your vehicle would need to put in more effort to make up for the high rolling resistance of these tires.
It is best to avoid these kinds of tires and instead consider all-terrain tires if you aren't constantly off-roading.
All-terrain tires are equipped to handle off-road conditions while still giving you good gas mileage.
FAQs
What size lift do I need to fit 33-inch tires?
Ideally, the size of the lift you need for 33-inch tires should be somewhere between 2.5 inches and three inches.
Will a three-inch lift clear a 33-inch tire?
Three inches is an ideal size for lifting 33-inch tires.
Can you fit 33-inch tires with no lift?
You can fit them just fine if you use wheels with proper spacing in the back or have wheel spacers with your stock wheels.
If you disconnect the sway bars, you may get some rub against the fender.
Do levelling kits hurt your truck's balance?
Generally speaking, a levelling kit won't impact the static weight balance of the truck.
Do you need an alignment after installing a levelling kit?
Your vehicle will need an alignment following the installation.
Final Thoughts
The best lift for a 33-inch tire is somewhere between 2.5 and three inches, though a two-inch lift may be enough depending on the type of tire you use and the vehicle modem.
Should you choose to use a two-inch lift, you may need to fit tires that are narrower and have a less intense tread.
There are even some cases where you may be able to mount 3-inch tires without having to use a lift kit at all.
Lifting your truck may bring with it consequences that also must be considered, including lessened gas mileage.

Based in Orem (Utah) John Paterson graduated from Utah Valley University and has begun writing in 2009. He has a large wealth of experience in writing articles related to cars, automotive repair, wheels, cleaning/maintenance, and much more. He has also written instructional articles in a similar niche for a few online publications as well. Currently, he works as a mechanic in his personal garage shop where he loves serving his countrymen from his heart.