There are instances when you own a plot but there is a shortage of space for a garage.
Especially when there is not enough width available, you need to think out of the box to fit your cars inside the garage.
You have to change the design of your garage to accommodate the cars in place.
Fortunately, there are tandem designs when there is no scope for a traditional design for your garage.
Even though they are not much popular, still they are useful to make the best use of the available space to your advantage.
Below in this article, I will discuss the different types along with the pros and cons these tandem design garages offer.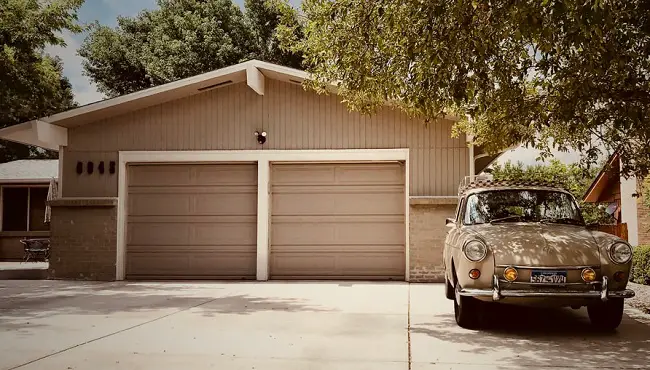 Generally, we can classify tandem garages into two categories. These include…
Two-Car Tandem
With a two-car tandem design, it's just the name sounds different. Apart from that, it is almost similar to the old type single-car garage, in terms of width.
This type of garage is long enough to park two cars. The way of parking is different for two cars for easy assistance while taking out.
The initial car is parked with its front portion heading towards the backside of the garage, followed by the next car with its back parked towards the initial car.
Three-Car Tandem
When you look at a garage of three-car tandem design from outside, it will look like two cars parked horizontally.
But to give space for the third car, there will be a deeper length similar to the two-car garage on one of the sides.
Depending on the space available and the size of the car, sometimes two or three or even four cars can be parked or empty space can also be used as a storage facility.
What are the Advantages of Tandem Garage?
If you live in a crowded neighborhood in cities or towns, there will be narrow space for parking, and tandem garages prove to be the right solution.
Not only it is space-saving, but it also aids you in increasing property value at a premium rate.
For house owners who don't like the image of a big garage door visible in the entrance, this tandem garage gives an ergonomic design.
The narrow driveway costs you less for pavement and more area for landscaping in the entrance to give it a refreshing look.
Besides all these, you can even maximize the available storage space with some strategies and techniques. These include:
Optimizing the vertical spaces like walls
Installing ceiling-mounted racks
Installing a Slatwall panel system
Using a hoist system for storing gears like your bicycle, surfboards, kayaks
What are the Disadvantages of Tandem Garage?
By this time your rational thinking would have thought of the disadvantage that comes with tandem design garages.
Yes, it is the awkwardness it creates whenever you have to take the inner car out of your garage first.
For this, you always need to take the outer car out first and then go for the inner car.
This can be a problem, in case of any emergencies.
This tandem design is also prohibited in certain areas as part of their building design and codes to be followed due to the above-mentioned inconvenience.
Some are of the opinion that, it also reduces the property value due to the inconvenience it causes.
But this debate is subjective as it depends on the location, whether it is city or countryside.
Can 1 Garage Door Opener Open 2 Doors in Garage?
Occasionally there are single garage door openers found that are fitted to open two garage doors at the same time.
Although not very safe, if you want you can get the customizations done for your garage by hiring a good garage door installation service in your area.
Remember, this type of system will not be very safe and may not meet the safety guidelines in your locals.
So, make sure you check with your local guidelines before getting this done.
As a better alternative you can have one garage door opener for each garage door in your tandem garage that will be pretty safe.
These garage door openers will be designed to work with one set of safety eye sensors and will be under the manufacturer warranty as well without any issues.
Is Tandem Garages Worth Your Investment in Long Run?
When you are short on space, mainly the width of your home, then a tandem garage is the best option that can accommodate two cars.
With a tandem garage, you can also save a considerable portion on building costs as you need to construct a lesser space for the garage compared to the traditional design.
With that said, I think tandem garages are only worth your investment if you really need them.
If you do not have much space and can avoid the hassle, you should better stay without it.

Based in Orem (Utah) John Paterson graduated from Utah Valley University and has begun writing in 2009. He has a large wealth of experience in writing articles related to cars, automotive repair, wheels, cleaning/maintenance, and much more. He has also written instructional articles in a similar niche for a few online publications as well. Currently, he works as a mechanic in his personal garage shop where he loves serving his countrymen from his heart.