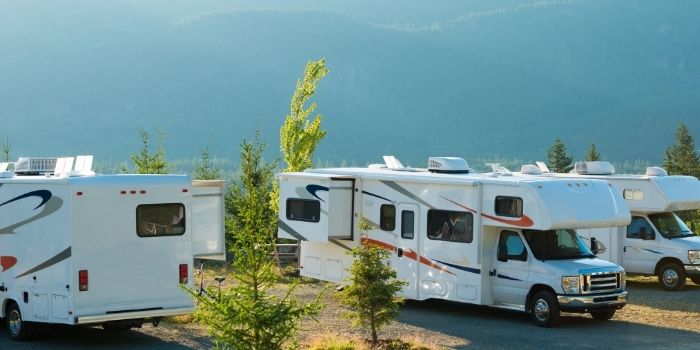 I know people who love their recreational vehicles (RVs) and treat them like a second home.
Usually, they take their RVs to places they love visiting, and some even manage to explore the world with them.
But when they get back, they park it in their backyard and love living there, spending even more time until they feel like it.
While there's no federal law that prohibits parking the RV in your backyard, so if you don't plan on living in your RV for long, you may be able to park it in your backyard or driveway without worrying about the laws. 
However, in most cases, RVs (such as travel trailers, motorhomes, and boats) are not allowed to be stored or parked in driveways or yards for extended periods of time.
To be on the safe side, before you plan to park your RV in your backyard or driveway, check your local laws and homeowner association rules to ensure it's allowed because there are rules that often dictate where RVs can be parked.
Even if it is allowed, there may be some restrictions, such as how long the RV can be parked and what type of maintenance can be done on it.
What's the Issue?
The issue at hand is that the government does not consider RVs as appropriate permanent homes. The term "RV" includes mobile homes and manufactured housing, which both provide people with living spaces. 
However, RVs became more of a vehicle for traveling instead of a home due to taking a different route in their development. 
According to the Department of Housing and Urban Development, they only categorize RVs as having recreational, travel, or camping purposes, whereas manufactured housing is seen as suitable for permanent residences.
Even though RVs have all the fixings of a house, like plumbing and electricity, it has always been illegal to live in one full-time. 
This is because RVs don't meet the standard requirements for manufactured housing, even if all other necessities are in place.
If you are able to park your RV on residential property, make sure to keep it clean and tidy. Also, be considerate of your neighbors and try not to block their view or access to their property.
RV Parking Ideas at Home
Owning an RV is a great way to explore the country and see new places. But, sometimes it's nice to just stay at home and relax.
Unfortunately, only a few locations will allow long-term RV parking on the streets. So, first, check your city and neighborhood rules to see whether they're open to it. 
In general, you should NOT park your RV on the open residential street in front of your house.
But that does not mean you can't have an RV at your home. If you're lucky enough to have some extra space on your property, you may be able to park your RV there for short-term storage.
In fact, there are plenty of other options for where to park your RV at home. Here are some of these ideas…
1- Build a Carport
A carport is a type of shelter used to protect vehicles from the weather. Unlike a garage, a carport does not have four walls and a roof.
Instead, it typically consists of two or more posts supporting a roof.
Carports can be attached to the side of a building or freestanding. They are often used in conjunction with driveways or parking areas.
Building a carport is generally a straightforward process.
First, choose a level spot for the carport and mark out the desired dimensions.
Then, set the posts in concrete and attach the roof beams.
Finally, cover the roof with plywood and install any desired trim.
With some basic carpentry skills, most people can build a carport on the weekend. So, if you think this option might work for you, give it a try.
2- Construct a New Garage
Now, this can be a big project, but if you're handy and have the time, it can be well worth it.
A garage is a structure used to shelter a vehicle from the weather. Unlike a carport, it typically has four walls and a roof and is attached to the side of a house or building.
Garages can be used for parking your RV for a short while, storage, or workshop space.
But remember, building a new garage is usually a major undertaking.
The first step is to obtain the necessary permits from your city or town.
Then, clear the building site and pour a concrete foundation.
After that, frame the walls and roof and install the doors and windows.
Finally, finish the interior by installing drywall, flooring, and any other desired features.
If you're considering this option, be sure to do your research and plan ahead. The overall cost and time commitment can be substantial, but the results can be well worth it.
However, if you don't have the time or skills to build a carport or a garage, you can even purchase a portable one.
Portable garages are temporary structures and can be used to shelter your vehicle temporarily.
Before buying one, make sure you have the space to install it and that you are buying the right size that fits your RV.
3- Consider Expanding Your Driveway or Park in a Backyard
If you have a small asphalt or concrete driveway, you may be able to expand it to accommodate your RV.
Of course, this will require some additional concrete work. But, it can be very cost-effective and well worth it if you're able to park your RV right at home.
In case your house or apartment doesn't have a driveway, you can park your RV in the backyard or on the side of the yard.
And, if you have a fenced-in backyard, that's even better. It will help keep your RV safe and secure from theft.
Just be sure to park your RV on a covered level spot.
You may also want to put some gravel down to help keep it from getting stuck in the mud.
If it's a sloped driveway, you'll want to park your RV so that it faces downhill. This will help prevent it from rolling away if the brake fails.
Make sure you turn off the refrigerator in the RV when you are parking on a slope for an extended time period – keeping it switched on can cause issues.
And, before you do all this, check with your landlord or city regulations first. If it's allowed, this can be a great option.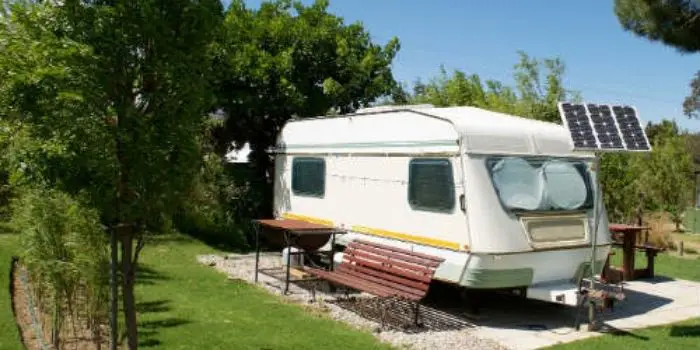 Can I Use My RV as a Guest House?
If you have the space and the means to do so, you can use your RV as a guest house – for out-of-town visitors or even as a short-term rental.
Of course, it's up to the code and local laws, and you have the proper permits. If everything checks out, this can be a great way to make some extra money and give your visitors a comfortable place to stay.
Here are some necessary steps to take before doing that:
Step 1- Get the Proper Permits
Check with your city or town to see if you need any permits like a business license, a zoning permit, or both.
In general, you'll need to make sure the RV is up to code which includes ensuring that it has the proper safety features, such as working smoke detectors and carbon monoxide detectors.
You'll also want to ensure that the electrical and plumbing systems are up to code.
Step 2- Choose the Right Location
For your RV guest house, choose a spot that's near to your home but not too close.
You don't want your guests to feel like they're intruding on your personal space.
Step 3- Set Up and Stock the RV
Once you have chosen the location, it's time to set up the RV so that it's level and stable.
 Finally, stock the RV with all the essential items your guests will need. 
This includes things like:
Food and drink, towels, linens, toiletries, and dishes. 
WiFi and cable or satellite service
Access to electricity for operating the appliances like AC or others in RV
Sewer or septic system that can be hooked up to the RV guest quarter
Waterline by either connecting it to an exterior faucet with a hose or by installing a water hookup at your RV parking spot
What's the Best Direction and Surface to Park an RV?
If you're parking your RV on your property, the best direction to park it is facing North. This will prevent the sun from beating down on it and causing damage.
Also, it's good to face the street. This will make it easier to hook up and disconnect utilities, and it will also make it more visible to passing traffic, which can help deter theft.
If you're parking your RV at a self-storage facility or campground, the best direction to park it is to face away from the street. This will provide more privacy and security for your RV.
The best surfaces for long-term RV parking are concrete, asphalt, or gravel. These materials will provide a level and sturdy surface for your RV.
Grass pavers are also excellent long-term RV parking solutions, especially for places with extremely hot or cold weather. 
They provide a level surface and good drainage, which helps to protect your RV from the elements.
If you are parking your RV trailer on grass, put down a tarp first. This will help prevent the grass from getting damaged.
Tip: If you're not using your recreational vehicle (RV) and want to keep it out of sight, you can park it in your backyard and cover it with a tarp or some other type of camouflage. 
You could also build a small shed around it to help keep it hidden.
How Much Space Will I Need for RV Parking on Private Property?
A typical RV parking space's dimensions are 12 feet wide by 40 feet long.
That's big enough to comfortably park most vehicles, including an RV, a travel trailer, or a boat.
If you want to be extra safe, you can even go up to 15 feet wide and 50 feet long. This will give you plenty of room to maneuver and park your camper without having to worry about hitting anything.
Before committing to the RV pad space, it's good to build a small RV park layout design on paper first to ensure everything fits perfectly and you don't have to worry about any surprises later on.
Final Thoughts
If you need to park an RV permanently at home, storage solutions are not recommended.
The best option for long-term storage of an RV is at a self-storage facility. They typically have outdoor parking spaces that can accommodate RVs of all sizes.
Another option is to rent a space in an RV park or campground when your RV is not in use. This will also give you access to hookups like water and electricity, as well as dump stations.

Based in Orem (Utah) John Paterson graduated from Utah Valley University and has begun writing in 2009. He has a large wealth of experience in writing articles related to cars, automotive repair, wheels, cleaning/maintenance, and much more. He has also written instructional articles in a similar niche for a few online publications as well. Currently, he works as a mechanic in his personal garage shop where he loves serving his countrymen from his heart.