Garage doors are more liable to bear and tear heavy strokes of vehicles.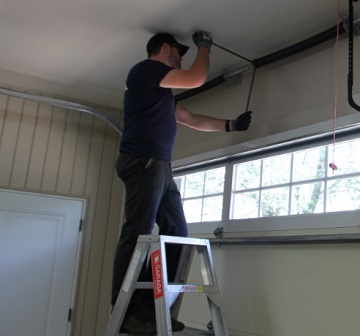 They are used to being open and closed so many times in the day so more liable to maintain.
You have two components of a garage door- the opener and the door.
In case the garage door needs repair, then you need to focus on both the equipment.
Garage doors, whether swing up or roll up, work on spring tension.
The door runs on metallic track on the walls and a spring renders the power.
How to DIY Repair Garage Door?
In several cases, if the garage door fails to work properly, then here are helpful tips to repair a broken garage door:
Step 1:
Inspect the metal tracks. See if the mounting brackets which stick the tracks are fine.
If you find them loose, tighten the screws. Look out for crimps, dents, and spots. If you see any damaged sports, then pound them well.
Step 2:
See if the tracks are well-aligned. Whether horizontal tracks or vertical tracks, they should fully plumb.
Both the track should be at the same height on the wall. Recheck the track to ensure that they are in the correct position and tighten the loose screws and bolts.
Step 3:
Clean the tracks and wipe out all the dirt and debris. Clean the rollers too.
Then evaluate the loose hardware and fix them. Check the plates where springs are placed to ensure no screws are loose.
Check the hinges of the roll-up doors. If they sag on one side, then correct them by repairing the hinges. If the wood is cracked, then fill the cracks.
Allow the fillers to dry and then change the hinge.
A Few Additional Tips
If sometimes you see a door gets imbalanced quickly observe its spring system.
If you observe any hinges sounds while closing and opening notice that it requires oiling.
Check if pulling cables are in good condition because if it cracks it might cause serious injury.
---
Garage Door Spring Problems & Replacement Cost
Just like other mechanical parts, the garage door springs also depreciate because of wear and tear. With time, the steel of the spring weakens and may break.
Usually, a normal garage door spring has a life expectancy of 10000 cycles of closing and opening which means around 5 to 7 years.
No matter what stuff the springs are made of, if you notice that the door doesn't open and close as it should, you should inspect the garage door springs.
Garage door spring replacement comprises two kinds of spring located on either side of the door for proper balancing.
They are torque springs and extension springs. Changing the springs is dangerous majorly if they have been snapping.
A lot of times, repair of the garage door spring aren't possible and the only option left is garage spring replacement. 
Replacing the garage door spring costs somewhere between $200 to $ 200 when done by the hands of a professional.
This comprises of the price of the spring which is priced between $5 to $30 for extension spring as well as $40 to $100 for torsion spring.
Then you also have to labor charges which depend on the company as well as the region.
The Conclusion
With these steps, you can repair your broken garage door easily.
However, if you find that the door is hard to repair, do not take any risk and go for the replacement option for your complete safety.
Professional companies are good to contact in case you need assistance with your broken garage door or springs.
As they have the right tools and staff, they can manage all your problems very soon within an affordable price range.
Especially if any damage is caused by human efforts or if it is the result of attempts of break-ins then you might need to call the expert for it so that they can understand and then handle the security issues and damages perfectly.

Based in Orem (Utah) John Paterson graduated from Utah Valley University and has begun writing in 2009. He has a large wealth of experience in writing articles related to cars, automotive repair, wheels, cleaning/maintenance, and much more. He has also written instructional articles in a similar niche for a few online publications as well. Currently, he works as a mechanic in his personal garage shop where he loves serving his countrymen from his heart.