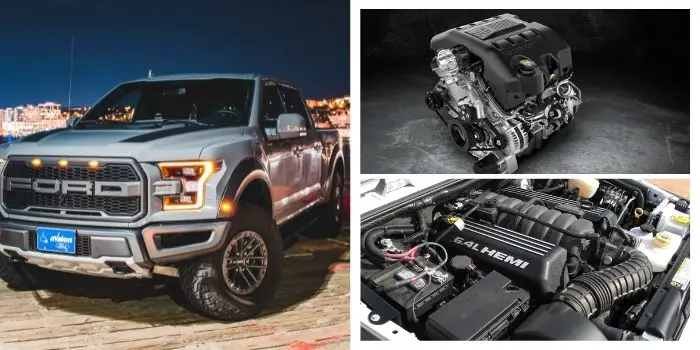 While both have been popular for many years, the Hemi and the Ecoboost are mechanically distinct engines with distinct strengths and disadvantages. 
Is one of them superior to the other?
Continue reading this article as we break down both the popular engines piece by piece and by the end of it come to a conclusion about which one of these historic engines is better.
What is Ecoboost?
The Ecoboost name refers to Ford's line of direct-injection turbocharged engines, which are more efficient and emit fewer greenhouse gases than standard normally aspirated engines.
The Ecoboost engine, co-developed by Ford and automotive engineering company FEV, allowed Ford owners to reduce their carbon footprint without the high upfront expense of a hybrid engine.
Ford started producing four-cylinder Ecoboost engines for tiny automobiles such as the Focus and C-Max in 2009. 
By 2013, a six-cylinder engine had been launched to replace the normally aspirated Duratec engines seen in the company's bigger automobiles and SUVs.
The Ecoboost earned a reputation for their incredible power-to-size ratio throughout time. 
Ecoboost engines are now available on 10 different Ford models.
While the Ecoboost engine provides excellent power and fuel economy, it has been plagued by overheating and fires.
What is Hemi Engine?
The Hemi is a Chrysler-developed series of I6 and V8 engines featuring hemispherical combustion chambers.
While engines with this combustion chamber shape have existed since the dawn of automobile design, "Hemi" is an official moniker that Chrysler trademarked in 1991.
The Hemi engine has a greater compression ratio and more power than standard flat piston engines.
The genesis of the Hemi started with Chrysler's development of military vehicles during the Second World War.
Chrysler used their experience in building experimental Hemi engines for tanks and airplanes to produce the "Firepower" engine. 
In 1964, Chrysler debuted its first Hemi engine, a 426 cubic inch V8 capable of producing up to 425 horsepower.
For many years, this engine was considered a must-have in any Dodge or Plymouth muscle vehicle. 
The most common Hemi nowadays is the 5.7L V8, which is found in the Chrysler 300c, Dodge Charger, and Dodge Challenger.
Specifications 
Ford's F-series range, which includes the 3.5L EcoBoost engines, has been America's best-selling car for 45 years in a row. 
The 213 cubic inches, aluminum block, 60-degree V-6 engine have a chain-driven camshaft, DOHC, and four valves on each cylinder. 
This is owing to the use of dual turbochargers and high-pressure fuel injection.
The EcoBoost 3.5L produces 400 horsepower at 6,000 RPM and 500 pound-feet of torque at 3,100 RPM. 
It delivers superior acceleration than a diesel engine because torque is accessible at very low rpm.
In 2009, the iron block, 345 ci, aluminum headed, 90-degree-V8 engine was launched, featuring an old-fashioned overhead valve (OHV), dual-valve per cylinder, single camshaft, and variable valve timing. 
The newest engine in the Ram 1500 delivers 395 horsepower at 5,600 RPM and 410 lb-ft of maximum torque at 3,950 RPM. 
The Engines 
Both Ecoboost and Hemi cars have FCA's ultra-lightweight Etorque hybrid powertrain technology. 
Furthermore, the 6-cylinder now has 90 lb-ft more torque, which is equivalent to 130 lb-ft more torque for the V8. 
Ram 1500 offers automated start-stop capabilities as well as braking energy recovery thanks to its 48-volt hybrid powertrain.
Application
The 2.7 Liter EcoBoost engine is standard on the midlevel Lariat and optional on lesser models. 
The strong 3.5L EcoBoost engine is available on 2021 F-150 vehicles, and it is standard on Limited variants.
The 5.7L V8 is now the most popular Hemi, and it can be found in the Chrysler 300c, Dodge Charger, and Dodge Challenger. 
Furthermore, the 5.7-L Hemi's reputation for strength and dependability has persuaded many Ram pickup consumers to choose it.
Interior
Higher-quality materials are used inside Hemi's high-end variants than in the F-150's more austere interior. Overall, the Hemi seems to be more modern than the F-150 or Ecoboost.
Both trucks have modern infotainment systems, although the Ram has a more simple UI and is available with a 12-inch touchscreen (normal 8.4-inch), which is also the largest possible.
Diesel Alternatives 
The 2021 Ford F-150 comes with seven distinct powerplant options, while the 2021 Ram 1500 comes with five.
Both are available with a diesel engine. Most light-duty vehicles now have at least one turbo-diesel engine, and Ram – and Ford were no exception.
Do They Live Up to Their Names?
One crucial consideration is how effectively each of these engines lives up to their names.
While the Ecoboost engine was meant to improve fuel economy, it seems that other automakers have discovered methods to compete with, and in some instances outperform it.
The Chevrolet Trailblazer, for example, which weighs almost the same as the Ford Edge, gets four more miles per gallon than the Edge.
The Edge, on the other hand, still outperforms the Trailblazer in terms of 0-60 acceleration. Buyers of the Hemi are searching for additional power and dependability.
The 5.7L V8 Hemi can produce 395 horsepower and 410 ft-lbs of torque. 
When installed in a Ram 1500, the Hemi has a towing capability of 12,750 pounds. 
In terms of dependability, the newest generation of Hemis has experienced relatively few difficulties other than routine maintenance.
Ecoboost vs. Hemi: Which is Superior?
The answer to this question will ultimately rely on the sort of automobile you drive and what you value in a car. 
Overall, the Ecoboost is an excellent alternative for car purchasers looking for a commuter vehicle with decent gas efficiency and quick acceleration.
The option becomes a bit less apparent for truck purchasers and those concerned with sheer power.
While the Ram with the Hemi has 20 more horsepower and is a few thousand dollars less expensive, it also has 60 less ft-lbs of torque and is somewhat less fuel-efficient than the F-150 with the 3.5 liters Ecoboost.
In this situation, the engines have quite identical numbers, so your decision will be based on other aspects such as safety features, general dependability, or just how the vehicle looks.

Based in Orem (Utah) John Paterson graduated from Utah Valley University and has begun writing in 2009. He has a large wealth of experience in writing articles related to cars, automotive repair, wheels, cleaning/maintenance, and much more. He has also written instructional articles in a similar niche for a few online publications as well. Currently, he works as a mechanic in his personal garage shop where he loves serving his countrymen from his heart.