Moving to a new place is a great deal of responsibility as there are thousands of errands that you have to run. These may include packing, unpacking, shifting and loading, unloading, cleaning and taking care of your valuables. In the middle of such a mess you tend to forget the most important aspect which is the transportation of your precious vehicle. You may not be in a position to drive your own vehicle as you would be already on the move with your other stuff in the truck. The solution to all your problems is hiring a car transport service. However, with so much competition in the market and the increase in scams, you are probably bound to get confused. Here's a walk-through on how to choose the best auto transport company for your precious vehicle.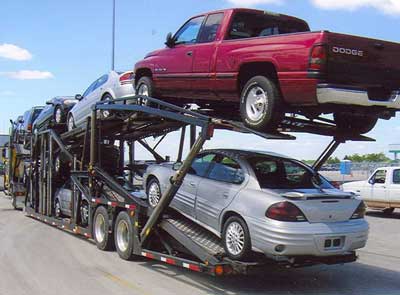 Search online for car transport company's websites and get a quote
First of all, avoid multi-quoting on several websites at a time as your will be bugged with umpteen numbers of calls and emails from them and you would get even more confused. While getting a quote, make sure that you have entered all your details about your vehicle transport needs correctly. This will ensure that you get an accurate quote in return. Automated quotes are mostly available for standard vehicles which are operable passenger ones. Also note that these do not include modified cars (large tires, low suspended cars etc) and can be a costly affair for you and may also involve complex terms and conditions.
Don't get gimmicked by low price dealers
There are several Canada auto transport company which lure customers with low bids and attractively unsuspecting offers. Do not get lured by them as most of them are a hoax. They would deceive you into signing up for their services and have hidden costs which will later show up in your final bill. This will make you get stuck with them inevitably and your vehicle will also be at risk. There a many companies who trap unsuspecting customers by using low bids and this will leave you with non-bail options only.
Do a well researched background check
Internet is loaded with reviews from users across the country and you can utilize these reviews and benefit from them. There are users who have good reviews and some can also give you a detailed insight about their personal experience about the various car transport service Canada available in the market. Try to call multiple service providers and ask them about their details like their quotes, their carrier vehicles, their detailed terms of contract and everything. Also consult your friends, office colleagues and family members about the feedback and their experience; you will probably find someone with useful information for you. When you decide on a company then also try to ask them about how they resolve disputes, if any.
Zero in on your choice of Auto Transport Company
It is not only important to confirm immediately when you get your desired quote from the car transport service of your choice but also to make sure that the confirmation is in written format. Fax, email and hard copy of terms and conditions with a confirmation on the decided quote are recommended. Make sure that all the terms and conditions are suitable to you and if you are making a booking on the internet then your e signature is the final binding of contract.
Make sure that your vehicle or car is ready for transport
Please make sure to keep all your valuables, paperwork and do not forget to check if your fuel tank is empty or not. Vehicle transporters usually recommend your car's gas to be lesser than one fourth tank as it enables them to save on long haul costs while saving you with your costs as well. The lesser it costs them the better it is for you as well! Also check your vehicle for any bumps, dents or visible marks and make sure to either note it on a paper or have pictures taken of it. This will help you during dispute resolution process, if any, in the future. Also make sure that your vehicle's alarm systems are disabled properly.
Vehicle Condition Report
Your auto transport company should inspect your vehicle thoroughly for any dents, marks or bumps and provide you with a detailed report. Keep this report safely until your vehicle arrives at your destination.
When you keep these aspects in mind, your moving process is less burdened and well executed and happens in a smooth way.