When you have to move from one state to another, things could get messier than predicted. You might be able to get an efficient way to carry things from inside the old home. Furniture and other possessions of yours can be easily tackled with the help of a mover.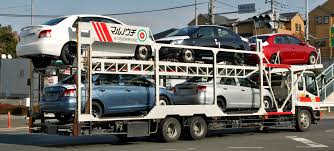 They even provide you with packaging service that will help you carry your stuff nice and safely. And with a big truck or something like that, getting all of your stuff out of the old home could be done in less than a day.
Things will definitely get muddier if you take into account the matter of transporting a car from state to state. Sure you can argue that you can drive the car yourself to the new place. But it will not be that easy if you move from coast to coast or if you happen to have to be at other place at the same time as the moving schedule. Obviously, you will need a specific service that deals with a matter this specific. Interstate car shipping is one thing that you need to take care of properly lest you risk leaving your car behind.
A different state has a different set of regulations regarding interstate car shipping. Therefore, it becomes an utter importance for you to check with the new state you are going to move to about this matter. You need to communicate with both DMVs in each state (the one you are hailing from and the one you are moving to) in order that you can make sure you have covered all bases. Insurance is another thing that you need to fully understand.
Find out if the insurance you get for your car covers damage or loss occurred during the moving process. If your insurer does not provide coverage for this kind of matter, talk to your car shipper. Find out if the shipping company has a great track record in delivery schedule or something like that. It does not stop just at understanding laws and policies. The car itself needs to be well-prepared for the moving process.
You need to keep in mind that a car has to be in its prime condition in order that it can pass inspection. Car fluids must be replaced and the car engine needs to be cool during the shipping. The car needs to also be free of any kind of dents or defects. Lastly, make sure that you have emptied the car of any important or valuable documents and belongings.
The cost of shipping a car cannot be taken too lightly. Make sure that the car shipping company you choose provides transparent and straightforward billings for the service. There are indeed factors to take into account when it comes to shipping cost.
The model, size, age, and weight of the car play into this. Everything has to be explained thoroughly and you need to be provided with complete and well-defined budgetary breakdown for the service. The most important thing is that the cost should not be through the roof yet the service is decent enough to guarantee the safety of your car.